We love to take family road trips– to explore National Parks, see local attractions, and enjoy great food! But maybe you're planning a first time road trip, or maybe you are wondering how to split up a road trip or even how to plan a road trip with multiple stops? If so- this free printable road trip planner and road trip planning guide will certainly help!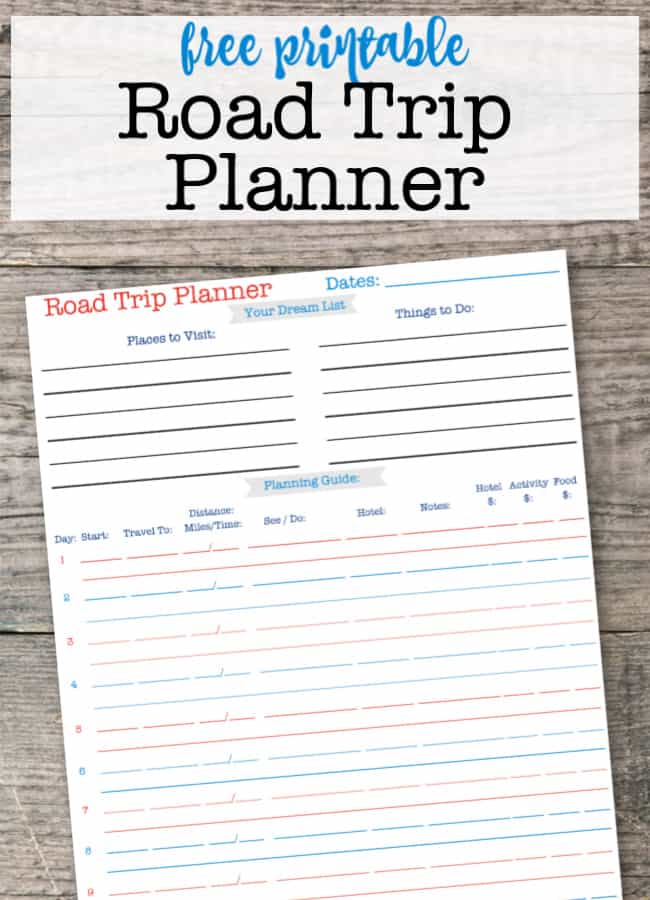 Start by Downloading Your Free Printable Road Trip Planner!
This post is going to show you how to start brainstorming vacation ideas with your family, and then bring those big ideas down to a detailed level of planning. And to manage that- you'll want to use this road trip planner!
Simply sign up below to join the MomOf6 community, and you'll be directed to a thank you page with download instructions!
Then hop right back here to read how to use this road trip planner!
*You can view our Privacy Policy here. To access the printable without subscribing to our newsletter, click here to send an email requesting access.
Road Trip Planning Guide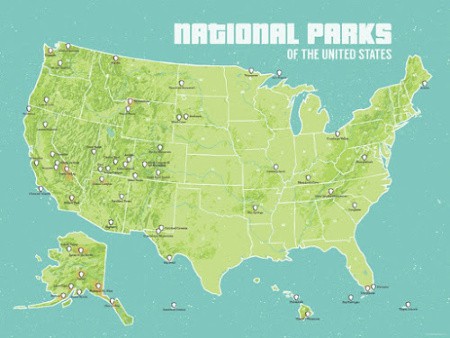 Where are you headed?
The best way to plan a road trip is to start with a general destination/area of the country in mind, and then ask your family some questions about what they think might be the cool things to do in that area.
A great way to start this discussion is to use a map (I love using a map like the one above This is an affiliate link: MomOf6 earns a commission if you purchase, at no additional cost to you. that shows the National Parks it!) or a Road Atlas ( this one features the National Parks as well This is an affiliate link: MomOf6 earns a commission if you purchase, at no additional cost to you. !) and look at it together to spark some discussion.
For example, our family is talking about planning a trip to California this summer- so I kicked off the discussion by asking my kids questions like, "When you think about California, what comes to mind? What places in California do you think would be amazing to see? What kinds of things do you think would be cool to do there?"
The idea is to get a feel for what their perceptions are of an area- and what might make a trip like this awesome for them!
Write down everyone's ideas in the "Dream List" section of the road trip planner.
When you are done working on this "dream list" section of the road trip planner, you'll know exactly what to plan to make this a great family road trip!
Break it Down Into A Daily Travel Plan
When figuring out how to plan a road trip with multiple stops, like the one we are planning in California, I start by plotting out our possible route on Google Maps. I enter our starting point and then have it give me directions to our first destination, and then I continue adding destinations until I have completed our road trip loop.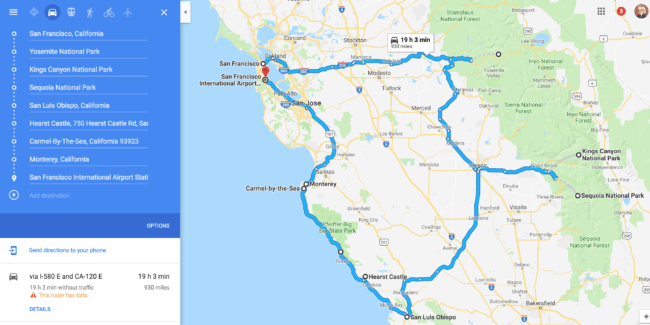 Sometimes it becomes obvious that I haven't planned my destinations in the right order to minimize the driving time, and when that happens I just "grab" the destinations and drag them into the correct place in the desired order, and Google Maps recalculates the distances to drive.
Once I feel I like the general plan of this multi-stop road trip- I'll save the map that I created. (Click on the three lines in the upper left corner of Google Maps, and then click "Share or Embed Map" and then copy the link to the map. I paste that into wherever I am keeping notes for this trip).
I then go back to my Road Trip Planner Printable- and I start to plug in the timeline and all of the destinations, writing in the distance in terms of miles and travel time between stops. (To see the distances between locations in Google Maps, click "Details" on the left side where it shows the car icon and the grand total mileage and travel time. It will then expand the list to show the distance and time between stops.)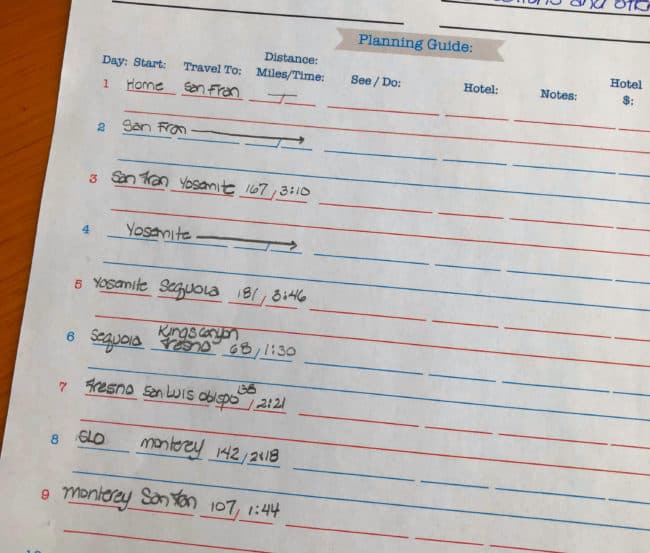 Be Mindful of Travel Time!
Even though you are planning a road trip- I am sure your family doesn't want to spend their entire vacation in the car! So there are a few tips I can share on how to split up a road trip and make the time in car work for your family:
Know how much time feels like "too much time" in the car. For us- we can do a 12-18 hour haul to get to our starting destination. But after that, we like to keep it under 4 hours of in-car time during any other day of our trip. And ideally- we like to break up our driving days so that we spend more than one night in one place if we can.
We know that for our family- the best time to drive is in the early morning hours. If get everyone up at 6 am to pack up the car and go- we know that all of our teens will go right back to sleep once we are underway- usually sleeping for the 4-hour drive to wherever we are headed. When they wake up at 10 am to start their day- we're already there! But for parents with younger kids, you might find that it is best to put in a few hours during a mid-day nap. Figure out what works best for your family!
Know your driving capabilities. My husband and I are early risers anyway- so driving in the morning works better for our own alertness levels. Other drivers might find that evening drives work better. Know what works for you!
Add Your Trip Details
This is where it really gets exciting! Now it's time to plan out activities for each day! What are you going to see and do? Are there any great restaurants you want to try? How long do you want to spend at each place (knowing this will tell you how many things to plan in one day).
What tickets do you need to secure in advance? (If there is something you absolutely want to do on this trip- buy your tickets as far in advance as possible!)
Where can you build in some downtime or allow for flexibility if something cool pops up?
Where do you begin to do research on a destination?
My two favorite ways to research a destination are to use Fodor's Travel Books and to do Google searches for an area, adding "Best Things To Do With Kids".
So for our California trip, I purchased Fodor's California This is an affiliate link: MomOf6 earns a commission if you purchase, at no additional cost to you. and literally flipped through every page of the book, circling places that I thought would be great for us.
I also did Google searches on all of the areas we are interested in, such as "Things To Do in San Francisco with Kids" (or "with Teens"). Armed with these ideas- I went back to my family to see what they thought of these things.
But I also love to hold back a few surprises that only my husband and I know that we are going to do- and that we can share with the kids during the trip!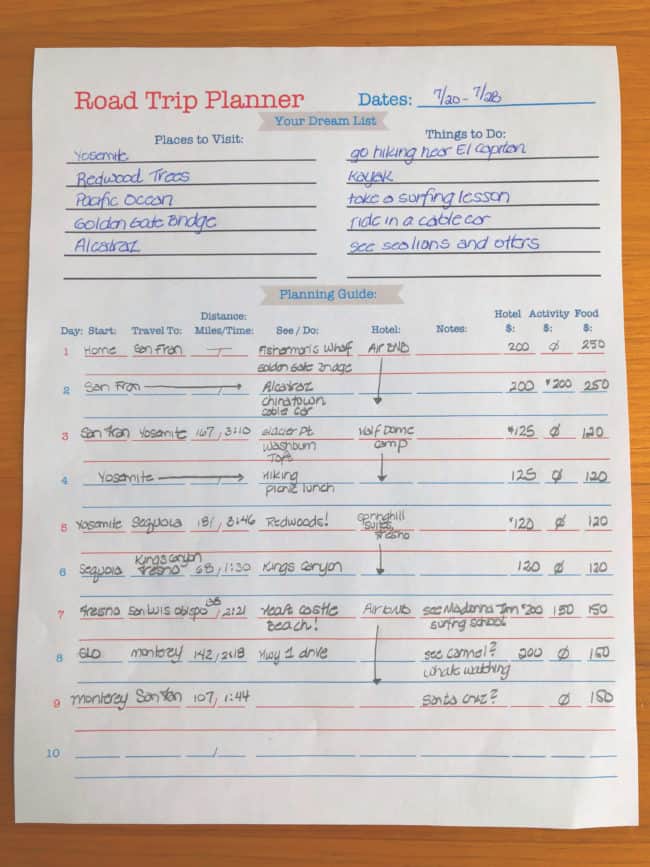 Then be sure to check out this list of the Best Travel Games This is an affiliate link: MomOf6 earns a commission if you purchase, at no additional cost to you. for kids over on my Amazon influencer page This is an affiliate link: MomOf6 earns a commission if you purchase, at no additional cost to you. !
Calculate Your Budget
You should have enough of a trip framework at this point to start calculating your expenses. (I know- the least fun, but very necessary part of your vacation planning!)
It's important that you know how much your activities and food costs will be, as well as what gas will cost for your road trip so that you can establish a budget for your accommodations.
In my opinion, I like to work backward into determining the amount I can spend on hotel rooms or AirBNBs knowing that I have first set aside enough of our vacation budget to cover all of the things that we want to do. Because when vacation is over- your memories are usually based on all that you did together more than on where you stayed!
Book Your Accommodations
And finally- now that you know your desired travel dates for each location and a budget for your accommodations, it's time to start making reservations!
For every reservation that I make, I send the email confirmation into a vacation planning folder that I set up in my email inbox. That makes it easy to quickly pull up confirmation numbers if I need them at check-in. On my road trip planner, I will also make a note of cancellation policies for each accommodation. Hotels often give you a 2-3 day advance cancellation window- but condo or AirBNB reservations may not be cancelable.
If I book anything that restricts my ability to cancel my reservation- airline tickets, accommodations, tickets for activities, I also purchase cancelation insurance. Yes- it is an added cost to my trip that most times I never use. But when you are traveling with a family of 8 people as I do- you need to be able to have an out and get your money back if someone were to get sick and you had to cancel your vacation. So give some serious thought to protecting your investment, or steer clear of bookings that don't give you room to cancel!
Was This Helpful?
I hope that you find the free printable road trip planner and the planning guide helpful to you as you plan your next family road trip!
Need help packing for a road trip?
You might want to check out these other posts that offer tips and advice on planning and packing for road trips:
And if you are looking for some cool family road trip destinations: