A great idea for an overnight family road trip during Spring Break is the indoor water park at the Great Wolf Lodge! With eleven locations in nine U.S. states plus Canada, hopefully there is one within a reasonable drive from your home. Over the past few years we have personally stayed at the Great Wolf Lodges in The Poconos, PA, Williamsburg, VA, and in Sandusky, OH and have had an amazing time at each one. And since admission to the water park is included in the price of the hotel stay- you get to enjoy two fun-filled days on the water slides with an overnight stay AND the decadence of staying in a nice hotel room.
And since admission to the water park is limited only to hotel guests, you can be assured that the water park is never over-crowded and you'll have plenty of opportunities for everyone to enjoy the slides and pools!
I love the mix of family and grown-up fun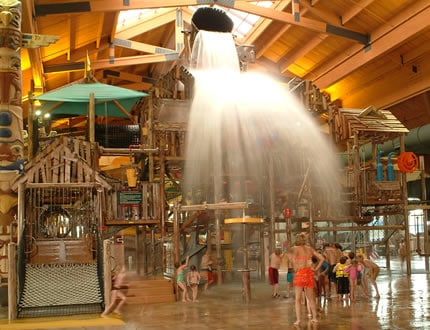 The water park has a nice mix of attractions- everything from pools geared to much-younger kids (smaller slides, knee-deep zero-entry pools), all the way up to rides that your teens would love- like water coasters and daredevil-multi-person raft rides.
And there are also some attractions specifically geared to a Mom wanting some low-key fun and relaxation (such as the wave pool and lazy river).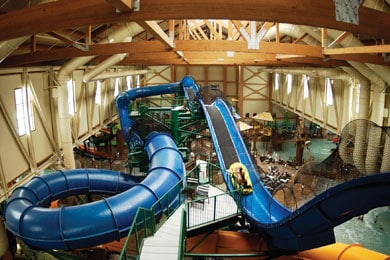 Last summer when we visited the Great Wolf Lodge in the Poconos, we tried out the hydro-plunge water coaster — a combination water slide and roller coaster that uses conveyor belts to move rafts quickly up the incline before releasing them down the next water-filled slide. It was awesome!
The other cool grown-up stuff? A bar area near both the outdoor and indoor pools to you can enjoy a Pina Colada after floating around in the lazy river. A spa (one for Moms and another one for teens if they are so inclined)… so that you can really chill out while Dad plays in the pool with the younger kiddos!
Looking for cool stuff for the kids to do beyond the water park? Try the arcade room, the teens-only hang-out room, and maybe best of all are the themed hotel rooms with bunk beds set up in little "dens" with their own TV's. My kids thought that all of this was great!
I felt that the kids were very safe
Taking six children of differing swimming abilities to a water park is a daunting task, but after observing how the lifeguards work at the Great Wolf Lodge, I felt very comfortable letting my older kids explore the water park on their own, allowing me to focus my watchful eye on the younger kids.
For one thing, the lifeguards never sit down on the job, they are constantly in motion, walking back and forth, searching every corner of the pool that they are guarding. In the areas where the large slides empty into a pool, lifeguards are carefully watching every raft, making sure that the occupants are exiting quickly and safely before the next rider emerges from the slide.
While I would still never allow my youngest ones to swim more than a few feet away from me- I did feel very comfortable that my older kids, who swim fairly well, would be safe to ride on their own.
A few travel tips to share…
1. Driving out of your way can save you $
Great Wolf is not a cheap vacation- especially for large families. While they do have rooms large enough to accommodate 8 people (a rarity!), the price for the room and the water park for the Poconos resort during our spring break is $700+.
But if we are willing to drive to one of the other Lodges, like the one in Niagara Falls where the local kids are not on spring break, the price for the 8 of us drops to $390.
2. Bring your own breakfast and enjoy pizza for dinner
Meals are not included in the room price, so breakfast, lunch, and dinner are on your tab. Rather than pay for 3 meals out, why not bring breakfast with you? We stopped at Dunkin' Donuts before check-in to buy some sweet treats for breakfast for the next morning, and we packed some OJ and milk from home.
Trust me, with a donut for breakfast combined with a quick exit to the water park, no one was complaining about the loss of the hotel breakfast buffet.
And many of the Lodges have paired up with Pizza Hut to offer personal pan pizzas to go- perfect to pick up before heading to the room for a break from the water play. Re-fuel and then head back for some evening time on the water slides while all of the other guests are eating dinner!
3. Pack a few snacks and take them along in your beach bag
While I don't think that the folks at Great Wolf would necessarily endorse this idea- we packed a beach bag full of snacks, bottles of water and Gatorade, and toted it into the water park area with us.
When the kids are hungry for a snack (which they will be- after all of this fun activity!) you can pull out what you packed in, without purchasing it at hotel prices!
*Above images are mostly courtesy of the Great Wolf Lodge sites. Whaaat? You thought I would be carrying a camera around while I was in a swimsuit? Uh, no!
You might want to check out these other posts that offer tips and advice on planning and packing for road trips:
And if you are looking for some more cool destinations: