A great Spring Break vacation idea that is so much fun for the family, and can be very reasonably-priced, is to rent an off-season house or condo at the beach. Honestly- I think that there is nothing better than a quiet week in the springtime sun in an uncrowded location! It's become one of our favorite family road trips!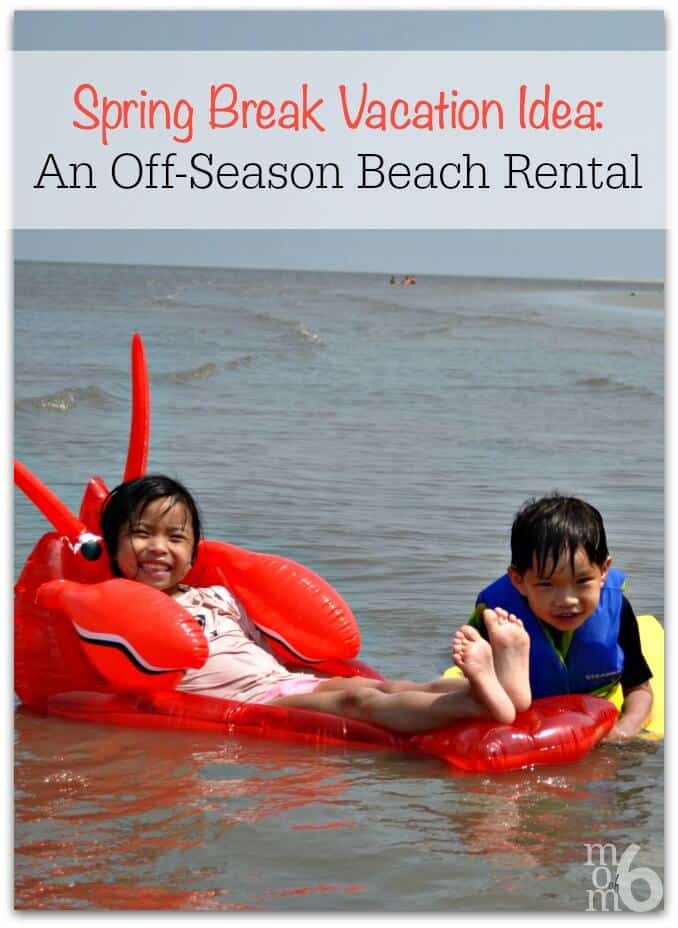 The kids enjoy splashing in the surf and digging big moats in the sand, while I am able to enjoy catching up on grown-up conversation while sipping cocktails under a beach umbrella! Intrigued? Then read my tips on how to make this YOUR reality!
Select a target location
I wanted to find somewhere that was only a one-day drive for us (keeping in mind that my family does have a high tolerance level for road-trip lengths, so a 15-hour trip does not faze us!). And we wanted to travel somewhere where the rental rates were still off-season, but where the weather would be warm enough during spring break that we could wear shorts and t-shirts and maybe play in the surf or pool on a warm day.
For those of us living on the East Coast, South Carolina or Georgia really fits the bill. If you venture all the way down to Florida, you have a better chance of finding warmer weather- but you'll miss the off-season rates too.
Consider traveling with another family and splitting the cost of the rental
Spending your vacation with your own extended family or with friends can be a lot of fun! Your kids get built-in playmates, and you get some more fun adults to hang out with, or even built-in (switch-off) babysitting.
Of course, the key to making sure that this situation works is to be sure that everyone does get along well, that you make plans for all financial considerations (how will you pay for food, who will cook, etc), and that you have a few back-up ideas in place when too-much togetherness threatens to derail the vacation.
But for family members who seek to find a great way to spend time together or good family friends who are very compatible- this can be a great way to have fun as a group AND stretch your vacation dollars.
Decide what features you really want and which ones you can live without
We like to spend our Easter vacation with my parents, and my father while still very active, walks using two canes. So for us, it is important that we find a rental that is right on the beach so that my Dad can easily join us without having to walk too far or carry too much stuff.
A lesser priority for us is to be near typical vacation activities such as mini-golf, movie theaters, and so on. While these things would be nice- they were lower on our list. We also chose to not make a nearby pool be a top priority because we knew that unless it was heated, we would 't use it too much. But at a beach, we can play on the sand or in the water even on a somewhat cooler day.
Decide on a budget for accommodations BEFORE you start looking at listings!
Otherwise, it is too easy to fall in love with a spectacular home on the beach that is waaayyyy more than you want to spend. Remember to budget in gas money, dining expenses, and money for activities too.
Start looking online, make some inquiries, and don't be afraid to ask for a last-minute discount! VRBO (Vacation Rental by Owner) is a great way to peruse listings, and it is where I have found several vacation rentals for our family over the years.
You might want to check out these other posts that offer tips and advice on planning and packing for road trips:
And if you are looking for some more cool destinations:
So what are your plans for Spring Break this year? Please leave a comment and share some inspiration with us!