The White Mountains located in the northern portion of New Hampshire is a fantastic family road trip destination- especially in the summertime when there is so much to get out and see and do! This is a place to enjoy outdoor activities such as hiking, kayaking, biking, and swimming- all while drinking in the fantastic views of the Presidential Range (the tallest peaks in the White Mountains named after American presidents). Here are some of our favorite things to do in New Hampshire with kids!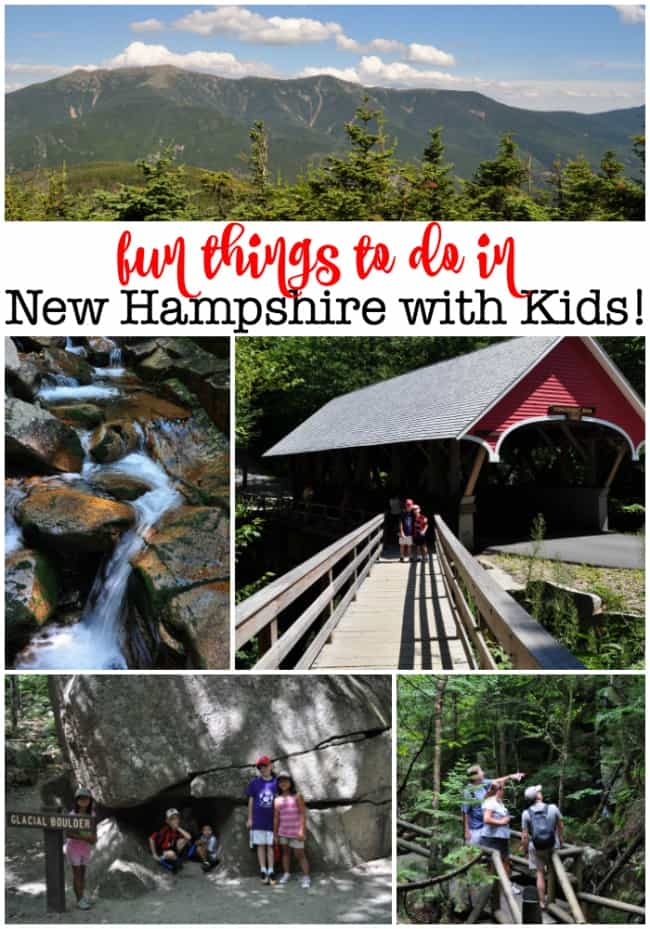 Located about 6 hours from New York City and 2 hours from Boston, the White Mountains are an easy road trip for families living in the Northeast.
When we visited the area, we rented a home in the town of Franconia (our favorite home rental sites are VRBO and Home Away), but there are also some great hotels and resorts for families as well as numerous campgrounds in the area.
Cannon Aerial Tramway
Two 80-passenger cable cars (one always heading up and one heading down) transport you to the top of 4,080 foot Cannon Mountain where you can take in outstanding views of the White Mountains. There are walking paths at the top as well as an observation deck and a small cafe (skip it). The 10-minute ride each way is smooth and spectacular.
At the base of Cannon Mountain be sure to stop by the New England Ski Museum where you can see Bode Miller's Olympic medals on display. There is also a little gift shop at the base where we enjoyed some wonderful ice cream cones and fudge!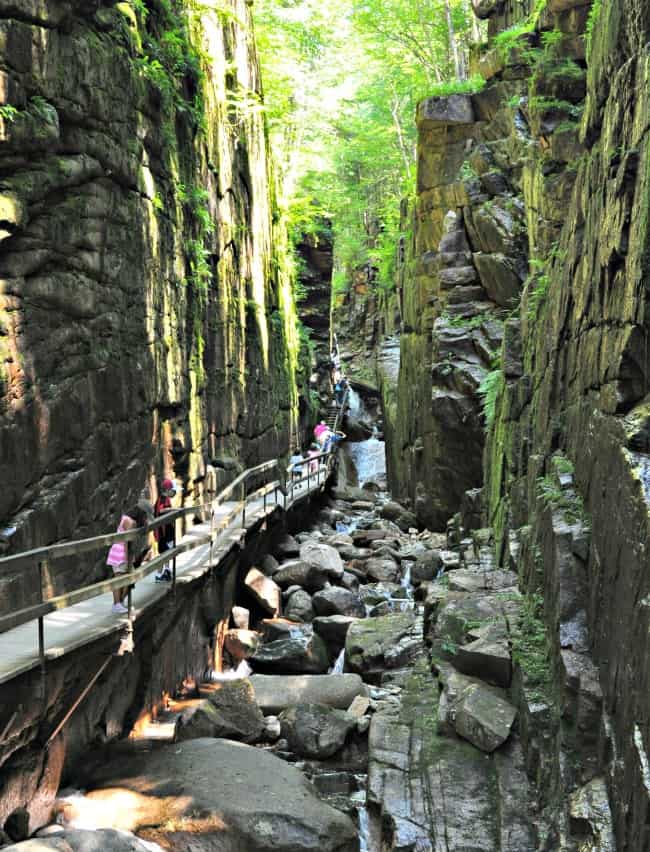 Flume Gorge
Located inside of Franconia Notch State Park, the Flume Gorge is a beautiful natural granite gorge with waterfalls and cascades that is accessible via a 2-mile round trip scenic path. Along the way, you'll have the opportunity to cross over a covered bridge- which is a true New Hampshire experience!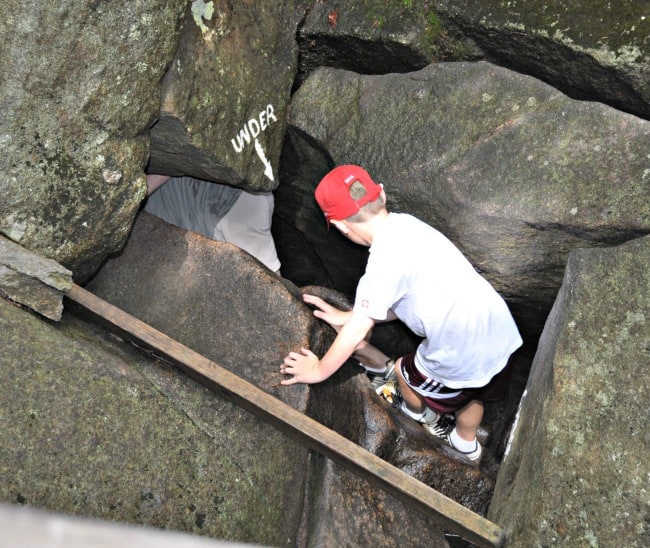 Lost River Gorge and Boulder Caves
Our kids' favorite hike on our trip was when we visited Boulder Caves at the Lost River Gorge. Huge boulders were pushed together by glaciers during the Ice Age, forming "caves" where the boulders met.
Today visitors can climb up and down ladders and squeeze through some tight spaces to access these natural wonders. (And if your kids are like mine, they may want to go through the same "cave" over and over again!)
Appalachian Trail
The famed Appalachian Trail intersects Franconia Notch State Park, and it's a great opportunity for you and the kids to hike a bit of one of North America's longest and most historic hiking trails.
Mount Washington
At 6,288 feet, Mount Washington is the highest mountain in Northeastern America and is known for its extreme weather (so be sure to bring along a warm coat if you plan to visit the summit, even in July!). In fact the some of highest wind gusts ever recorded on Earth have occurred at the summit!
You can drive to the top, or take the famous Cog Railway– about an hour each way to/from the summit.
Kancamagus Highway
Also known as Highway 112, spend an afternoon driving the 34.5-mile scenic byway between Conway to Lincoln. There are numerous places to pull over and take in the incredible mountain views.
Amusement Parks
There are several smaller-scale amusement parks that are great fun for younger kids- Santa's Village, Story Land, and Whale's Tail Water Park. Pick one and spend part of a day indulging the kids in good old-fashioned carnival rides!
Alpine Slide and Mountain Coasters
The White Mountains are home to two ski resorts turned into summer playgrounds featuring alpine slides, zip lines, and mountains coasters: Cranmore Mountain Resort and Attitash Mountain Resort.
Polly's Pancake Parlor
Polly's Pancake Parlor is a Franconia institution- serving incredible made-to-order pancakes with fresh New Hampshire maple syrup! Diners can choose from 5 different kinds of pancake batter and four different kinds of toppings, and your waitress will prepare your pancakes three at a time (so they are always served hot when you are ready to eat them!).
Polly's has more than pancakes- but seriously- with 75 years of history behind them, why would you try anything else? (My kids still talk about this place!)
Chutters
And no trip to the White Mountains is complete for the kids without a stop at Chutters in Littleton- home to the "World's Largest Candy Counter"! My kids were thrilled to grab a bag (each!) and fill it with treats from the 112-feet of brightly colored candy jars! Trust me- they'll be talking about this place for a long time!
We loved our visit to the White Mountains area, and found that there are so many fun things to do in New Hampshire! The only disappointment? Not spotting a moose! I guess we'll have to make a trip back!
Want to Check Out More Great Road Trip Destinations?
Need Some Help Planning or Packing for Your Family Road Trip?