A few years ago, I decided to embark on a "grand adventure" and take my kids cross country for a summer family road trip. We covered 8000 miles and 14 states in 4 weeks- and it was an amazing experience! This post is part of the series of Road Trip Diaries from that Great American Road Trip!
One summer my family and I enjoyed the greatest of all family road trips– a cross-country tour to see the Western United States! We had so many fantastic adventures- but one of the most memorable parts of the trip was our stay in Wyoming. The vistas, the wildlife, the hiking, the activities- there are just so many amazing things to do in Wyoming with kids!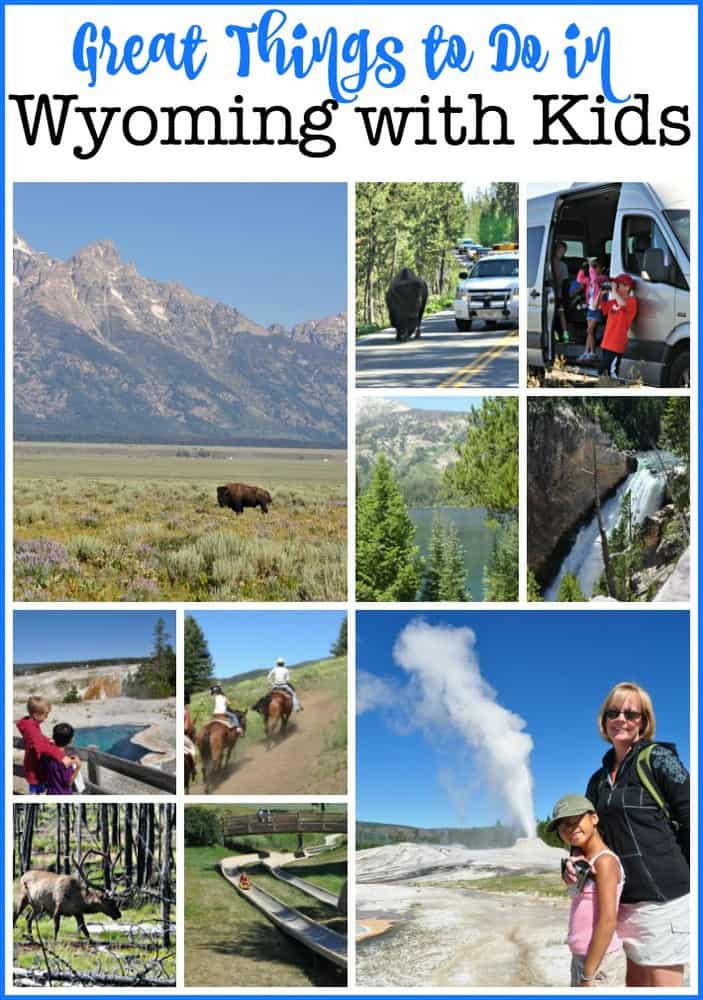 We spent the first part of our road trip at Rocky Mountain National Park and had such an amazing time that I was a little sad that it was already time to move on, but we had miles to cover and many more things to see, so we hit the road at 5 am to head to Jackson, Wyoming.
But before we pulled out of the parking lot of our cabin, we were given one last glimpse of the local wildlife- when we came face to face (okay, our car headlights came face to face) with a giant elk with a full rack of antlers on this head! We were so surprised (and it was still dark out!) that we didn't even get a picture of him before he turned his tail towards us and ambled off.
It was a beautiful 9-hour drive out to Jackson- with the landscape transforming itself from gorgeous green hills to large rocky boulder-strewn mountains. We even passed a camel farm along the way near Cheyenne! We were on a mission to reach the airport in time to meet my mother-in-law's flight at 3 pm, but when we spotted a herd of bison on the way to the airport we couldn't help but stop on the road for a while, take some pictures, and marvel at the sight!
Once we tore ourselves away from the bison, we picked up Gramma and headed to our condo to get settled for the next four days in beautiful Wyoming!
Things to Do in Wyoming- #1: Hike and See Wildlife at Grand Tetons National Park
Never in my life have I seen a mountain range like this- the mountains literally rise from the valley floor and present this incredible view that you just cannot stop staring at.
I read a story about this park- John D. Rockefeller brought his family out here in the 20's. He fell in love with the area but was discouraged by the settlers shacks and shady business development that had sprung up throughout the valley, so we began to buy up the land, eventually purchasing 35,000+ acres with the intention of giving the land to the US government to preserve it as a national park.
But amazingly, it took the US more than 20 years to accept the gift, so in the meantime, Rockefeller built some of the grand lodges that still exist today, to shelter the travelers that came to enjoy the beauty.
We spent a good part of the morning "tracking" bison herds, and my kids were fascinated when the herd struggled to cross the street- the patriarch of the group running across first and then watching him snort and stomp his hooves trying to get the rest of them to follow. Then a big truck would roll by- and the bull would run back across the street to stay with his "family."
This happened over and over- my kids wanted to get out and stop traffic until they were all safely across!
We spent the afternoon hiking around Jenny Lake- making a detour to the moose pond area because other hikers had told us that they had seen a moose there, but unfortunately- we never did see a moose (maybe because I was singing Taylor Swift songs loudly to scare off any bears on the trail), and we somehow got turned around on the trail and never made it to the other side of Jenny Lake.
But it didn't matter- the trails and scenery were beautiful, and we fell in love with the grandeur of the Grand Teton mountain range!
#2: Visit and Play at Snow King Resort
On Saturday we headed over to the Snow King resort, where we were their guests for the day. We started with lunch at Hayden's Post restaurant outside on the covered patio overlooking the pool- and in spite of my children's infatuation with bison the day before- three of them were willing to try either the bison burger or the BBQ bison brisket sandwich- all of which were delicious! I ate one of the best (beef) burgers of my life (I am still thinking about it)!
We then headed out to the mountain to play- the girls and Gramma and I took a horseback ride up the mountain while the boys headed over to the alpine slide. After our ride, we joined them for some rides on the slide and Lili also jumped and flipped on the bungee trampoline for a while and scaled the rock climbing wall.
My kids did not want to leave the mountain- but it was time for dinner back at Hayden's Post- where we truly had one of the best meals we've EVER had on vacation. Several of my kids ordered the flat iron steak- and it was just fantastic! I know I will be searching for this cut of meat back in NY!
#3: See Nature in All Her Glory at Yellowstone National Park
On Sunday morning, Steve and I kept pinching ourselves because we couldn't believe that we were actually headed to Yellowstone National Park- a place that's been on my "vacation bucket list" for- forever!
Our first stop in the park was to see Old Faithful- but since it was erupting as we were driving into the parking lot- we decided to walk the geyser loop trail first- and it was incredible!
There were bubbling minerals pools, smaller geysers, and incredible views of the surrounding mountains. And of course, we made it back to the boardwalk to see Old Faithful erupt about 5 minutes past its "scheduled time" of 11:04 am.
After a picnic lunch in the park- we drove over to lower Yellowstone Falls and hiked down to the "brink of the falls," a steep and challenging walk consisting of switchbacks down the side of a mountain- but it was so worth it!
Of course, Yellowstone wasn't without its share of wildlife spotting!
We saw a grizzly bear! Or better described as- we saw his big hairy butt ambling into the woods away from us- and as hard as we tried- we didn't capture a picture in time! We also saw this giant elk!
But our favorite wildlife encounter (and here comes yet another bison story) was when this giant bison was running down the roadway towards us because he was being "herded" by a ranger's car. The bison was on a part of the road that has a steep drop-off on one side and a steep mountainside on the other- so he couldn't easily get off of the road- and the park ranger was herding him down to a flatter area, But while she was doing this- the bison was a little stressed- and I thought he was going to charge our car!
#4 Rock Scramble at Devil's Tower National Monument
Devil's Tower National Monument is an incredible monolith and a site that is sacred o the Northern Plains Indians. You'll see prayer offerings tied to trees and left on rocks along the trails (be sure to leave these untouched).
You can rock scramble to the base of the tower, but beyond that point, you'll need a climbing permit to continue. We hiked the Red Beds Trail which circled the tower in a wide loop (perhaps a better / easier choice would have been to hike the Tower Trail instead).
I have never seen anything like this!
You've Got to Go!
I can't even express how much I loved Wyoming. I mean- head over heels in love. The scenery surpassed anything I could have imagined- the wildlife was spectacular, the experiences that my family and I shared here have created a lifetime of memories. I sincerely cannot wait to come back and spend more time here.
I created this short video to show you our recommendations for five things that families shouldn't miss while in Wyoming:

Want to Check Out More Great Road Trip Destinations?
Need Some Help Planning or Packing for Your Family Road Trip?
*My family was generously given complimentary activities and meals while visiting Snow King Resort- but all opinions expressed here are my own.