In this prior post I discussed how building and using a set morning routine can make your mornings much calmer. Today I am going to talk about how to put into place a flexible after school routine that allows your kids some time to wind down after a big day at school before moving into all of the after school work and activities that follow.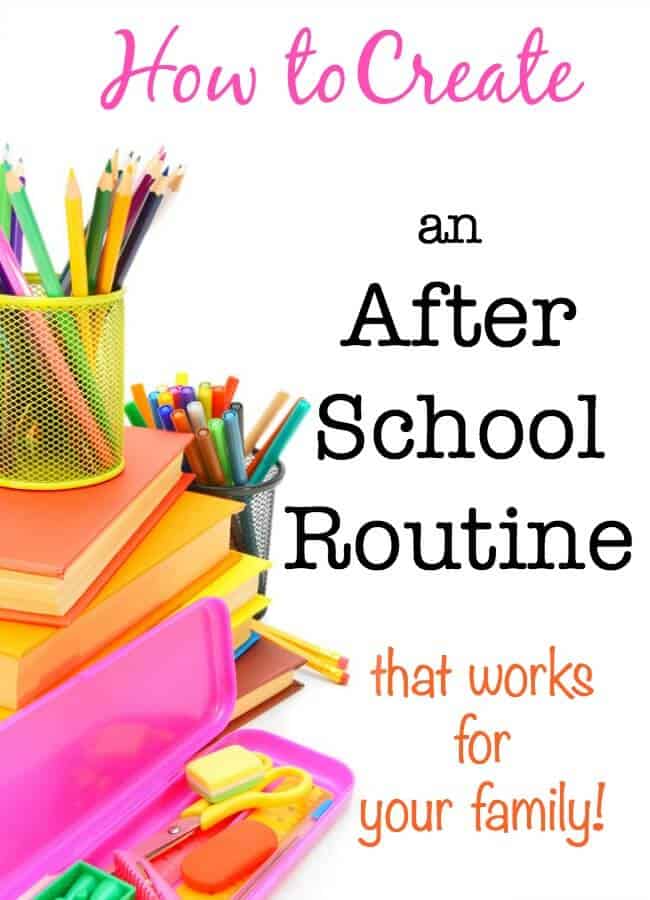 After School Routine: When They Arrive Home
After the kids have charged off of the bus, and blurted out the 15 things each that they couldn't wait to share with me, we all hop into the car for the quick drive back up our long driveway. This can feel like a crazy time of day- everyone is loud, everyone is (usually) happy, some are hungry, and some are pretty tired and worn out. I try to herd everyone into the house, and allow them a few moments to drop their backpacks, grab a snack, and just chill out for a few minutes. My good friend Lisa calls this time "snack and chat"- it's a time for the kids to re-fuel and talk a little bit about their day.
Unpacking Backpacks
Once they've had a moment to relax a little, I will remind them to get their backpacks, and start the unloading process. In the past I used to try to get them to do this as soon as we walked in the door, before they had their snack, but I learned that they weren't ready to be helpful yet- they had worked hard to follow rules all day long and they need that few moments of winding down before they can really listen.
My kids pull out their lunch bags and snack bags out of their backpacks, and put them on the kitchen counter near the sink (and ideally, it would be nice if I could convince them to actually unload all of the containers from these bags too, rather than just leaving them for me. I need to work on that one!) All folders and paperwork go on another section of the kitchen counter (so they don't risk getting wet next to the sink), and then backpacks get hung up on a backpack stand that I keep next to our kitchen. (I used to keep the kids backpacks on hooks in their coat closet, but I found that it is easier on all of us if the backpacks stay near the kitchen, and I save the closet hooks for their current in-season coat or jacket.)
Dealing With the School Paperwork
As they are unloading, I first focus on going through each child's paperwork, which they have placed in my school papers inbox. We will look through all of the paperwork together that comes home and we take care of the "filing" as we go through it…
If it is school work that they completed at school, then we will review it quickly together, and then it goes into my "temporary holding bin" which is on the kitchen counter. (A little Mom-inside information on this bin. I think of this as a stepping stone to the recycling bin. I generally toss school papers into the basket for a few weeks, and then empty the basket into the recycling bin once I know that a) the paperwork is truly no longer needed and b) no little person is going to come looking for their drawing of the green froggie!)
If it is a permission slip that needs to be returned to school- it gets signed immediately and placed back into the child's folder to go back to school. If it is a reminder notice or a flyer for an upcoming event- I immediately note it in either my monthly calendar of my weekly planner. If I need to keep the notice for the details it contains (directions, etc), then it goes on a clip on my blackboard in the kitchen- filed according to date- so the item on top is the item that is occurring first. If I do not need to retain the notice, then it goes into my "paper basket" too.
If it is a truly special piece of artwork or a really great writing piece that my child did, then I hang it up on the refrigerator for everyone to admire!
And if it is a homework assignment that we need to complete, it it placed on top of the folder, and stays on the kitchen counter. Or if we are headed out to an after school activity for one of the other children, it might get placed on a clipboard so he or she can work on it while the sibling is doing their activity. But the folder stays on the counter, as a reminder to me and my child that we cannot pack it up in the backpack yet.
If no homework needs to go back to school, the folder is placed back into the backpack for the next day. Although, before doing that, I usually check first to see if that child is buying a school lunch the next day, and if so, I will load the lunch money into the folder or backpack at that time.
For us this process can take around 15-20 minutes in total to go through each child's folder with them. For my older children who also use planners at school to record their homework assignments, we will review the planner too, and talk about how we will complete everything that needs to get done today.
Time for Homework
At this point (unless we are heading right back out the door), some of my children prefer to sit down at the kitchen table and just get all of their homework done. So I make sure that I stay in the kitchen (usually I am emptying out lunch and snack bags and loading all of the plastic containers and water bottles into the dishwasher and running it before dinner) so that I am available to help them along, and review their work. But some of my children would rather play for awhile first, and I think that should be okay too- as long as that child and I have agreed upon a time when they will come back to and work on their homework.
Getting Ready for An After School Activity
I want the kids to be as self-sufficient as possible when it comes to getting ready for whatever after school activity we have planned next. So I have set up "kits" (plastic bins) for each activity for each child. These bins are stacked up in the kids coat closet, and it is easy for them to pull them out and start getting themselves dressed and ready to go. And actually, many days I will pull out these kits and add water bottles to them so they are waiting for the kids once they arrive. The key to making this kit system work is to make sure that the plastic bins get re-loaded with the gear once the kids return, and the clean uniforms are returned to the kits after they have been washed.
I would love to hear some of your ideas on how you handle the after school routine!