Routines are the gateway to habits. Once you establish a process that you can do at the same time every day, you can put that part of your day on auto-pilot. And when Moms create an evening routine– it can make all of the difference in how you start the next day! Routines are truly one of the best ways to get organized!
Now I know what you have in mind for an evening routine- a hot bubble bath, a good book, and perhaps a big glass of chardonnay- but you are jumping right to the end-game there! (We'll get to the wine- I promise!) First, let's tackle three things that you should do as part of an evening routine to prepare yourself for the next day:
Lay Out Clothing in Advance!
Get the kids clothes for the next day picked out and placed where they will get dressed. I have some kids who like to be involved in this process and have a very definite opinion about what they want to wear, and I have some kids who are more than happy to allow me to decide for them (ahhh- so easy!).
For the more opinionated little people in my life- I will work with them on Sunday nights to choose all of their outfits for the week- it makes for much less "outfit drama" in the morning.
When the kids were preschool-aged, I would bring tomorrow's clothing to my bedroom and put it on my dresser and they would come into my room each morning to get dressed where I could help them.
Have Everything Prepped for School
Make sure that all homework, permission slips, library books, band instruments, etc, are packed up in the backpacks and ready to go. (Well- one of my sons plays the bass- so it doesn't quite fit in the backpack, but you get the idea!)
Get Lunch and Snack Bags Ready
Prepare the lunches and snack bags for the next day.  And this is the step that takes me a while.
If I was "on top of my game" and got all of the lunch and snack bags unloaded from the backpacks, contents cleaned up, put into the dishwasher, and actually have run the dishwasher- then I can begin! But if I didn't accomplish all of that- then I have to wait for some clean water bottles and plastic containers before I can get rolling.
In the evening, I line up the water bottles and refill them. Next, I make up little containers of fruit- usually grapes, cut-up strawberries, applesauce, etc- and that all goes into the fridge to be added to the bags the next day. Then comes the little containers of something crunchy, and also little containers of ketchup, for those that need it for dunking.
I will then get out the containers that I will use to pack up the entree in the morning- so either a thermos or a sandwich box for each child. And finally I will wash any apples and add in the snacks- sometimes a pre-packaged item such as a granola bar or goldfish crackers, etc.
All of this gets assembled like this:
And then set up next to the lunch and snack bags here:
where it waits for me until morning. While the kids are eating their breakfast (while speaking nicely to one another and NOT hitting, chanting, name-calling, or throwing food) I will grab all of the cold items out of the fridge, add in yogurts, cheese sticks, etc into the snack bags, make up the entree items, and then pack up 12 of these little bags into 6 backpacks (very heavy backpacks now) so the kids are ready to head out the door.
And that's how I make the lunches.
An Evening Routine for Mom: Now It's Mom-Time!
Once all of this is done, and the little ones are tucked snugly in their beds (with visions of DS games, ponies, puppies, and toy trucks dancing in their heads), it is MOM-TIME! Start running that hot bath and break out that bottle of wine! Just like I do- every night!
Okay- maybe not really. Actually, the truth is that I am usually so tired at this point that I just collapse and fall asleep the minute I sit down on the bed.
In the hopes of doing a better job of taking care of myself- I actually took the time to write up some lovely reminders just for me- such as to wash my face and brush my teeth and kiss my husband good night, and I put those thoughts into this beautiful frame that sits right on my nightstand.
Try these routines that have also worked for our family:
Looking for the best family calendars, planners, & to-do lists?
Best Family Calendars – whether you prefer electronic, paper, or wall calendar- these are the best ones of the year!
Best Planners for Moms – a family calendar can help you organize your schedule and your time- but a planner can help to make sure that you are giving your life purpose!
15 Perfect Paper to Do Lists for Busy Moms- pretty paper lists to guide you as you get it all done!
Here are some great ideas on how to organize your home!
Are you ready to get your life organized? Register for Busy Moms Boot Camp!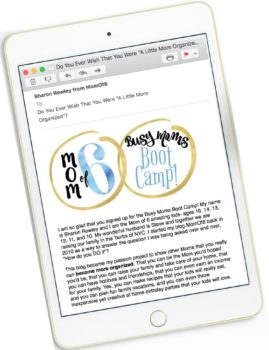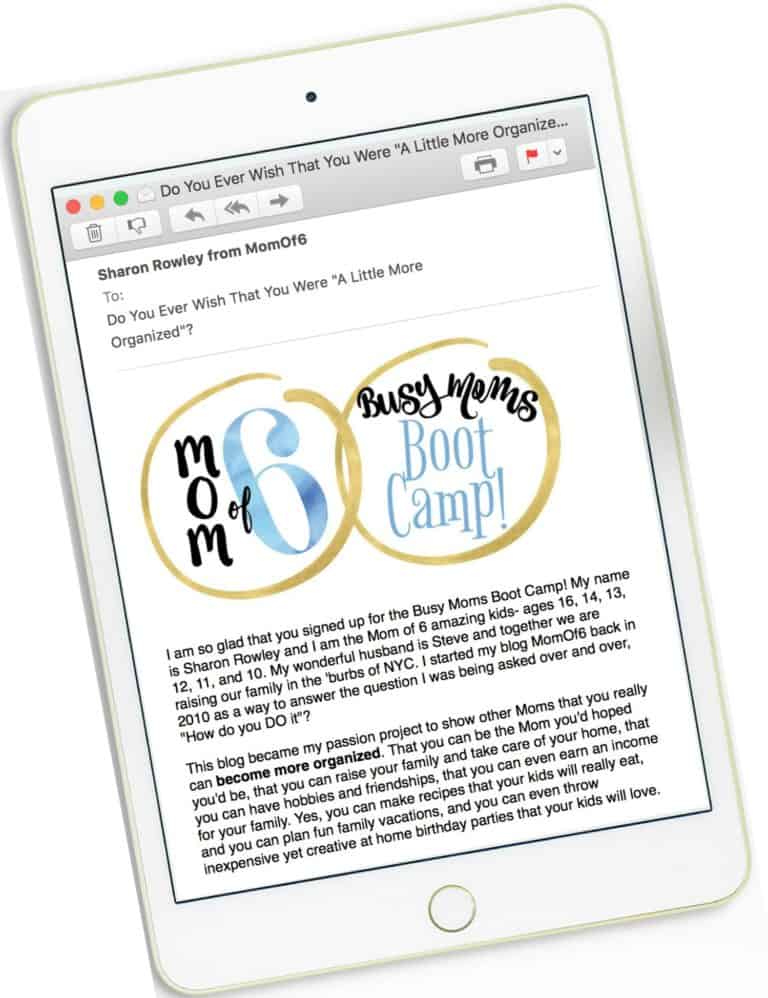 It's a free series of 10 weekly emails that can help you put some organization back in your life and help you to create room for all of those things that you'd like to be doing- whether that's making time to celebrate the little things with your family or carving out some space for yourself. Busy Moms Boot Camp can help you to move from chaos to organized! Simply sign up below to get started!
As a Mom, do you use an evening routine to get yourself ready for the next day?