Have you ever been to a Minor League baseball game? Played at a real ballpark, complete with real baseball players, ballpark food, and great "side entertainment"- we love to go! Here are 5 reasons why you should take your kids to a minor league baseball game! (A really fun field trip is you are running a DIY summer camp at home!)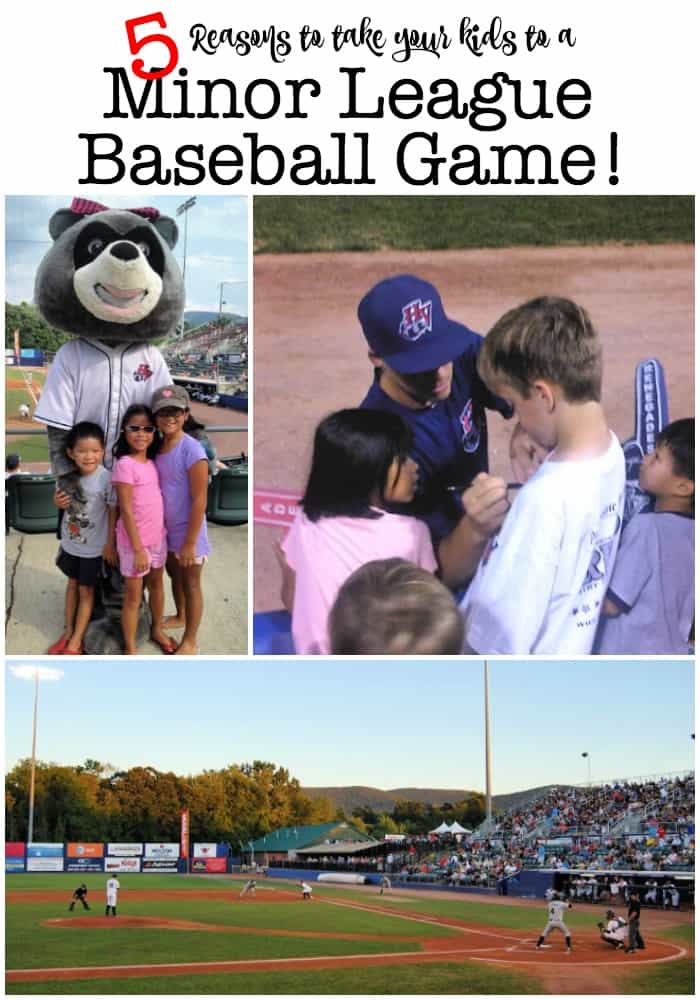 At our house, we are only so-so baseball fans. Yes, I know we live in Yankees / Mets territory where people are serious die-hard fans for life- but we are not those people.
(For me it might have something to do with growing up in Cleveland in the 1970's and 80's when the Indians were in the middle of their 30-year slump).
We rarely watch a game on TV (unless it is a playoff game), so the idea of spending $200 or more on a ticket to take our kids to see a NY team play is kind of out-of-the-question!
However, our three older boys have all spent several springs playing little league baseball and our entire family loves to get a pick-up game going in the front yard now and then, so venturing out to see professionals play is indeed an enjoyable way to spend an afternoon or evening in the summer with our kids!
At Minor League Baseball Games- Ticket Prices Are Inexpensive
Our local minor league team offers several different levels of seats- ranging from $6 for general admission, $8-$11 for grandstand seats, and $14-$15 for box seats (which are the lower deck seats closest to the field). I mean, we are talking movie ticket prices here!
Since we only attend one or two games a year, we purchase box seats and try to get the kids as close to the front row as we can…  that way they have a chance of getting a ball from a player (who often hand foul balls to kids in the stands) or an autograph.
Once a player even handed us his bat after the game- my kids were thrilled!
And The Snacks Are Reasonably Priced Too!
You simply can't go to a baseball game and not eat a hot dog right? And a hot pretzel? And salted peanuts in the shell? And maybe cotton candy, or an elephant ear, or both?
And don't forget Cokes for the kids and a beer (or two) for Mom and Dad.
I think ballpark food is part of the experience- but at a major league game you can spend as much as you would to eat out at a fine restaurant for this fare!
It is so much better that we can enjoy all of these treats for less than $100 for our family of 8 at a minor league game!
You'll Have A Great Seat
Where our local team (The Hudson Valley Renegades) play, the lower deck and upper bleacher seats combined have roughly the same height at the bleachers at a high school football field. So honestly, there is not a bad seat in the house.
You'll be able to see all of the action on the field just as if you were watching a major league game- that is, if you were watching the major league game at home on the TV.
It Is Very Entertaining When You Take Your Kids to a Minor League Baseball Game!
Minor league baseball games are designed with families in mind. So the staff works hard to make it fun!
Nearly every night there is some sort of giveaway on entry (if you are one of the first 1000 fans to come through the gates). We've brought home t-shirts, ball caps, bobblehead figures, and baseball cards over the years.
In between innings, there are always games staged on the field involving the fans- our favorites are when they sling-shot t-shirts into the stands, have food-eating contests or play "Deal or No Deal".
The team mascot roams the stands and shakes hands with the kiddos.
Many nights they allow the kids to come down onto the field and run the bases after the players have left the field.
And several nights during the season, they put on a spectacular fireworks display after the game. Even if your younger kids won't sit still to watch the game, they will love all of the other entertainment going on.
The Fans Are Well Behaved
I've been to a few major league games were some of the other fans in the stands spent most of their time yelling out colorful commentary to the players, coaches, and umpires- words that I don't want my kids to even hear let alone repeat.
I've also witnessed fans take the opportunity (after spending upwards of $100 on their ticket) to get so drunk by the 3rd inning that they can't even walk up and down the grandstand steps anymore, so they cling to the shoulders of everyone lucky enough to have purchased an aisle seat.
Not so great when that's your 8-year-old sitting there with the drunk guy clinging to him for balance.
I have never seen anything like this happen at a minor league game. People are there to watch the game, have a few laughs, eat good ballpark food, and spend time with their families. That's my kind of fun!
Here are some more great summer ideas for you:
Please check out my DIY Summer Camp page for lots of ideas on how to host your own kids summer camp at home!
How about you? Do you think you'll take your kids to a minor league baseball game?