Some of our favorite DIY summer camp field trips are to visit one of the several terrific Science Centers that we have located here in the Northeast because they are fun as well as educational. They showcase all kinds of cool hands-on activities for the kids to try which teaches them about nature, physics, geology, states of matter, energy, and so much more. And many Science Centers even have great activities for preschoolers- who won't realize that they are learning anything- they are just having fun playing! Here's why you should plan to visit a science center with your kids this summer!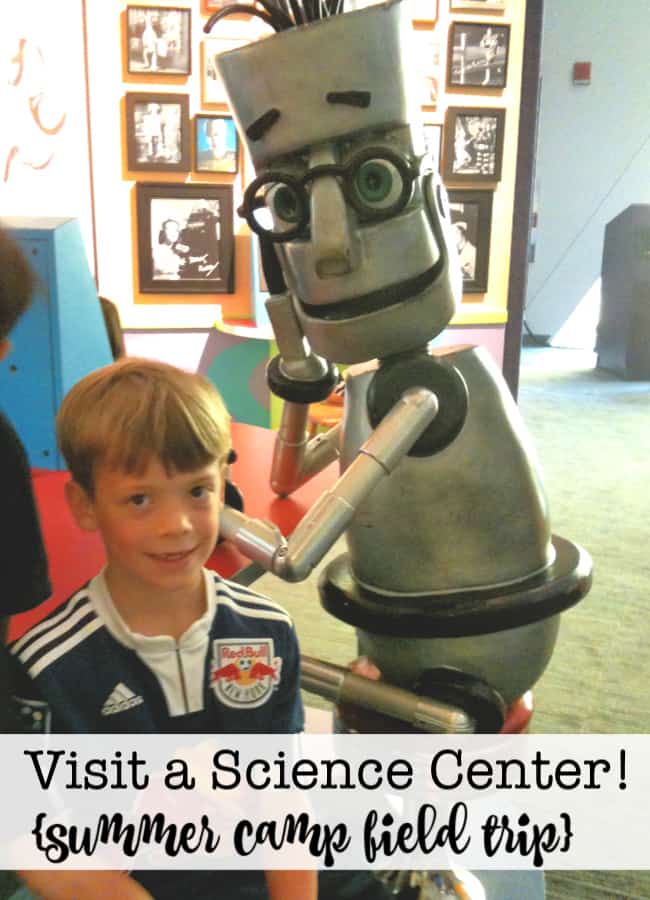 A Peek At Our Favorite Science Centers to Visit
One of our favorite Science Centers is the Connecticut Science Center located in Hartford, CT.
picture courtesy of Flickr/Vilseskogen
Housed in the gorgeous modern building, the Connecticut Science Center encompasses 4 floors and 13 exhibits. We love the Forces in Motion exhibit. Kids can create Lego cars and race them, they can build roto-copters and fly them in the giant wind tunnel, they can build working mechanical robots, and they can use the force of air movement to play a game of beach volleyball.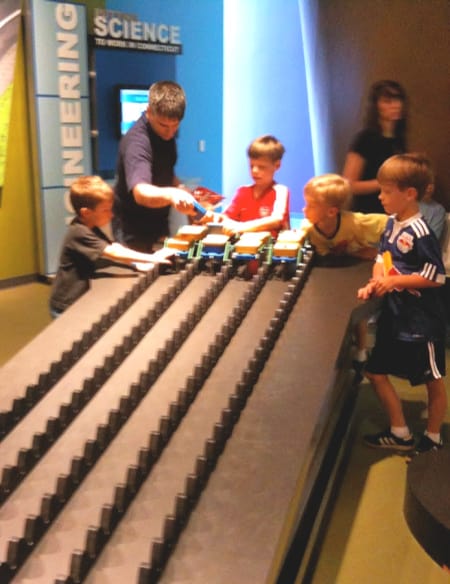 They also love the design areas where you can trace and design your own mechanical projects.
And my youngest family members adore KidSpace- an area for the under 7 set that features "I Spy" search-and-find activities, a water play area, and a magnetic ball wall.
They could spend hours in the water room placing balls in the fountains in different ways just to see what happens!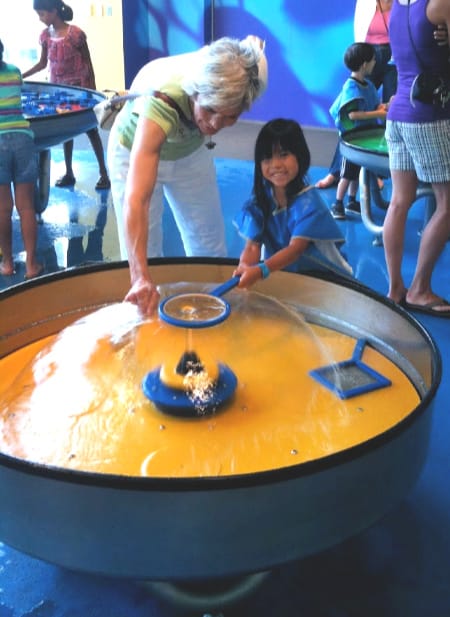 We also love to visit a science center while on vacation. During one trip to Orlando we spent the afternoon at Wonderworks which is a science center dressed up to be like an amusement park- and it is awesome! 100+ exhibits, not to mention laser tag, a ropes course, and a magic dinner show that was hilarious!
The giant bubble area was a huge hit!
And so was the whole area dedicated to space exploration. The kids loved climbing into the space capsule and "trying on" the full astronaut suit!
Looking for a Science Center Close To Home?
Mommy Nearest has come up with a list of the 20 Best Science Centers in the US. Maybe you'll find one close to where you live!
You can also check out the Association of Science and Technology Centers website, where they provide a searchable listing by state of Science Centers that participate in their ATSC program.
Please check out my DIY Summer Camp page for lots of ideas on how to host your own kids summer camp at home!
Here are some more great summer ideas for you:
Do you think you'll visit a science center with your kids this summer?