Taking a nice hike to visit a waterfall with your kids is a fantastic field trip to take during a DIY summer camp at home! Waterfalls of almost any size are quite awe-inspiring- and not only for the kids!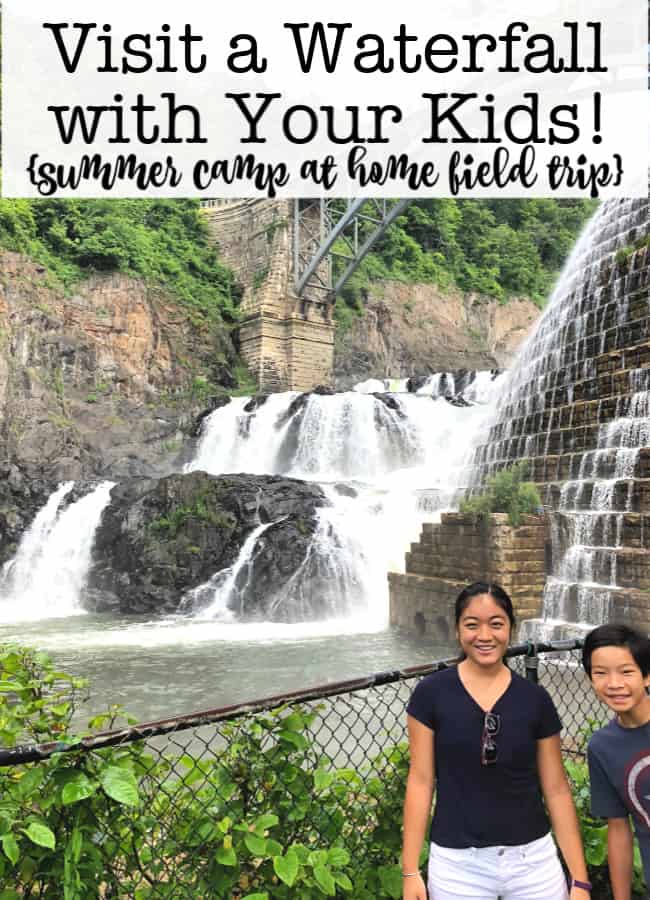 Waterfall hikes have been part of our summer plans for as long as we've been doing summer camp at home!
A beautiful spot less than 2 hours from where we live is Bushkill Falls which is known as "The Niagara of Pennsylvania".
While this hike does require paying an admission fee, it's a great place to hike to a waterfall with kids- because of all of the pathed paths and bridges back and forth around and over the eight different waterfalls so that they can be seen up close.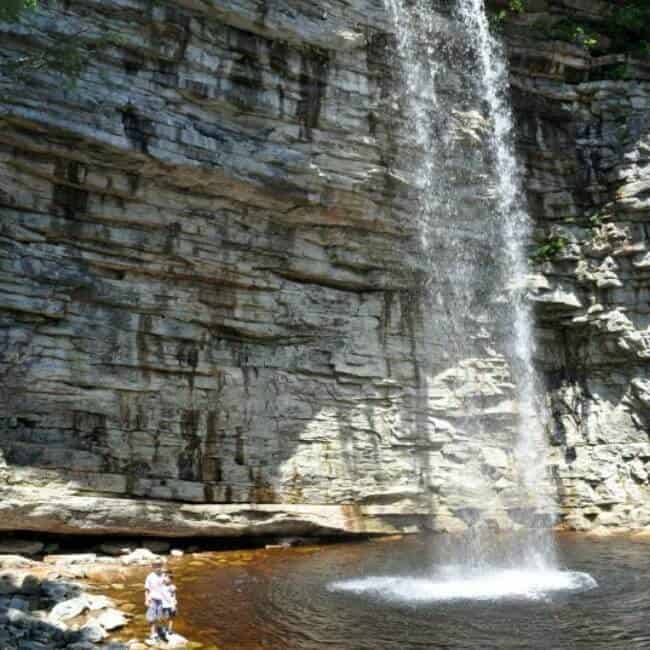 Another great park with a huge waterfall that is very accessible is Minnewaska State Park.
On the day we visited with the kids and had this incredible waterfall all to ourselves. It was fun to imagine what the first explorers to this area felt when they stumbled upon Mother Nature's masterpiece!
Of course, hikes to a waterfall require a little off-the-path exploration- especially if it allows you a safe opportunity to view the waterfall up close! (You can read more about our adventures at Minnewaska State Park here!)
We even incorporate waterfall hikes into our family vacation- as we did during a 3-day road trip to Asheville where we stopped by Looking Glass Falls:
And also hiked to Moore's Cove falls where you can actually stand behind the waterfalls!

And in Maine last summer, we hiked to the 92-foot Moxie Falls:
How to Find Waterfalls In Your State:
Google is certainly your friend here- just searching for "waterfalls in NY state" brings up a list of images of waterfalls in New York as well as a host of articles on the best ones to visit in different regions of the state. (It certainly helps that we live in a state with lots of waterfalls!)
A great article to check out is this one on The Most Jaw-Dropping Waterfall In Every State! Use it to research waterfalls near your summer vacation destination or located in states that are within a few hours drive of where you live!
Here are some more great summer ideas for you:
Please check out my DIY Summer Camp page for lots of ideas on how to host your own kids summer camp at home!
Have I inspired you to visit a waterfall with your kids this summer?