Baked ham is one of my family's very favorite holiday meals. But even though we love it so much, we usually only make it for Christmas Eve and Easter dinners- whick prompted the question- Why? Why were only serving one of our favorite meals twice a year? So when my daughter Lili requested that I make ham for dinner, but I knew we had a weekend packed with soccer games and birthday parities- I decided to investigate whether or not I could make a baked ham in a crockpot. And…. well…. of course you can!
Now one thing that you'll need to pay attention to- is the size of the ham vs the size of your crockpot!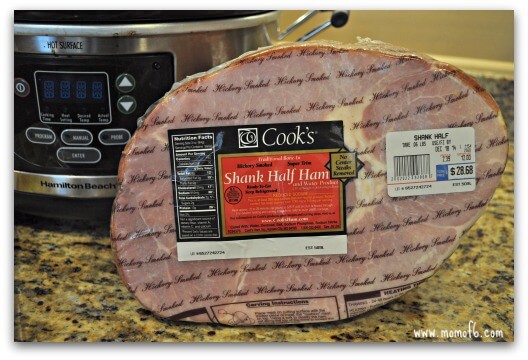 Since we are a big family, and we also like to have plenty of leftovers, I usually buy the biggest ham I can find- which in this case was 12 lbs. But that meant my husband had to do some pretty creative carving (around the bone) to get it all to fit into our crockpot!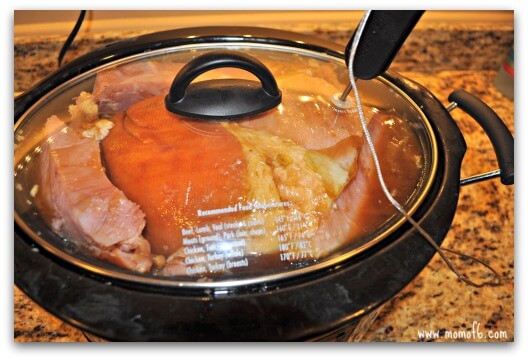 We covered the ham in brown sugar and maple syrup and inserted the meat thermometer into the deepest section to insure we reached the internal temperature of 140 degrees.
Once the ham is ready (3-4 hours on High), we poured the drippings into gravy separator to remove the grease, and used them as the basis to make Steve's family's signature "sweet stuff" sauce.
Served with a side of cheesy potatoes- this is one fantastic family meal that is easy enough for every day!
Baked Ham- in a Crockpot!
2014-11-01 10:59:29
Don't wait for a special occasion to serve baked ham- when you can easily make it for a weeknight dinner in your crockpot!
For the Ham
1 Shank Half Ham (6-8 lbs- or whatever will fit into your crockpot!)
3/4 cup brown sugar
3/4 cup maple syrup
For the "Sweet Stuff"
1 cup crockpot drippings, grease removed
1/4 cup apple cider vinegar
Instructions
Place the ham inside of the crockpot, making sure that the lid will fit on top of the crockpot (slice off chunks of the ham if you need to, but that lid must close!)
Pour the brown sugar over the ham and pat it over the top of the ham, then pour the maple syrup over the top of the brown sugar.
Bake on High for 3-4 hours, or until a meat thermometer inserted into the thickest part of the ham registers 140 degrees.
For the "Sweet Stuff"
Pour the pan drippings into a gravy separator so that you can remove the grease, and add 1 cup of drippings to a saucepan.
Add the 1/4 cup of apple cider vinegar and bring to a boil on the stove, reducing to a simmer for 5 minutes.
Pour over the ham slices to serve.
MomOf6 https://www.momof6.com/
This Week's Menu Plan!
One of the best ways to take the stress out of your week is to sit down on Sundays and decide on a menu plan for the week! Here's what I plan to serve to my own family this week (we've got a crazy week of sports and school meetings going on, with something every night this week!):
Monday: Chili
Tuesday: Buffalo and BBQ Chicken Taquitos
Wednesday: BBQ Chicken Legs
Thursday: Breakfast for Dinner: Cheese Blintzes
Friday: Cheeseburger Sliders on the Grill
Saturday: Tomato Soup
Sunday: Asian Style Flank Steak with Copycat Cheesecake Factory Brown Bread and Mini Raspberry Cheesecakes
Looking to Prepare Food Kids Will Eat?
Check out my tried-and-true recipe collection!