Some of my kids absolutely loved the Buffalo Chicken Taquitos that we made for the Super Bowl way back in January, but not every one of them is a fan of buffalo sauce. So I wanted to try to create a different version of taquitos that the rest of my gang would love too. So I came up with these BBQ Chicken Taquitos– and they're so simple and so easy to pull together and they make a great weeknight dinner!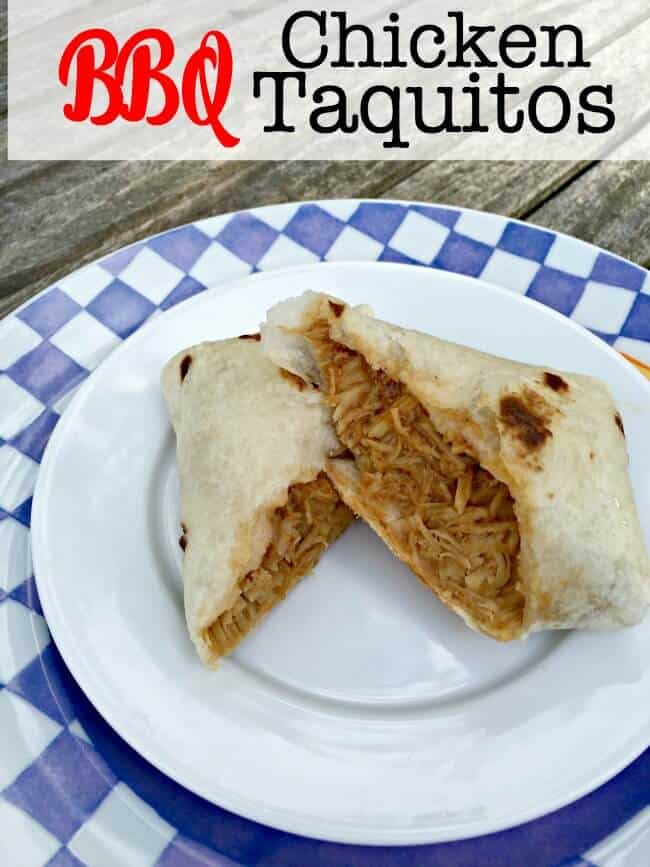 BBQ Chicken Taquitos
When you cook your chicken breasts in the crockpot for a few hours, they are so easy to shred with two forks.
Next I prepare the sauce by mixing together the BBQ, soy, worcestershire sauces along with a bit of garlic powder, and then pouring it over the chicken and stir well. You want your chicken to be seriously coated in sauce! To create the little taquito packets, I place two spoonfuls of the chicken mixture onto the bottom 1/3 of a tortilla, and then fold up the bottom and then the two sides to make the little packet…
And then fold over the top. I place them into a 13×9 baking dish and pop this in the fridge until just before dinner.
I then brush each side of the taquito packets with a bit of vegetable oil before baking them in the oven for 20 minutes to crisp.
BBQ Chicken Taquitos
2016-11-14 12:47:00
A simple yet yummy weeknight meal that your kids will love!
Ingredients
2 large boneless skinless chicken breasts
1 cup of your favorite BBQ sauce (ours is Kraft BBQ)
1/4 cup soy sauce
1/4 cup worchestershire sauce
1/2 teaspoon garlic powder
6-8 tortilla wraps
2 teaspoons vegetable oil
Instructions
Cook the chicken breasts in a crockpot set to high for 4 hours.
Using 2 forks, shred the chicken breasts.
Mix together the BBQ, soy, worchestershire sauces and garlic powder. Add the sauce to the chicken and stir to coat. (You want lots of sauce on your chicken!)
Place 2 heaping tablespoons of the chicken mixture in the bottom third of the tortilla wrap. Fold up the bottom and then the 2 sides to form an envelope. Fold over the top.
Brush both sides of the taquito with vegetable oil.
Bake at 350 degrees for 15-20 minutes until lightly browned.
MomOf6 https://www.momof6.com/
Enjoy!