I want to thank VIN and California Dried Plums for sponsoring this post. As always, all opinions expressed here are my own. #CADriedPlums #ad
On crisp November mornings, my girls and I love to start the day with a mug of hot tea. I prefer Earl Grey with a spoonful of local honey for sweetness and a generous dollop of vanilla creamer. My daughters like their tea to be Jasmine- with or without honey. But the one thing we can all agree on, is that our morning tea tastes even better when paired with a delicious baked treat. This week I baked these amazing blueberry lemon scones made with a dried plum puree… and they were oh-so-good!

Dried Plum Puree

I love making recipes healthier by cutting back on the sugars and fats, and making baked goods with a dried plum puree is a great way to do that! The puree is simply 2/3 cup of dried plums and 3 tablespoons of water- blended in a food processor using on/off turns until it is chopped into teeny tiny bits.
It won't be completely smooth- but that's okay. It will still taste amazing. You can replace butter and oils in your baked goods recipe by cutting them in 1/2 and replacing with an equal amount of dried plum puree! And there are so many reasons why this is a good thing to do! Dried plums help to support healthy bones because they contain potassium, copper, boron, and vitamin K- all of which many have bone protective effects. (Both Moms and kids need that!) I love that they are cholesterol-free, grown and harvested exclusively in California and they promote digestive health too. All good stuff! (You can find more recipes using California Dried Plums here.)
Making the Scones
Once I mixed the remaining ingredients together to make the dough, I patted it all together to form a circle, and then my daughter dusted the top with a yummy mixture of sugar and nutmeg.
Then I used a sharp knife to cut the circle into 12 wedges before baking.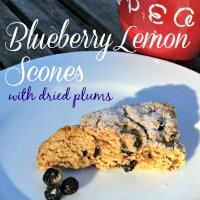 Blueberry Lemon Scones with Dried Plums
2015-11-04 12:15:33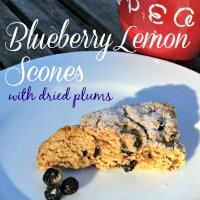 A delicious and healthy breakfast treat!
Ingredients
2 2/3 cups all purpose flour
1/2 cup sugar, plus 2 tablespoons (divided)
1/2 cup dried blueberries
2 1/2 teaspoons baking powder
1 teaspoon baking soda
1/2 teaspoon salt
1 container (8 ounces) low fat lemon yogurt
1/3 cup Dried Plum Puree (see below)
3 tablespoons butter, melted
1 tablespoon freshly grated lemon rind
2 teaspoons vanilla extract
1/4 teaspoon ground nutmeg
Instructions
Preheat oven to 400 degrees. Line a baking sheet with parchment paper.
In a food processor, combine 2/3 cup pitted dried plums and 3 tablespoons water. Process on and off until finely chopped. (Measure 1/3 cup of the puree and set aside.
In a large bowl, combine flour, 1/2 cup of sugar, blueberries, baking powder and salt; set aside.
In a small bowl, whisk together yogurt, dried plum puree, butter, lemon peel and vanilla. Add to dry ingredients and stir together with rubber spatula to form a dough that just holds together.
Turn dough out onto lightly floured surface and pat it into a 10-inch circle.
Combine the remaining 2 tablespoons sugar with nutmeg and sprinkle evenly over the dough. Pat the sugar mixture gently.
Cut circle into 12 wedges with sharp knife. Space scones about an inch apart on prepared baking sheet; bake 15 to 17 minutes or until scones are a rich golden brown and cracked on tops. Transfer to cooling rack; let cool slightly. Serve warm.
Adapted from shared with permission from californiadriedplums.org
MomOf6 https://www.momof6.com/
These blueberry lemon scones are a delicious and smart choice for a breakfast treat anytime! Enjoy!
"I am participating in a VIN campaign for California Dried Plums. I am receiving a fee for posting; however, the opinions expressed in this post are my own. I am in no way affiliated with California Dried Plums and do not earn a commission or percent of sales."