Chicken Marsala is one of my family's favorite dinners– and my kids request it almost every week! Serve it over a bed of linguine or fettuccine with a large leafy green salad alongside- and you have a perfect weeknight family meal! I love preparing this easy chicken marsala as bite-sized pieces vs. whole chicken breasts so I don't have to help the kids cut it up once it is served. Plus the smaller pieces do a better job of hugging the delicious sauce!
To reduce my dinner prep time during the 5:00 hour, I will cut the chicken into pieces using kitchen scissors earlier in the day, place the pieces into a bowl of flour and toss them with my fingers until all of the chicken pieces are lightly coated in the flour. Then I will put the bowl of floured chicken into the refrigerator until it is time to pull dinner together.
Not all of my picky eaters will want mushrooms with their chicken marsala- so I am careful not to toss it all together until I have served my kids that like it more "plain"!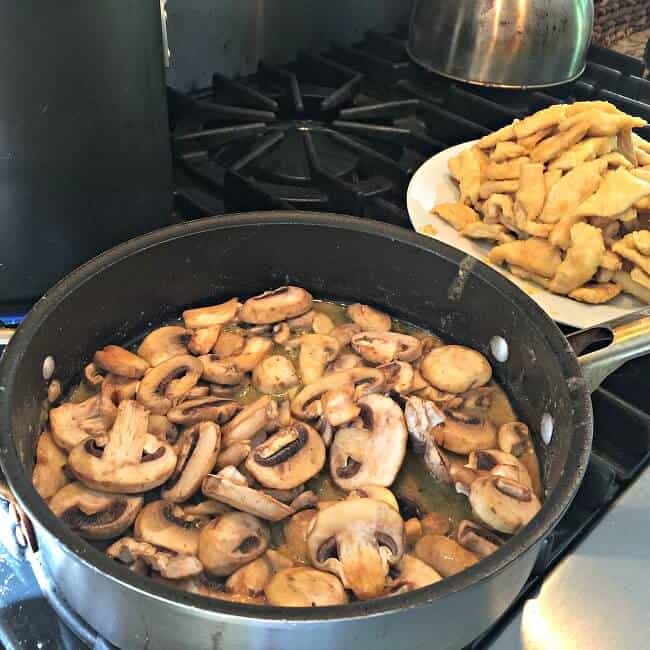 Then be sure to check out this list of my favorite Kitchen Gadgets This is an affiliate link: MomOf6 earns a commission if you purchase, at no additional cost to you. for Busy Moms over on my Amazon influencer page This is an affiliate link: MomOf6 earns a commission if you purchase, at no additional cost to you. ! 
Easy Chicken Marsala Recipe
Easy Chicken Marsala
This easy chicken marsala is a delicious weeknight meal that your kids will love!
Ingredients
6 thin-sliced chicken breasts
all-purpose flour
1 stick of salted butter
olive oil
1 pint-sized container of sliced mushrooms
1 bottle of Marsala wine
box of fettuccine
Instructions
Using kitchen scissors, cut your chicken breasts into nice bite-sized pieces, and dredge in all-purpose flour.
Prepare your rimmed skillet for browning the chicken by adding 1 tablespoon of butter to a few tablespoons of olive oil- enough to coat the bottom of the pan nicely once the butter has melted over medium-low heat. Place the flour-coated chicken pieces in the warmed skillet and brown each side, adding olive oil to the pan if the bottom seems dry. When both sides are browned- remove the chicken from the pan, and continue in this manner until all pieces are golden.
Drizzle a bit more olive oil in the pan and add your mushrooms, stirring them gently until they are softened and browned as well. Remove the mushrooms from the pan and add the remaining 7 tablespoons of butter to the pan. After the butter has melted, slowly pour in the marsala wine and allow it to bubble up. Turn the heat down until the sauce simmers for 2-3 minutes and then return the chicken to the pan. Cover with a lid and allow to simmer on low for 10-12 minutes, until the chicken pieces are cooked through.
Prepare your pasta according to the package instructions. Drain and rinse.
Plate the dish with a generous "nest" pasta in the middle topped with chicken, then the mushrooms, and spoon the sauce on top.
I plate my easy chicken marsala for each family member at the stovetop- because some kiddos prefer it without the mushrooms, and some prefer it with the mushrooms, and others want the chicken on the side and no extra marsala sauce on top of the pasta…. the variations go on and on! But at least they all love the dish, and I am only preparing one thing for dinner- it's just that I have to serve it a few different ways!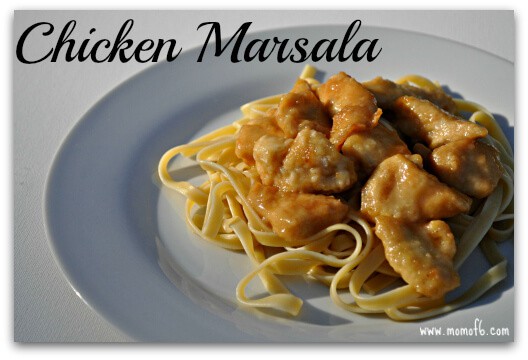 Looking for More Recipes that Kids Will Actually Eat?
Then check out my Recipes page for breakfasts, dinners, desserts, and more that have been Rowley family approved!
Do you think this is a meal your kids would enjoy?