For my youngest daughter's birthday party this summer, we celebrated with a cooking-themed party (more on that to come in a future post!), and one of the challenges was for the teams to follow a recipe and prepare a foil packet grilled entree. And what we all learned (as family members who served as the judges for this "event") is that foil packet cooking on the grill produces some pretty yummy results! This recipe for Foil Packet Grilled Shrimp Fajitas is super simple to prepare- the kids can literally do it themselves- and has become one of our family's favorites!
It all starts with seasoning the veggies- and for kids I find it easiest to have them dump everything into a zip-top bag, zip it, and then shake.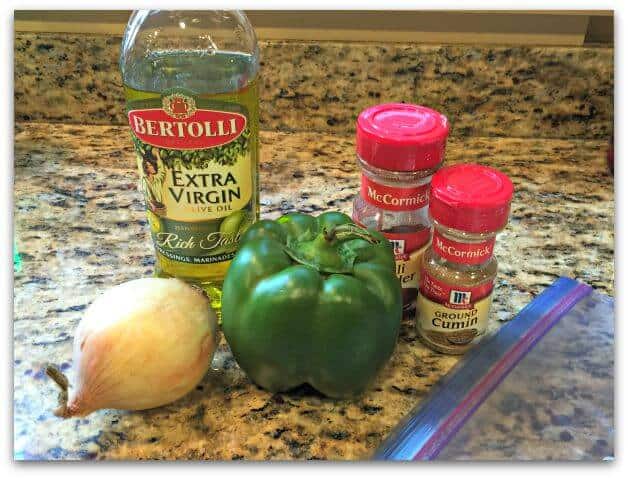 Tear off four foil squares and add the veggies to the center of each of the foil sheets. Then place the shrimp on top of the veggies and give everything a nice generous squeeze of lime.

Tear off four more square foil sheets, lay them on top of the shrimp filled ones, and crimp the edges to seal the packets well.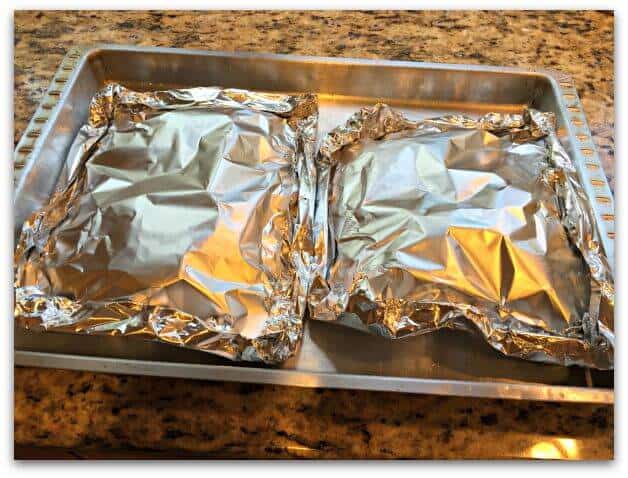 12 minutes on a hot grill should do the trick! (Just make sure all of your shrimp have turned nice and pink). And then allow your kids to prepare their own fajitas! (Try not to cringe at the kids who refuse to include the healthy veggies).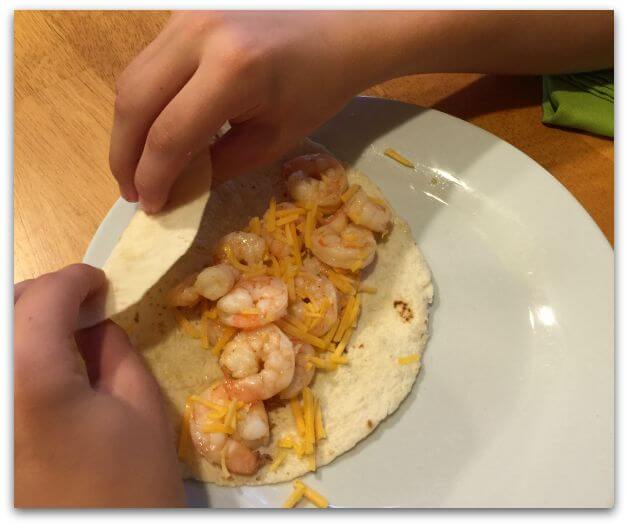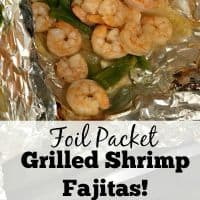 Foil Packet Grilled Shrimp Fajitas
2015-09-03 08:18:55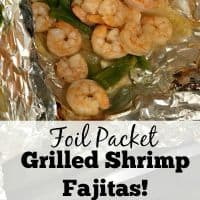 An awesome recipe that is prepared on the grill- perfect for a cookout or a campout or even just dinner at home!
Ingredients
1 large green pepper, sliced into 1/2" thick strips
1 large onion, sliced into 1/2" thick strips
2 Tablespoons olive oil
1/2 teaspoon chili powder
1/4 teaspoon ground cumin
1 1/2 lbs. large shrimp- peeled, deveined, and tails removed
2 limes, cut in 1/2
12 tortillas
salsa
avocado, chopped
shredded taco cheese
non-stick foil
Instructions
In a zip-top bag, toss together the green pepper, onion, olive oil, chili powder, and cumin.
Cut four sheets of foil 18" long. Divide vegetable mixture evenly among the packets.
Arrange the shrimp on top of the veggies in a single layer. Squeeze the lime halves over the shrimp.
Top each foil packet with another 18" foil sheet. Fold the edges together and crimp tightly to make a leak-proof packet.
Grill shrimp packets for 12 minutes. The packets should puff up a bit and look like a pillow.
Carefully open foil packets to insure the shrimp is pink and cooked through.
Serve the shrimp and veggies with tortillas (which can be warmed on the grill if desired), salsa, avocado, and shredded cheese.
Adapted from The Food Network
Adapted from The Food Network
MomOf6 https://www.momof6.com/
Super easy AND super delish!