My family loves Korean BBQ and all of the wonderful side dishes on the table that comes with every meal- the spicy salad, kimchi, pickled radish, and the sweet black beans- but we really LOVE the pajun (scallion pancake), and kalbi and bulgogi (marinated steak dishes) that the kids can help cook at the table! The only problem? For our family of eight- it costs a small fortune every time we go- which is why we limit our visits to special occasions! So I made it my mission to learn how to cook some of our favorite dishes at home for dinner– especially the kalbi- which we grill on skewers. Here's my recipe for Kalbi Kebabs!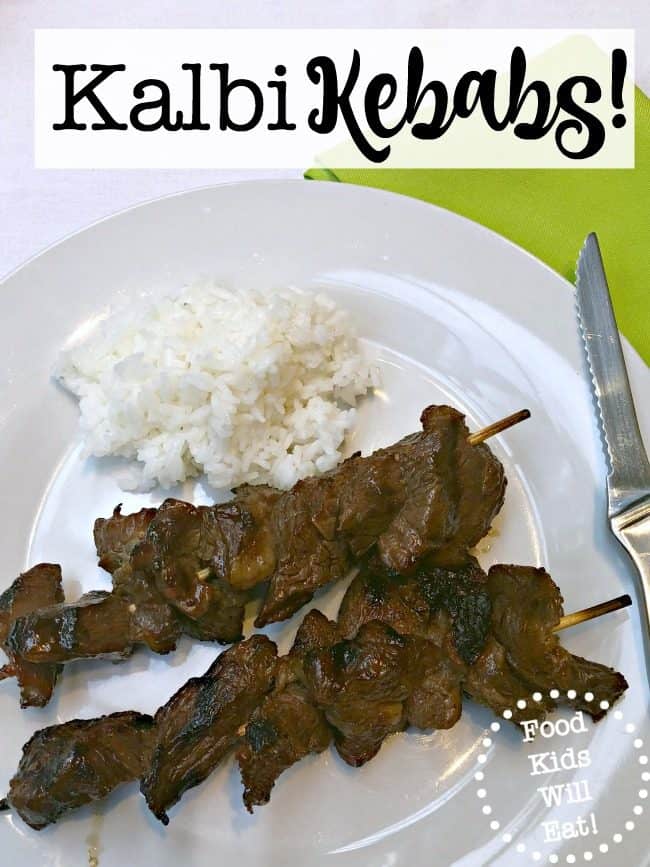 The key is to make sure you that you marinate the beef for several hours before grilling. If you use wooden skewers, be sure to soak them for at least 20 minutes before threading the meat onto the skewers. And be sure not to overcook them- you want the steak to be nice and juicy!
Kalbi Kebabs Recipe!
Kalbi Kebabs
Our family loves Korean BBQ, so I made it my mission to learn how to cook some of our favorite dishes at home. Here's my recipe for Kalbi Kebabs!
Ingredients
2½ lbs. skirt steak or short ribs (cut off of the bone)
3 Tbsp. brown sugar
¾ cup rice wine
¾ cup soy sauce
2 Tbsp. minced garlic
½ tsp. Sriracha (or a good generous squeeze of the bottle!)
2 tsp. vegetable oil
wooden skewers
Instructions
Slice your steak into thin slices (maybe ½" thick) and place into a bowl. Add the 3 Tablespoons of brown sugar and massage the sugar into the meat. Set aide while you prepare the marinade.
Mix the next five ingredients together in a small bowl and then pour over the sliced beef. Press the beef down into the marinade to ensure that all of it is well covered. Place in the fridge for 4-6 hours.
Before grilling, soak your wooden skewers in water (I fill the sink to do this) for 15-20 minutes, then thread the beef onto the skewers. Grill over medium-low heat until cooked through- approx 5 minutes per side.
Serve with steamed rice or grilled corn on the cob!
Give it a try- I think you'll find that this will become one of your family's favorites too!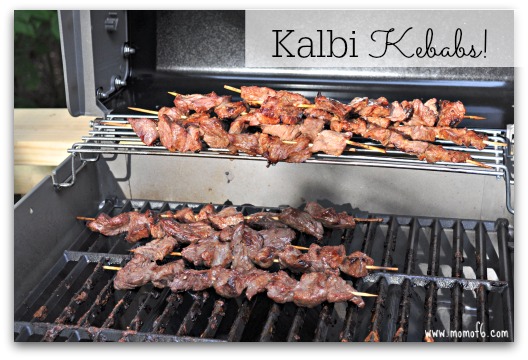 Looking for More Recipes that Kids Will Actually Eat?
Then check out my Recipes page for breakfasts, dinners, desserts, and more that have been Rowley family approved!