During the winter months, I like to prepare warm and comforting meals for my family on weekends. Chili, BBQ chicken sandwiches made in the crockpot, a whole chicken or turkey slow-roasting in the oven all afternoon- these are the dinners I look forward to making all year long. And if I can also bake some fresh bread or rolls to go along with it? Nothing better! This recipe for Parker House rolls is one you don't want to miss!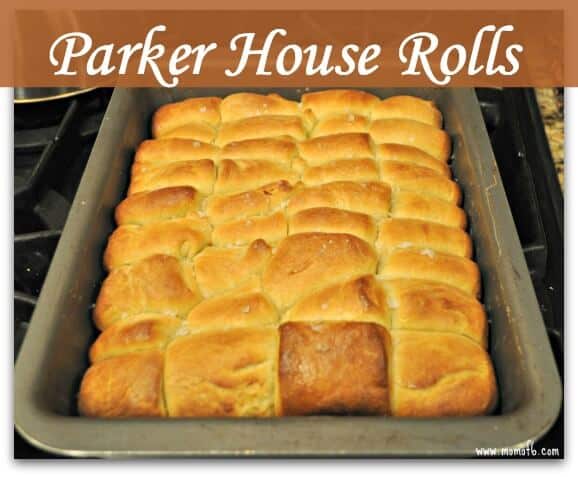 What exactly are Parker House rolls?
Parker House rolls are simply decadent. According to Wikipedia, "Parker House rolls were invented at the Parker House Hotel in Boston during the 1870's, most likely created by an angry cook throwing unfinished rolls into the oven which resulted in their dented appearance."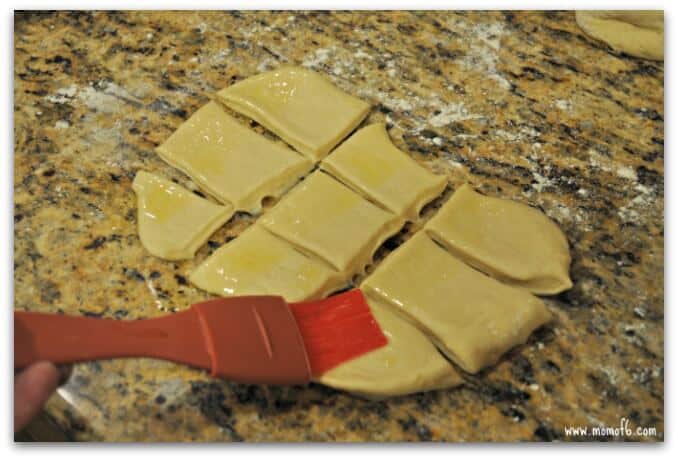 Generously brushed with butter before baking, and then again after baking followed by a sprinkling of sea salt. Mmmm….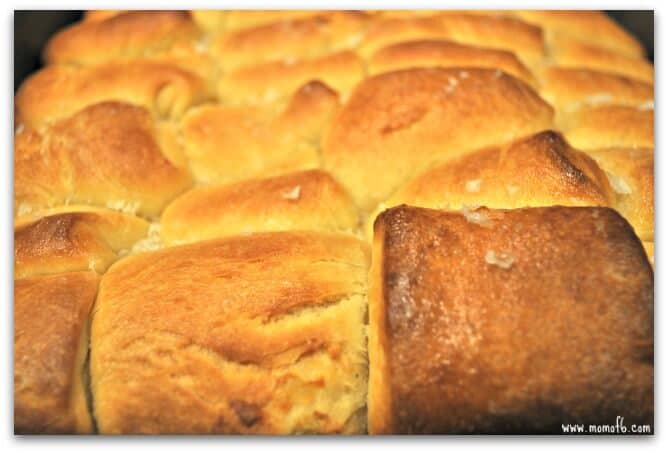 These rolls are absolutely heavenly- and I dare you to stop at just one!
Then be sure to check out this list of my favorite Kitchen Gadgets This is an affiliate link: MomOf6 earns a commission if you purchase, at no additional cost to you. for Busy Moms over on my Amazon influencer page This is an affiliate link: MomOf6 earns a commission if you purchase, at no additional cost to you. !
Parker House rolls recipe:
Parker House Rolls
This recipe for Parker House rolls is one you don't want to miss! These buttery rolls sprinkled with a bit of good sea salt are absolutely delicious!
Ingredients
1 envelope active dry yeast
1 cup of whole milk
¼ cup shortening
3 Tablespoons sugar
1½ teaspoons kosher salt
1 large egg
3½ cups all-purpose flour
¼ cup unsalted butter
Flaky sea salt such as Maldon
Instructions
Prepare the dough
Whisk together the yeast and a ¼ cup of warm water in a small bowl and let stand for five minutes until frothy.
Heat the 1 cup whole milk in a small saucepan over medium heat until warm. Add in the ¼ cup of shortening, sugar, and kosher salt and whisk to blend, breaking up the shortening into small clumps as you stir.
When most of the shortening has been incorporated, whisk in the yeast mixture and then add the egg and all-purpose flour, stirring with a wooden spoon until the dough begins to come together.
Remove the dough from the bowl and knead on a floured surface until smooth and elastic (about 5 minutes).
Transfer the dough to a lightly oiled bowl, turning to coat all over. Cover with plastic wrap and let stand in a warm area until it has doubled in size (about 2 hours).
Prepare the rolls for baking
Preheat oven to 350°.
Melt the ¼ cup unsalted butter. Using a pastry brush lightly brush a 13 x 9" baking pan with the butter.
Punch down the dough and divide into four equal pieces. Starting with the first piece, roll it out on a lightly floured surface into a 12 x 6" rectangle shape. Cut the rectangle lengthwise into three 2" wide strips, and then cut each crosswise into three 4 x 2" rectangles.
Brush half of each of these small rectangles with melted butter.
Fold the unbuttered side over the buttered side, allowing a ¼-inch overhang. Place the folded rectangle into one corner of the 13 x 9" pan- folded edge against the short side of the pan.
Add remaining rolls- shingling them to form one long roll. Repeat with remaining dough until you created 4 rows of rolls.
Brush the top with melted butter, cover the pan with plastic wrap and chill for 30 minutes (or up to 6 hours).
Bake rolls until they're golden brown and puffy 25 to 35 minutes.
Remove from the oven and allow to cool for 5 minutes, then brush the tops with melted butter and sprinkle with flaky sea salt. Serve warm.
Looking for More Recipes that Kids Will Actually Eat?
Then check out my Recipes page for breakfasts, dinners, desserts, and more that have been Rowley family approved!