This recipe for traditional peanut butter blossom cookies is fancied up a bit when you add a red M&M to make a reindeer's nose and a little pieces of pretzel sticks for antlers! My daughters have been ooh'ing and ahh'ing (and nibbling!) on them all week!
If you are ever invited to a Pampered Chef party… by all means go! And in addition to buying the food chopper (which everyone seems to buy), be sure to also purchase this measuring device- which makes it so super simple to measure sticky things like molasses and peanut butter. You simply add the peanut butter into the top of the cup, and then just push the inner piece to pop out the peanut butter into your mixing bowl! I love it!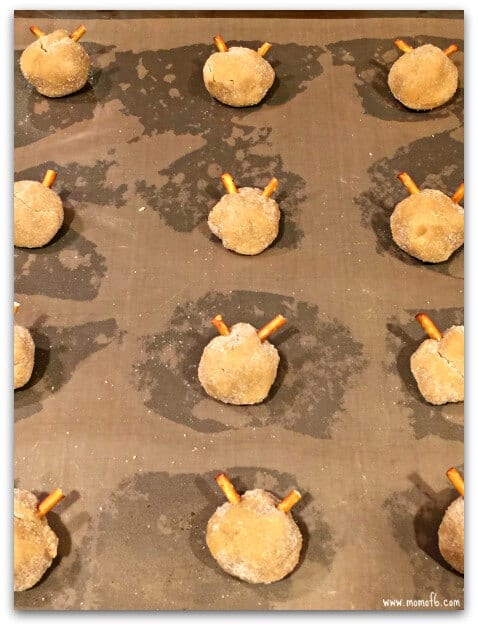 I suggest adding the antler pretzel pieces before baking the cookie. They will stick to the cookie better this way.
But wait to add the red M&M nose until immediately after you've pulled the cookies out of the oven. Then press them into the cookie while they are still warm. (If you bake them with the M&Ms in, they may melt and won't look as awesome!)
After the cookies have completely cooled- pipe on eyes. I used black gel icing, but you can use any type of dark icing with a narrow tip.
Of course- you can always just go the traditional (boring) route, and use large chocolate kisses for the cookie's center, or even chocolate chips if you want a higher cookie to chocolate ratio.
Reindeer Peanut Butter Blossoms
2014-12-18 19:43:00
This recipe for traditional peanut butter blossom cookies is fancied up a bit when you add a red M&M to make the reindeer's nose and little pieces of pretzel sticks for the antlers!
Ingredients
1/2 cup sugar
1/2 cup packed brown sugar
1/2 cup shortening
1/2 cup creamy peanut butter
1 egg
2 tablespoons milk
1 teaspoon vanilla
1 3/4 cup flour
1 teaspoon baking soda
1/2 teaspoon salt
For decorating
granulated sugar
pretzel sticks
red M&Ms
gel icing
or chocolate kisses or chocolate chips
Instructions
Using your electric mixer, beat together both sugars and the shortening until nice and fluffy.
Add in the peanut butter, egg, milk, and vanilla and mix well.
In another small bowl combine the flour, baking soda, and salt and then add slowly add the dry ingredients to the peanut butter mixture.
Chilled dough for at least one hour.
Roll dough into balls and the coat in granulated sugar.
Take small pretzel sticks and break them into thirds. Add two of the small pieces to the top of the dough ball to create antlers.
Bake at 375° for 10 -12 minutes.
After the cookies are removed from the oven, add on the red M&Ms and then allow them to fully cool. Use gel icing to create the eyes.
MomOf6 https://www.momof6.com/