Are your kids like mine, in that as soon as they come home from school they are ransacking your kitchen pantry with claims that they are starving?! (You know, if I didn't have access to what they purchased on their lunch cards, I might truly think they hadn't eaten all day- but I know this isn't the case!) So I like to have something yummy yet made with wholesome ingredients to fill them back up- and give them the boost they need to power through homework (and Instagram and Snapchat!). This recipe for these delicious Scottish Oatmeal Bars is one of their favorites!
With these Scottish Oatmeal bar cookies, it only takes a few minutes to mix together all of the ingredients into a thick sticky dough…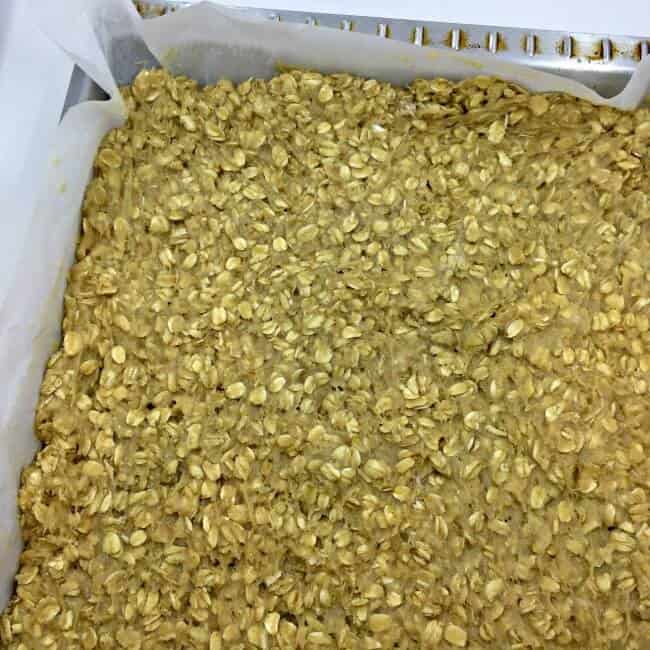 That I then spread out into a parchment-lined baking sheet and pop in the oven for 20-25 minutes. Once they cool completely they can be cut into bars and tucked into school lunches or even enjoyed as a mid-morning power snack!
Then be sure to check out this list of my favorite Kitchen Gadgets This is an affiliate link: MomOf6 earns a commission if you purchase, at no additional cost to you. for Busy Moms over on my Amazon influencer page This is an affiliate link: MomOf6 earns a commission if you purchase, at no additional cost to you. !
Scottish Oatmeal Cookie Bars Recipe:
Scottish Oatmeal Bars
These yummy Scottish oatmeal bars are packed with the power of oats!
Ingredients
1¼ cup all-purpose flour
1 teaspoon baking soda
½ teaspoon salt
½ teaspoon cinnamon
2 sticks of softened butter
¾ cup sugar
¾ cup packed brown sugar
2 eggs
1 teaspoon vanilla extract
3 cups Quaker Oats
Instructions
Preheat your oven to 375°.
In a small bowl mix together the flour, baking soda, cinnamon, and salt. Set aside.
Beat together (using your mixer) the butter and sugars until fluffy. Add in eggs and vanilla to combine. Slowly add in dry ingredients until fully mixed.
Add in the 3 cups of Quaker Oats and mix.
Press dough into a parchment-lined baking sheet.
Bake for 20-25 minutes until bars are set.
Allow to cool completely before cutting.
Looking for More Recipes that Kids Will Actually Eat?
Then check out my Recipes page for breakfasts, dinners, desserts, and more that have been Rowley family approved!