What's On Your Phone is the perfect party game for kids and for tween and teen parties! You know that the kids are going to bring their phones to your event anyway- so why not make a game out of it? This free printable party game can be played two ways and is sure to be a hit at all kinds of kids birthday parties!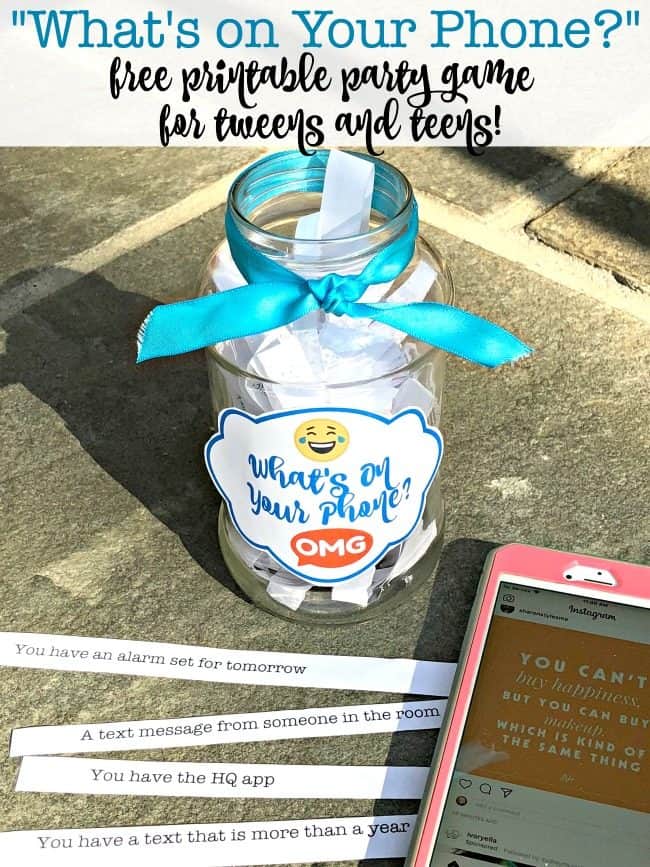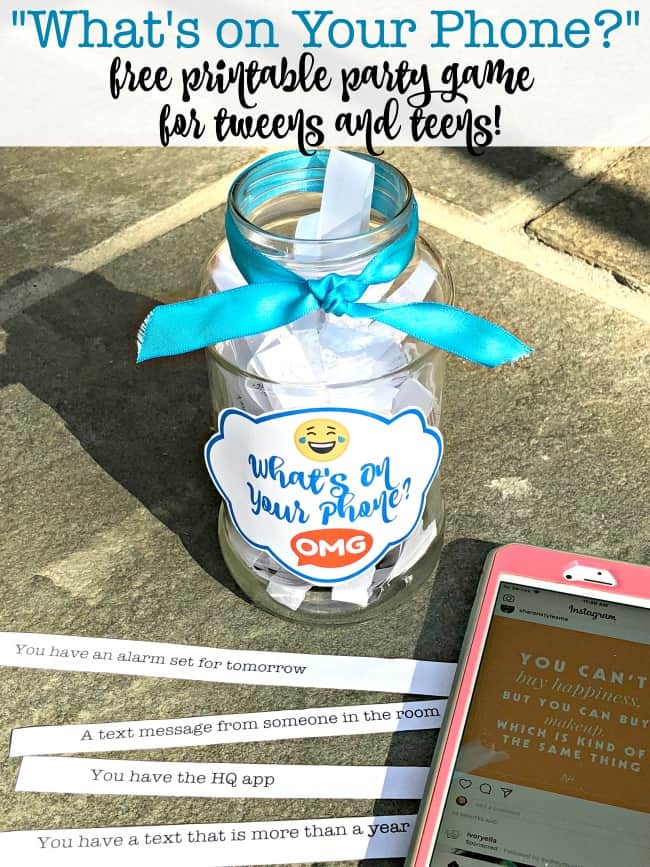 *Please note that some of the links in this post are affiliate links, which means I will make a small commission if you purchase through these links.
Two Ways to Play the "What's On Your Phone?" Game
I think the most interactive way for the kids to play the game is to have them draw a question, one player at a time, have them look for the "evidence" on their phone, and then show the group the item on their phone. They can keep the strips for the ones they can prove, and throw away the strips for the ones they can't prove. The person at the end of the game with the most strips wins!
To play this way, print all of the game questions, use a paper cutter to cut the questions into strips, fold them in half, and place them inside of a glass jar (I use a recycled pasta sauce jar). To make the jars nice and pretty I added the "What's On Your Phone?" label and a ribbon (because who doesn't like things to be a bit fancy?)!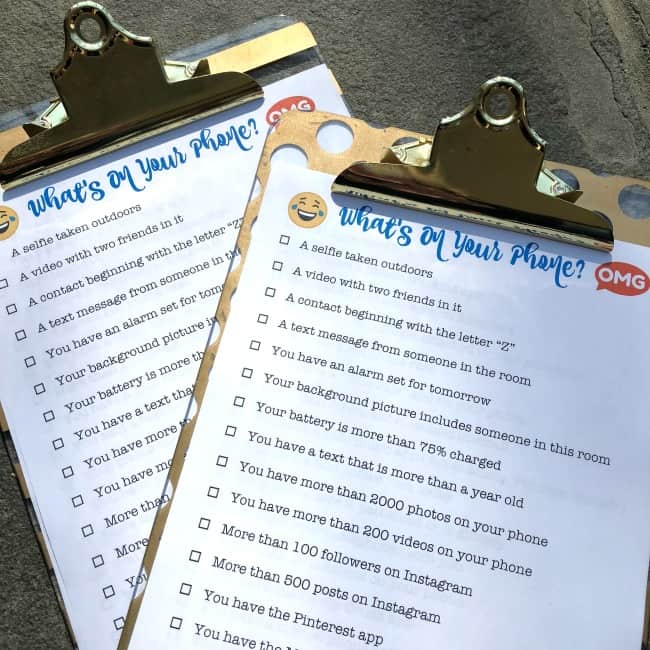 You can also play the game "checklist style"- where everyone gets a clipboard with the 50 game questions on it. Give the kids a set amount of time (use a fun timer like this one) to complete the game (maybe 20 minutes?). The person with the most check marks wins the game!
You can also challenge each guest to "prove" 5 items from their list, by passing the clipboard to another guest to pick five checked-off items from the list to prove!
Ready to print your own "What's On Your Phone?" Game?
Awesome! Simply sign up below to join the MomOf6 community, and you'll be directed to a thank you page with access instructions!
*You can view our Privacy Policy here. To access the printable without subscribing to our newsletter, click here to send an email requesting access.
Looking for Some More Great Party Games, Crafts, & Activities for Kids?
Shop for These Awesome Party Games!
Check out all of our Kids Birthday Parties here: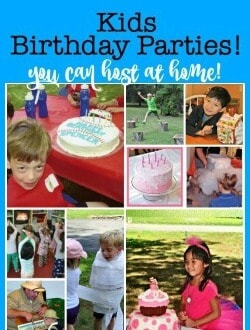 How to Throw Your Own Kids Birthday Parties at Home!
Would your tween or teen enjoy this "What's On Your Phone?" party game?