My family LOVES to play mini golf– especially at one of those highly themed challenging courses with lots of hills and tunnels and obstacles. Which is why we always make this one of our DIY summer camp field trips!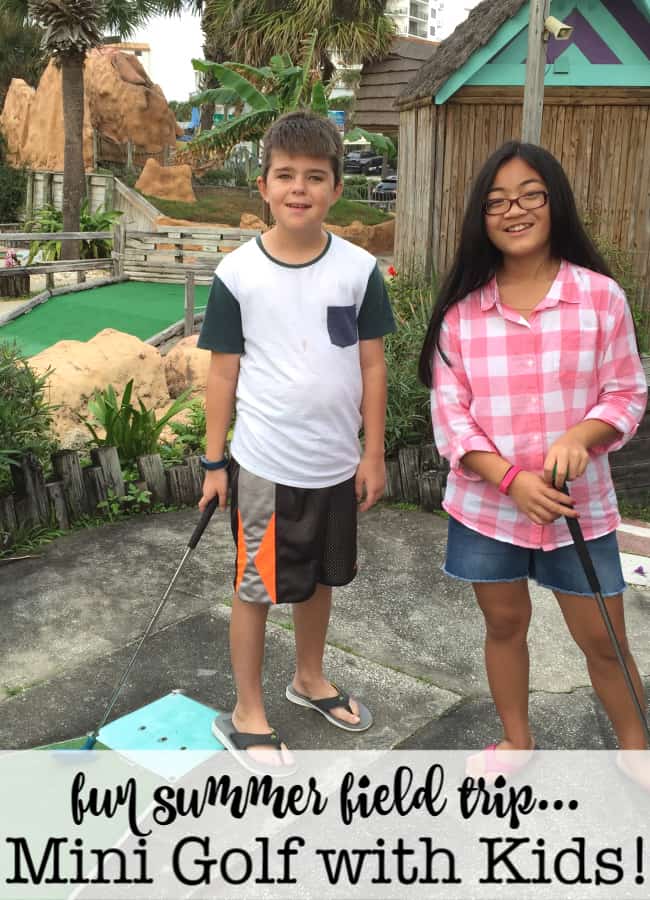 It seems to me that the southern part of the United States, especially in high-tourist locations, has cornered the market on the miniature golf experience. We up here in the greater NYC area are lacking when it comes to cool mini golf attractions!
Our favorite mini golf "chain" is Pirate's Cove Adventure Golf– and you can see a list of all of their locations here!
But if you are looking for some great places to play- here is a guide of The Best Miniature Golf Course in Every State– written by someone who visited every single one!
My older kids are sticklers for "the rules" when it comes to playing mini golf- but my little ones- not so much. They will simply pick up their ball and move it to a more desirable location when necessary! So Steve and I split them up to lessen the arguments over "rule following"!
We also allow the older kids to play in the group ahead of the younger kids, that way we can judge whether or not the younger ones are taking too much time to play a hole and decide when to ask them to pick up and move along. While I want my kids to have fun, I also want to make sure that we are ruining the experience for golfers behind us!
Looking for more great ideas of things to do with your kids this summer?
If you are looking for ideas on things to do with the kids this summer- check out my DIY Summer Camp resource page!
What's your favorite summer "field trip"?