Besides the fact that we all need to get our kiddos ready for the big night of trick-or-treating, many of us have also volunteered for our kids' Halloween parties at school! So here are a few ideas for halloween treats for the classroom to help you plan that class party!
Delicious Halloween Treats for the Classroom!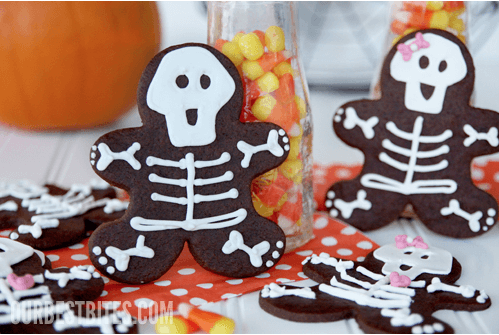 I adore these skeleton gingerbread cookies from Our Best Bites!
Lil' Luna created these mummy cookies that would be a huge hit at a school party!
Meringues are my kids' favorite kind of Christmas cookie, so I know that they would love these candy corn meringues! And the best part of making these for a school party? No nut and wheat allergy issues! Thanks, Make, Bake, Celebrate!
And here is another twist on the meringue cookie- these friendly ghosts from Parenting Recipes (link no longer available)! Too cute!
35 Ideas for Halloween Parties
Here's a great round-up for you on school party ideas from It's Written On The Wall – 35 ideas for Halloween Games and Treats for Parties!
Looking for some more great ideas for Halloween? 
Check out these posts!