It's not that I love to clean and organize my house- it's just that I love to live in a clean and organized house! And because I work from home with the goal of saving money for my kids' college educations, I needed to find a way to stay on top of all of the housework without incurring the cost of a weekly house cleaner. And I had to find a way to fit cleaning into my busy life! Over the years I have tweaked and modified my cleaning schedule as needed to fit with my work routines and to incorporate the kids' help too! Here are my tips on how to keep a clean house when you have lots of kids!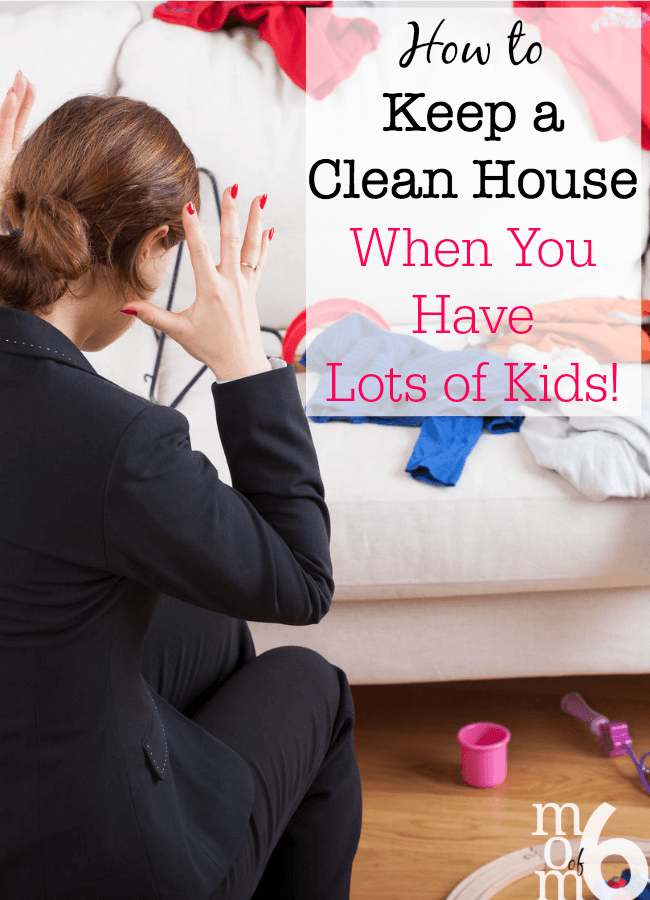 I believe there is a saying…
Sounds about right!
But still- we've got to have a plan to tackle the house cleaning regularly!
How to Keep a Clean House: Declutter Your Home Daily
Most of the time it isn't the dirt that is making you nutty- it's all of the school paperwork and mail and toys and kids clothes that are scattered everywhere that is driving you up the wall.
So if you make a plan to declutter your kitchen counters and get the kids to clean up their toys and shoes and clothes for 15 minutes each evening before starting your bedtime routine, the house cleaning becomes so much easier!
And you are teaching your kids to learn to clean up after themselves- one of the best life-long skills you can give them (and their future spouses!)
How to Keep a Clean House: Break the Housekeeping Tasks into Manageable Bites
My life is too busy, and cleaning isn't one of my soul-fulfilling activities- so instead of cleaning my entire house top-to-bottom in just one day, I find it much more appealing to break down all of my cleaning chores into smaller tasks to work on over the course of a week. Here is how I break it down:
Mondays:
Clothes laundry day. Sort, wash and fold laundry. I wash clothes throughout the day while I am working, but take it out of the dryer and lay it flat in laundry baskets to be folded later. Then I fold all 6-7 loads which watching House Hunters/Property Brothers! It's the kids' jobs to put their clean laundry away.
Run any errands that I couldn't complete Sunday morning while I am out picking up the kids from after-school activities.
Tuesdays:
Wednesdays:
Thursdays:
Clean all bathrooms (the job I despise the most!)
Dust, vacuum, mop the upstairs of the house (bedrooms)
Fridays:
More laundry (clothing only)
Dust, vacuum, and mop the main living area of our home
Garbage/recycling pick up day- so I get the kids to gather all of that and get it outside for pick up.
Saturdays:
Day off from housework for me!
Kids: strip their beds, wash sheets, and clean their rooms
Sundays:
Coupon clipping/menu and grocery list planning
Grocery shopping (now usually done online!)
Water plants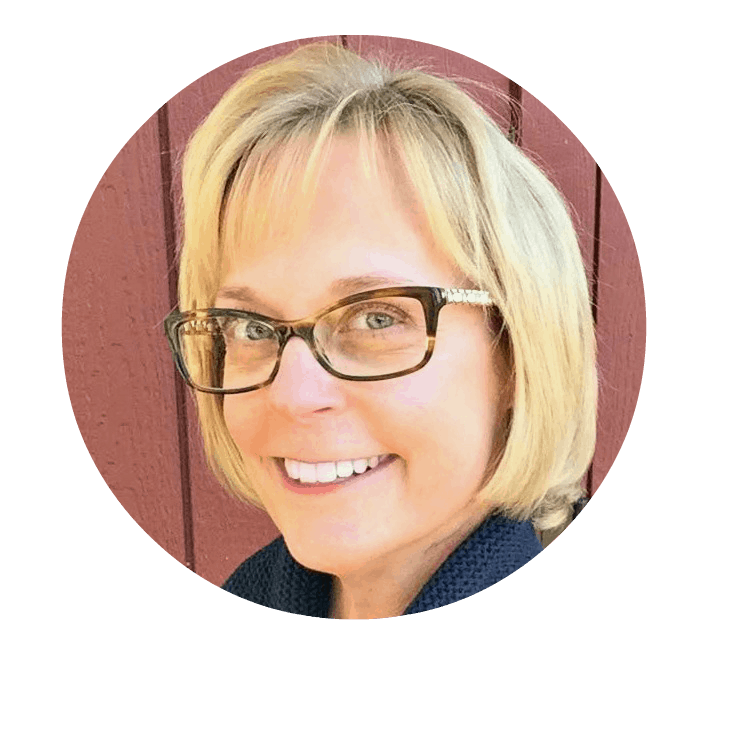 Looking for more great tools to organize your home?
Then be sure to check out these lists of my favorite Closet Organizing Tools This is an affiliate link: MomOf6 earns a commission if you purchase, at no additional cost to you. and Bathroom Organizing Tools This is an affiliate link: MomOf6 earns a commission if you purchase, at no additional cost to you. over on my Amazon influencer page This is an affiliate link: MomOf6 earns a commission if you purchase, at no additional cost to you. !
Learn to Look Past What You Can't Tackle Today!
This one can be hard. You come home from a vacation/work conference and the house is a mess. But you have a ton of laundry to contend with, and a mountain of other work to do. Should you just take one extra "day off" and "blitz-clean" the house? Um, nope.
Yes- there are tumbleweeds of dust bunnies and dog hair lurking on every step and in every corner- but you just have to (try to) ignore it. Remember that if you stick with your weekly cleaning schedule- you'll get to it sometime in the next 7 days.
In the meantime- give yourself some grace and let it go! (Trust me- you are the only one noticing it anyway!)
Are you ready to get your life organized? Register for Busy Moms Boot Camp!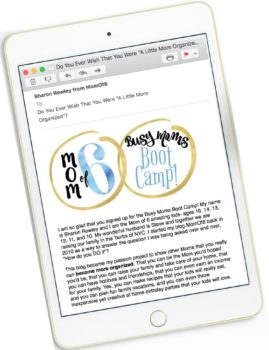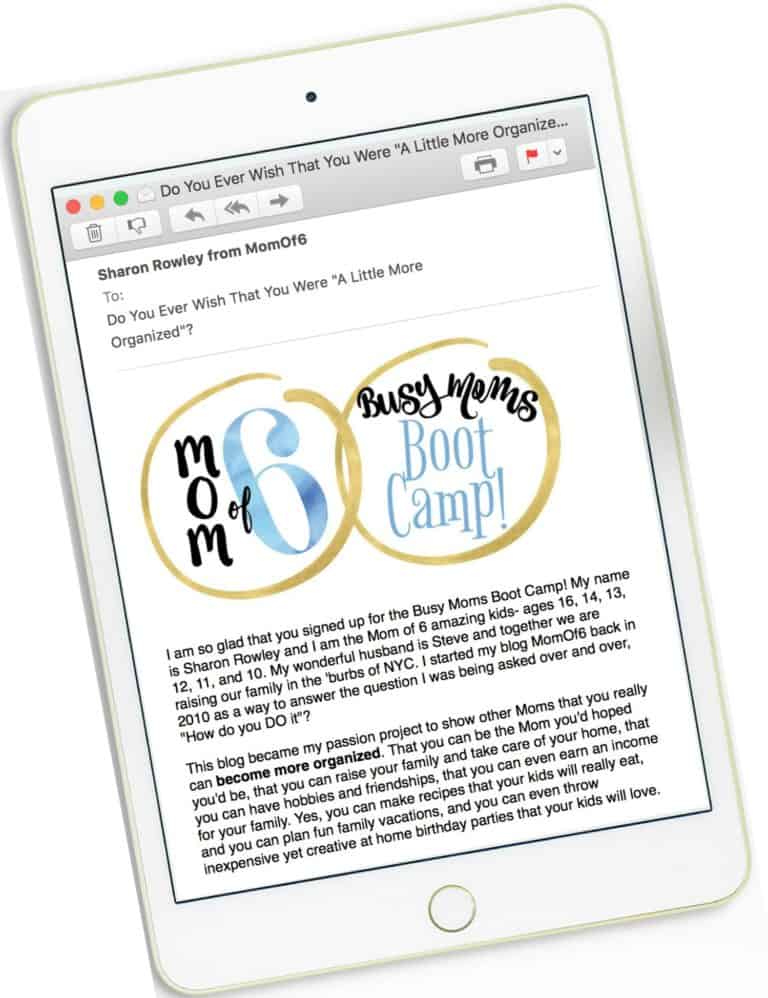 It's a free series of 10 weekly emails that can help you put some organization back in your life and help you to create room for all of those things that you'd like to be doing- whether that's making time to celebrate the little things with your family or carving out some space for yourself. Busy Moms Boot Camp can help you to move from chaos to organized! Simply sign up below to get started!
How do you tackle your housecleaning? All in one day (just focus and get it over with), or in smaller chunks? What's your best tip for how to keep a clean house when you have lots of kids?!