You know that while you are waiting for it to grow dark and the fireworks to start that your kids are going to want to be looking at their phones, right? So here's a way to re-direct that activity into something fun- a July 4th Photo Scavenger Hunt!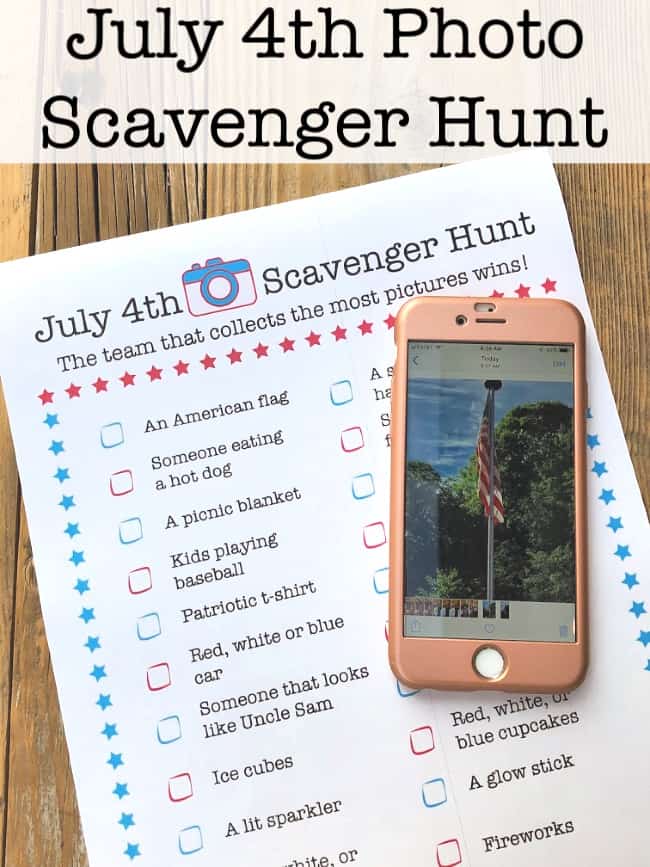 I know how hard it is to be a parent of a tween or teen who just wants to be on their phone All. Of. The. Time! Asking them to find something else to do leads to 30 seconds of doing something else and then the hand with the phone creeps up again. Sigh-
I know the best way to get them to engage with other humans face-to-face is to give them something specific to do! So how about a fun party game?
This July 4th Photo Scavenger Hunt is a great game for kids to play in teams. Divide them into groups of 2-4 kids and set them off with the list, and of course, a phone to take pictures!
Give them a time limit- and have them report back, checking off the pictures of the items they found!
Prepping for Your July 4th Scavenger Photo Hunt:
You'll want to print off your photo scavenger hunt lists in advance, and have some pencils on hand for checking off the items.
Ready to Download the Free July 4th Photo Scavenger Hunt Printables?
Awesome! Simply signup below to join the MomOf6 community and you'll be directed to a thank you page with access instructions! You'll also get access to my entire library of free printables- and you'll receive my twice-weekly newsletter that is packed with resources and ideas to inspire busy Moms!
*You can view our Privacy Policy here. To access the printable without subscribing to our newsletter, click here to send an email requesting access.
Looking for Some Ideas to Enjoy the July 4th Holiday with Your Family?
Here's a roundup of some of my favorite July 4th supplies and home decor This is an affiliate link: MomOf6 earns a commission if you purchase, at no additional cost to you. !
Do you think your kids would enjoy this July 4th scavenger hunt?