There are very few people I know that would say that they have more closet space than they need! Instead I think most of us want to make the most out of every square inch of our closet space while also keeping things neat and orderly so we can find what we're looking for! Which is why I gathered together 12 organized closet ideas to inspire all of us to get organized with our storage (and make it all look pretty too!)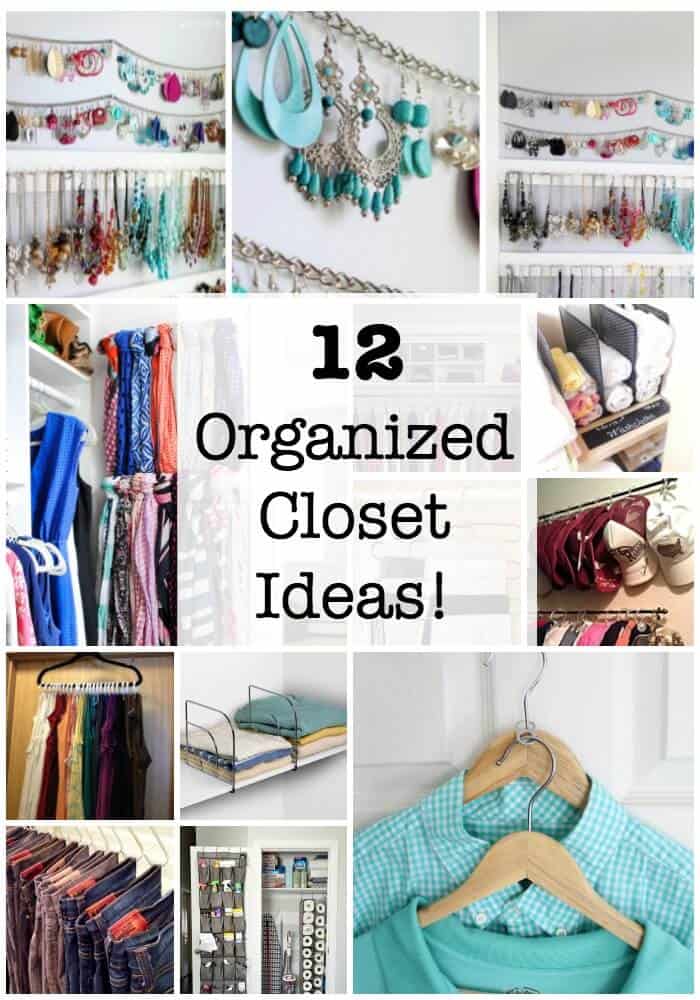 Maximize Your Hanging Space:
Of course the easiest way to make the most of your hanging space is to double what you can hang on each hanger. I love this super simple idea from the Shabby Creek Cottage to hang a soda can tab on each hanger so you can loop a second hanger through the tab!
And these S-shaped hangers will allow you to hang up to 5 pairs of pants or scarves in the same space as one hanger. And because they are made of stainless steel, they are strong enough to handle the weight of the garments.
Here's a way to take all of you tanks or camis and hang them from one hanger. But since each one hangs on it's own shower curtain ring– they are easy to access- and the best part- is they will get worn more often because you can see all of your choices! (Featured on 36th Ave)
If your closet is only equipped with one hanging bar- you can easily add an extender like this one to create a second hanging space!
This is an interesting way to hang your jeans, using S hooks (as featured on Make Space) and definitely allows you to fit more pants in a smaller space!
Making the Most of Storage Behind the Doors: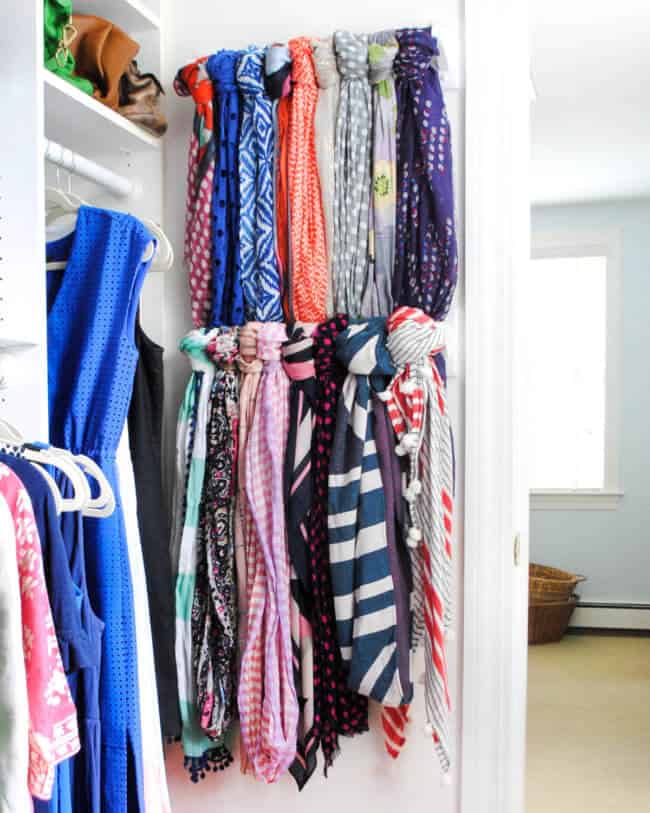 If your closet has a door that swings out, make sure that you are maximizing the space behind that door. I love this idea from Chronicles of Home of using wood towel racks on the back of the door and tying her scarves through them!
Or hanging hats from a rod on the back of the door using shower curtain rings! (Courtesy of Passion, Pink, & Pearls)
I love how the girls from 36th Ave used a shoe organizer to pull together cleaning supplies for their cleaning closet (and this one with clear pockets makes it easier to see what is inside each compartment).
Keep the Shelves Organized
I am a huge fan of using shelf dividers to keep stacks of items on shelves from toppling over. And doesn't everything look nice and tidy this way?
I never would have thought of this idea of using a file organizer to corral rolled washcloths! (From Real Coake)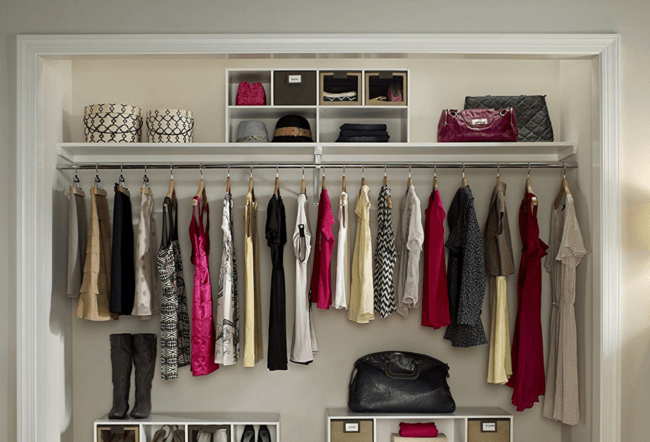 And if you have one shelf that runs along the top of your closet- these closet organizers can double the storage capacity and help you to keep everything neat and tidy!
Ideas for Organizing Jewelry
Here's an idea that can sit inside of your closet or even on a wall between two closet doors- Mandee from Sugar Bee Crafts created this amazing jewelry organizer out of boards nailed into the wall, with small screw in hooks placed close together to hold necklaces and bracelets and a long hanging chain to hold earrings. You can't wear what you can't see- so this is brilliant!
Would you like to get your home organized?
Here are some more posts to inspire you:
*Please note that some of the links in this post are affiliate links, which means I will make a small commission if you purchase through these links. It's a great way to support a blogger!
Of all of these ideas- which one inspires you to want to make some changes in your closets right now?