Whether a Mom already considers herself to be fairly organized or is she is someone is who is still hoping to (someday) get there- she will appreciate these thoughtful gift ideas that are perfect for the organized Mom!

The Organized Home:
What Mom wouldn't love this wall mounted command center? With sections for organizing incoming mail, school lunch menus, sports schedules, and invitations on one side, and a cubby for each family member on the other- she'll feel at the top of her game. The center section is a magnetic chalkboard- perfect for writing notes or posting the daily agenda!
And I love these fine-tipped chalkboard markers for use on that magnetic chalkboard!
For the Mom who is ready to tackle menu planning- here is an easy peel & stick dry erase menu planning board that gives her a space to plan for the week ahead!
Our lives run on devices- it's just the way it is. And those devices need to be re-charged daily. But if your house is anything like ours- my charging bricks and cords keep disappearing! So as a counter measure, I installed a charging station in my kitchen where I can plug in my tablet, phone, and Kindle.
Then I tucked in one of these RAVPower 6 port chargers into the back of the charging station (where no one can steal it!), and then snaked all of my charging cords from the 6 port charger through the openings to the device slots. Now everything is accessible, looks clean and beautiful, and no teens are "borrowing" my charging bricks and cords, never to be seen again!
One of the best ways for a Mom to get organized is to have a great planner system. One that allows her to manage her daily to-do's, her schedule as well as set goals, and outline the steps needed to achieve them. This Day Designer planning system that helps Mom to do all of that.
Organized Home Office: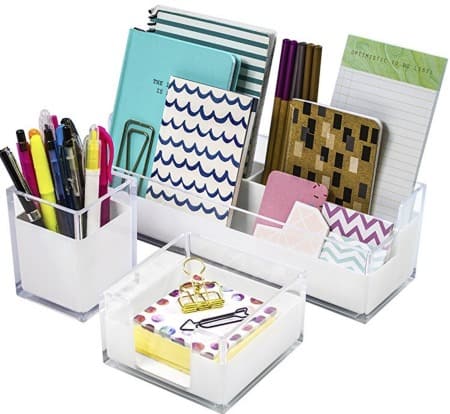 An organized Mom needs pretty desk accessories for her home office!
And a place that looks cool while holding all of her important papers, like this standing filing cabinet that from Poppin.
A pretty decorative bulletin board is the perfect place for her to tack up notes and inspiring quotes!
And a gorgeous deskpad not only brightens her office space, but it protects the desktop from scratches when she is moving around equipment, it functions as a mouse pad as well as a beverage coaster, and it just gives her something nice to write on.
To Stay Organized On The Go
This beautiful wristlet is large enough to hold her phone, keys, and lipstick- and also can re-charge her smartphone at the same time!
This air vent cell phone holder gives her a place to put her phone each time she is in the car- so she'll never misplace her phone again!
And these hooks that mount on the back of the headrest give her the perfect place to hang her handbag instead of tossing it on the floor!
This travel pouch for cosmetics and toiletries is perfect for the Mom who travels- allowing her to stay organized even when away from home!
*Please note that some of the links above are affiliate links, which means I will make a small commission if you purchase through these links. It's a great way to support a blogger!
Do you think the Mom in your life (or even YOU!) would love these gifts for the organized Mom?