The best way to get organized and keep on top of all of the things you would like to accomplish is to keep a to do list. You can put your to do list in your calendar, you can use an app, or you can write it all down on a paper to do list. If paper is what you prefer- here are 15 perfect (and pretty!) paper to do lists for busy Moms!
Personally I love to use a paper to do list to keep my one long Master To Do List, and then each day I like to write out a small daily to do list to work from.
Free Printable Paper To Do Lists
If it is pretty and speaks to what you want to list and track- then it's the perfect printable to do list for you! Here are some free downloadable printable options:
I love this daily planner printable from I Heart Planners which includes an area to keep track of notes and "things to do later".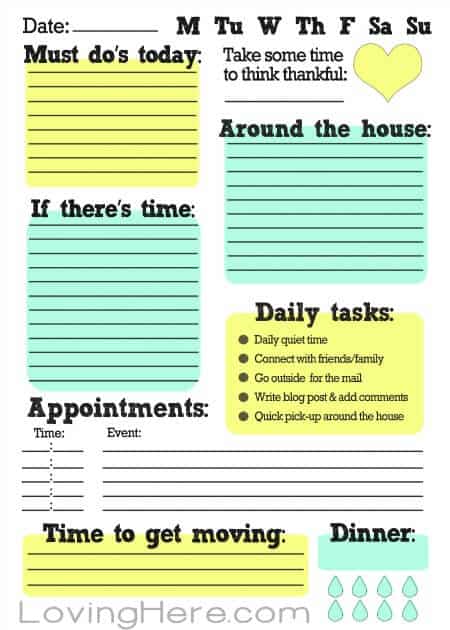 I love all of the different sections of this printable to do list, and you can easily upload it to PicMonkey to customize your own "Daily Tasks". Or Melissa from Loving Here is happy to customize it for you for $5!
Whether you prefer a daily to do list, a weekly to do list (or both!) I Heart Napping has these free printables that give you just the basics!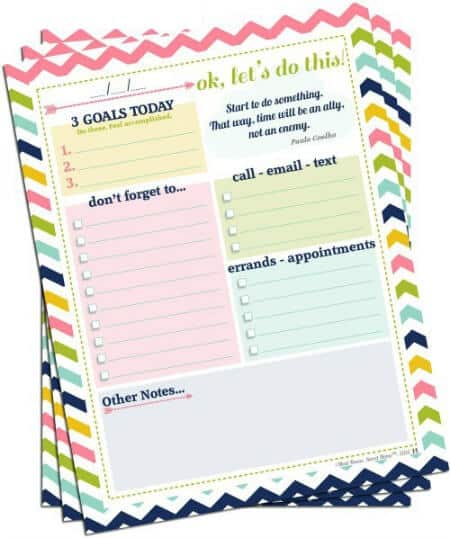 I love how this printable from Neat House Sweet Home has a spot for 3 goals for the day- such a smart way to both focus and limit how much you attempt to take on!
I am a huge fan of using time-blocking when deciding how to approach my to do list- and I love that this free printable from Making Lemonade has an hourly schedule included! (I'm giving this one a try right now!)
Love this weekly format for your to do list (from Landee See Landee Do).
And I am going to start using this free printable from DIY Home Sweet Home for my Master To Do List!
Below you'll see that I am in love with sticky notes that are also checklists… and I love that Organized31 has come up with her own way of printing to do lists on post it notes!
Paper To Do Lists You can Purchase as a Pad
The one problem with a printable to do list is that you have to remember to print one out every day (or at least ahead of time). Sometimes it's easier to just reach for a pre-printed pad! If you agree, here are some great options:
I love how this pad of daily planners from Bloom also keeps track of your water intake, a food log, and a place to record what you are grateful for!
I'm not sure that I can truly "Enjoy Every Moment" while working on my to do list- but I do love that this tear off one comes with a magnetic back!
I am obsessed with these lined post it notes that have little check boxes on them! Right now you can't get them in the US (say…. what?) but you can order them on ebay (they take a few weeks to arrive- but once you own them you'll love them too!).
Are you a fan of working with sticky notes too? This pack of sticky notes is awesome for creating to do lists by category every day!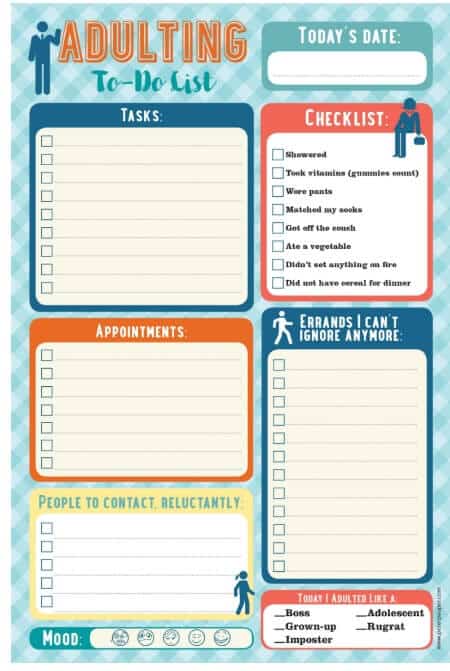 This adulting daily planner cracks me up! I probably wouldn't use it myself… but I would love to give it to to my teens as a gift!
And I also like the idea of having a different to do list format depending on my mood! But guess which pad I will likely use up first?
Dry Erase To Do Lists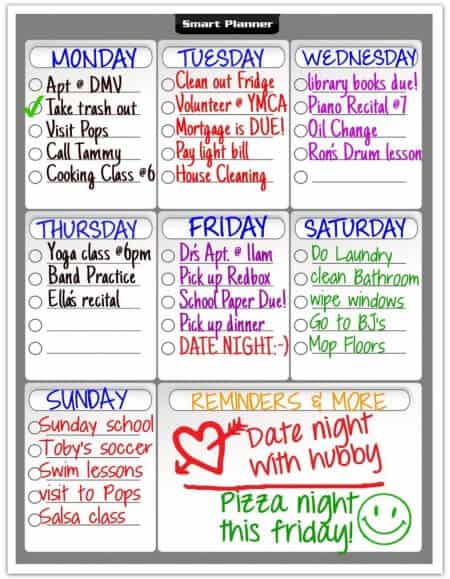 Okay- these aren't paper to do lists…. but as a bonus I thought I would toss this one in- a magnetic (for hanging on the fridge) dry erase weekly to do list. (It even has the circle to check things off as you get them done!)
Would you like to get organized?
Here are some more posts to inspire you:
*Please note that some of the links in this post are affiliate links, which means I will make a small commission if you purchase through these links. It's a great way to support a blogger!
So please weigh in…. how do you organize your to-do list? On paper, in your calendar, or in an app? And does having an organized to do list help you to get more done?