A few weeks ago I shared with your my belief that you truly can declutter your home in just 20 minutes a day, because unlike other organizers who proclaim the only way to tackle your home is to do the whole-thing-start-to-finish-top-to-bottom-until-you-are-done…. I just can't clear my schedule to do nothing but clean and organize. If I did that… then no one around here would have clean clothes… or would eat. You know, important stuff like that. So instead- I declutter in 20 minute increments. If I have a little more time- then I might string together a few 20-minute increments- often pausing between them to move laundry into the dryer or to cajole a sock from the dog's mouth. Here are a few of the 20-minute declutering projects I tackled just in this last week:
Kitchen Drawer Before: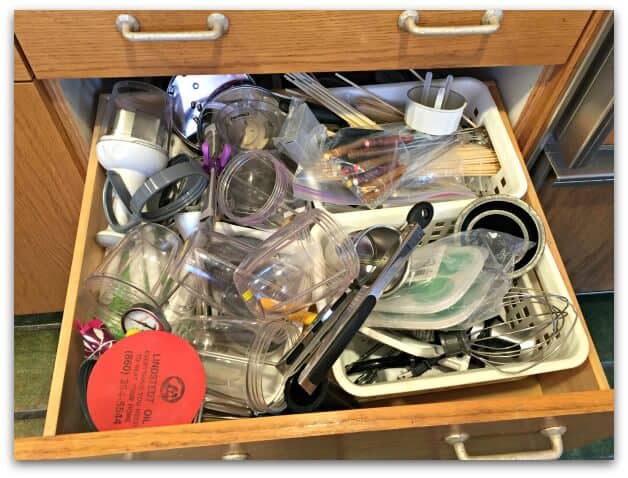 A cluttered mess of a dozen Ninja Bullet cups and lids, a mish-mash of fondue forks, skewers, and cuisinart accessories and all kinds of other kitchen utensils. The kicker? The drawer directly above this one was nearly empty!
Kitchen Drawer After:
How nice is this? And truly- it only took 20 minutes to empty, wipe out the drawer and white containers, and to re-organize where everything should go. I accomplished this during a sliver of time between putting my older kids on the middle/high school bus, and the time when I needed to wake my younger ones up for school! You know what I otherwise would have been doing? Uh huh- scrolling through my facebook feed…
Under Kitchen Sink Before:
Why is that so many things come to live under my kitchen sink that don't even belong there? Hair clips? Bug spray?
After: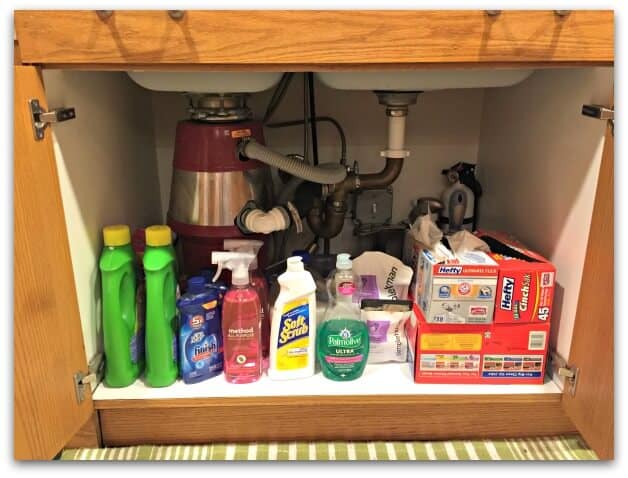 This space has been driving me crazy for weeks- I couldn't tell what was in it so I ended up buying duplicates of items I already owned…. and all it took me was 10 minutes to empty it, wipe it down, return what belongs here and find the right home for what doesn't!
Hats on Hooks: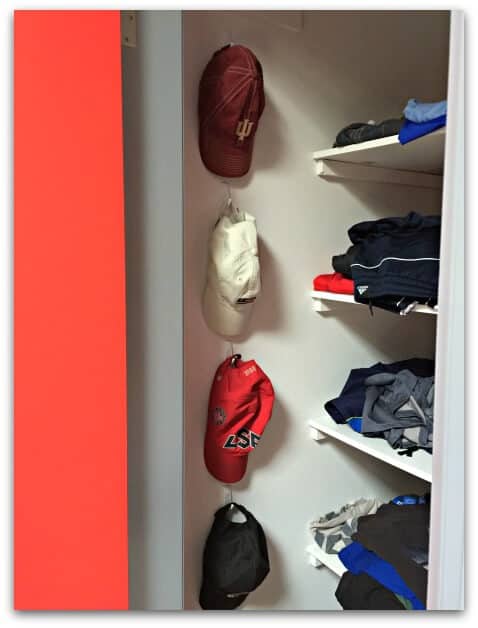 Kyle and Spencer have at least a dozen hats each- and they are tossed everywhere in their room, on desks, bookshelves, nightstands, the floor. All it took was 5 minutes to order some command hooks on Amazon
and then 15 minutes to hang them up in the boys closets and the problem was solved!
Family Room Bookshelf Before: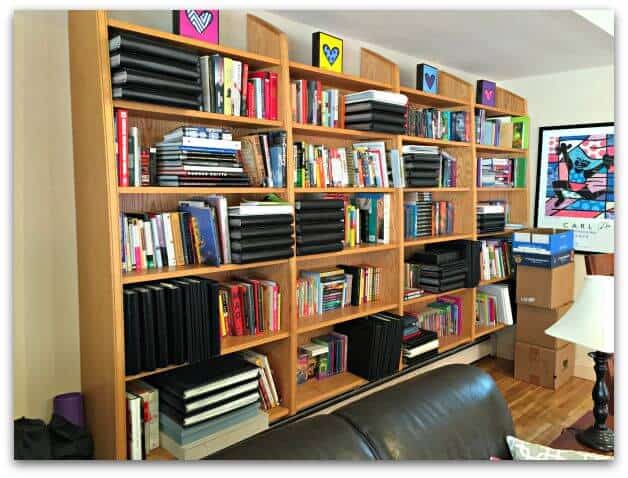 The picture doesn't do the clutter justice, but we had so many books that the kids had already outgrown that were taking up space, and it was making it hard for the kids to find books they hadn't read that would interest them. So I spent two 20-minute sessions with the kids just going through the kids books for early readers and deciding what what we were ready to part with. (We boxed up 5 cartons of books to donate!)
Bookshelf After: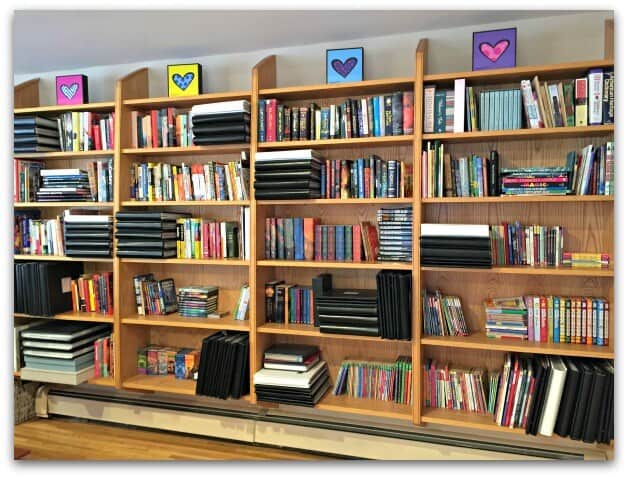 And then another 20-minute session for me to re-home the books we decided to keep. The best part? My kids spent hours afterwards going through the books- as if they were all new again!
Loft Closet Before: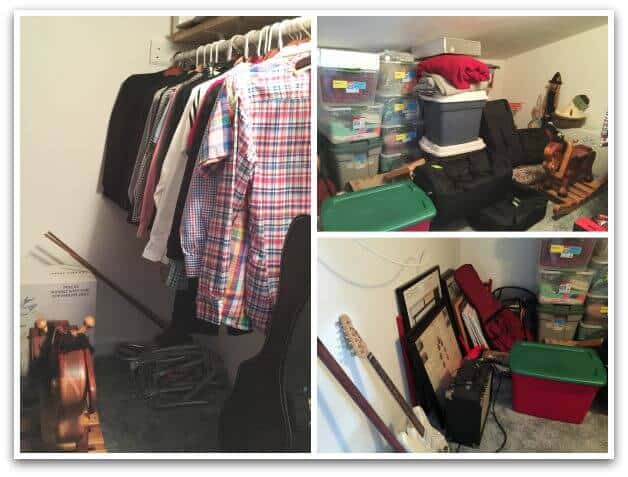 I thought this would be a huge project… and so I only planned to pull out of this closet what I thought we were ready to donate (which turned out to be about 6 small items) and would organize it at a later date. But once I started moving items around, I quickly realized it wouldn't take me long at all to get this closet back into shape! Some teenage muscle helped me to move the large rolled up rugs which had been plopped into the center of the space, to up against the wall under the hanging rack. Once the two stacks of framed pictures were reduced to one stack, the luggage had a place to go, and in a matter of just a few minutes… it looked like this:
Loft Closet After: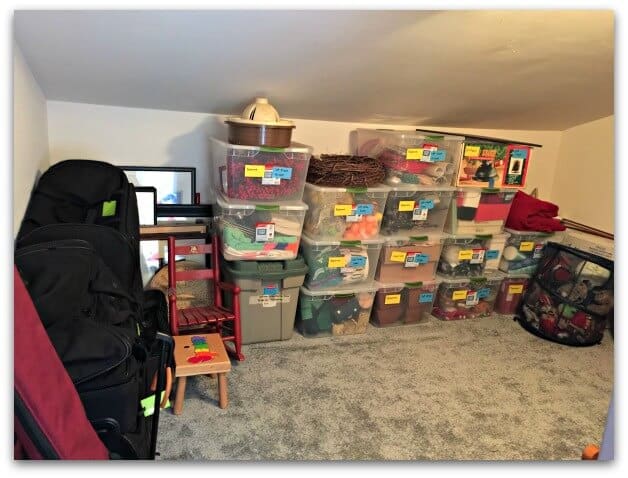 My younger ones can actually camp out in there if they want! Lesson learned: sometimes a big mess doesn't take that long to organize at all!
Toy Closet Before: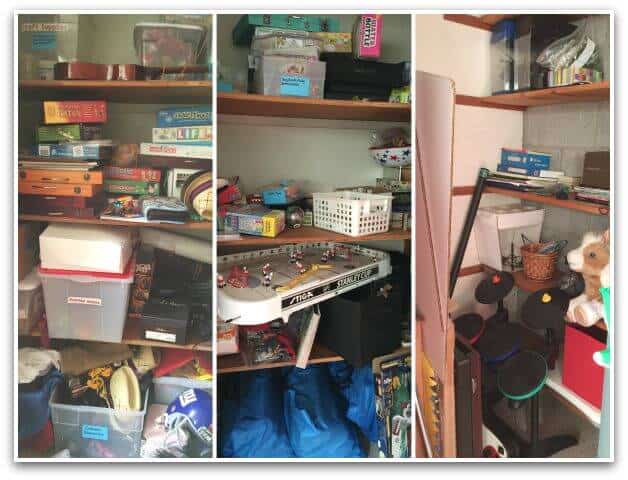 And this was the project that took the most 20-minute increments- about 20 minuets per shelf to unload and sort. Another couple of 20-minute time slots to work with the kids to decide what to donate and organize what we wanted to keep, and then only 20 more minutes to get everything back onto the shelves.
Toy Closet After: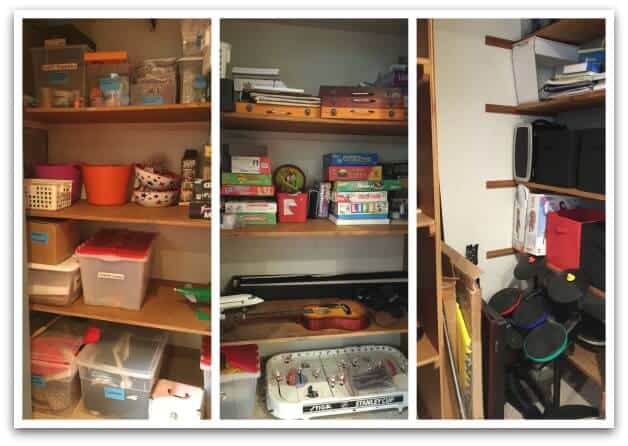 Of course, this one will be the first area "destroyed"! But it sure looks good now!
The Donation Pile: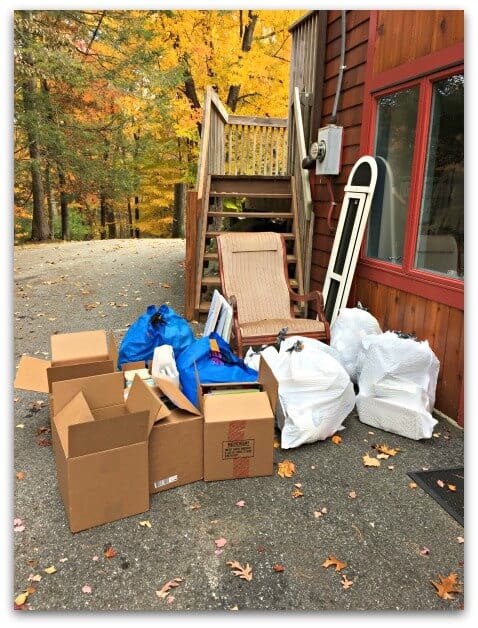 The house always feels "lighter" when we call for the donation truck to come and pick up what we no longer need, and it feels good to know that it will go to someone who can put it to good use. You may notice here that my grandma's chair was in the pile this time (I've been wrestling with whether or not my heart was ready to part with it for awhile now). I really needed the space in my mudroom to hold the two racks of Cabi samples that I use for my new Cabi business, and it seemed like the right time to let it go. Now you might think that my grandma's spirit might be patting me on the back and telling me that it is okay to part with the chair that I didn't love…. but I think the reality is that she would have been annoyed that I am getting rid of a "perfectly good chair"! So I am hearing her voice in my head- exasperated by my decision as I look at this picture. And my heart tugs a little. But it was just a chair. It wasn't my grandma or my many wonderful memories of her. It was just a chair.
Whew- didn't mean to get all "heavy" there….
So what's next? I have a long list of 20-minute decluttering projects I plan to tackle in the kitchen alone! I can't wait to re-organize the desk/homework space! And all of the cabinets!
What decluttering projects are on your list?