When the kids come home from school with their backpacks overflowing with paperwork- it's great if there is an organized homework space for them to unload it all, and a way to keep all of their supplies organized. Here's how I created an organized homework space in the kitchen for my large family!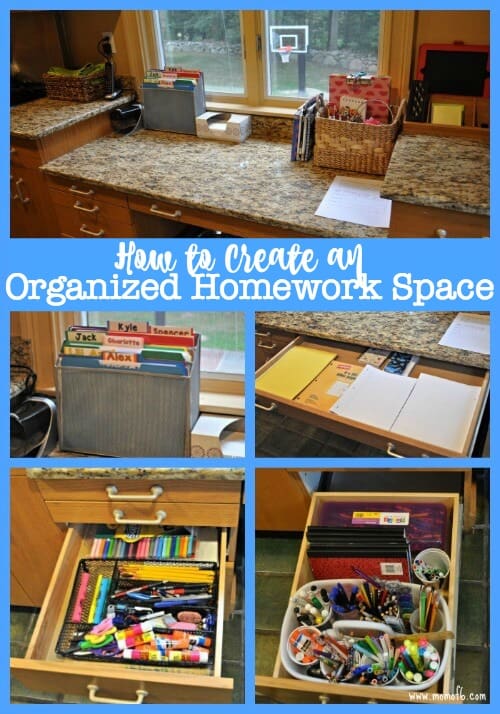 I spent a few hours recently re-working our kitchen desk area to make sure that we had a place for everything and a system to keep it all organized. Here's how I did it: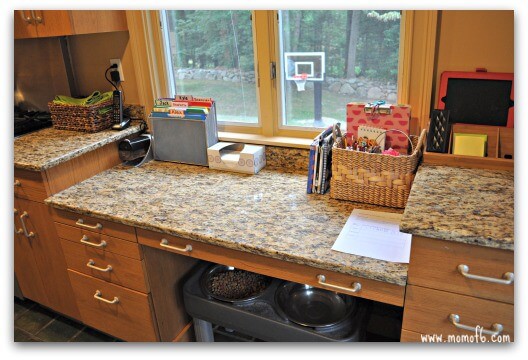 1. Clear Some Counter Space for Unloading and Staging
There needs to be room for them to unload all of their folders and binders and be able to access them during the afternoon and evening while they are tackling homework. Last week I spent some time examining what we were storing on our kitchen counters and creating "homes" for items in cabinets and drawers in order to free up some counter space. Part of that space is now dedicated to being a "landing pad" for school work.
Along with this landing pad space- you also need a system- starting with an inbox where the kids can put all of their completed school work, school notices and permission slips so you have just one place to check to go through all of that paperwork in the evening. Try to get your kids into a routine of unpacking their backpacks, getting a snack and then settling down to homework.
Here's a printable that we hang on the fridge door until the kids get the hang of the after-school routine. (Feel free to click on it to open the image and print for your own use at home!)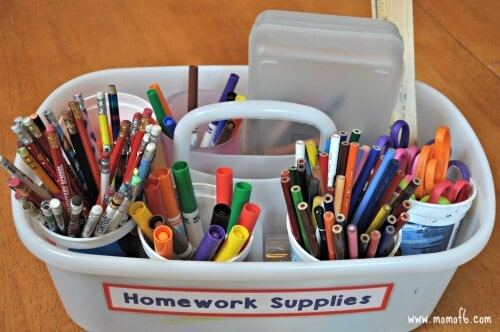 2. Keep Homework Supplies Right Where They'll Use Them!
We are lucky that our new home came with a built-in desk space right in the kitchen. However, due to the fact that we are squeezing in an 8-person kitchen table into this space, there's not enough room to actually sit and work at the desk (which is why we also store the dog's food and water bowls in the space where the chair would go!). But the bonus for us is that this desk area gives us this awesome dedicated countertop for school work and plenty of drawer space for school supplies.
We also still love to use our homework caddy– and keep it filled with everything a student needs to do homework- pencils, pens, erasers, glue sticks, colored pencils, markers, rulers, index cards, highlighters, etc. I can pull out the entire caddy and place it on the kitchen table, or if we choose to do our homework somewhere else- like the picnic table on the back deck- one of the kids can grab it and take it out there with us- and we don't have to run back every two minutes to get supplies we need!
3. Have a Filing System for Papers You Need to Keep (Temporarily)
You know those papers that come home from school with the kids' login information for various educational websites, or paperwork that pertains to the school instrument rental that you want to keep around? That's the kind of stuff that I like to keep on file right in the kitchen. Artwork I want to save goes into another basket until I have a chance to file it, and invites and info for school field trips goes on my blackboard right in my kitchen. But these school files are a great resource to have right where we are doing homework!
4. Have a Place for Those Library Books!
My elementary-school-aged kids still bring home a stack of library books each week from school- so having a designated place to keep them where we can see them and remember to read them as well as make sure we know where to find them on "library day" is important. We just use a small section of countertop space dedicated just for that purpose.
Want to See My Space In Action?
Then check out my video on How to Create an Organized Homework Space in the Kitchen:
More Posts You Might Enjoy On Large Family Parenting
Do you feel that your homework space organization is working for you this school year? Why or why not?