A few months ago I shared with you how we created a multipurpose space in our basement by creating zones for workout equipment, TV watching, and storage for craft supplies and games. Overall we were pretty happy with the space, and both the teens and the parents were using the workout equipment fairly regularly. But in deciding to use our basement this way- we had given up something kind of important- a teen hangout space- where my teens and tweens could invite friends over and hang out separately from being around their siblings!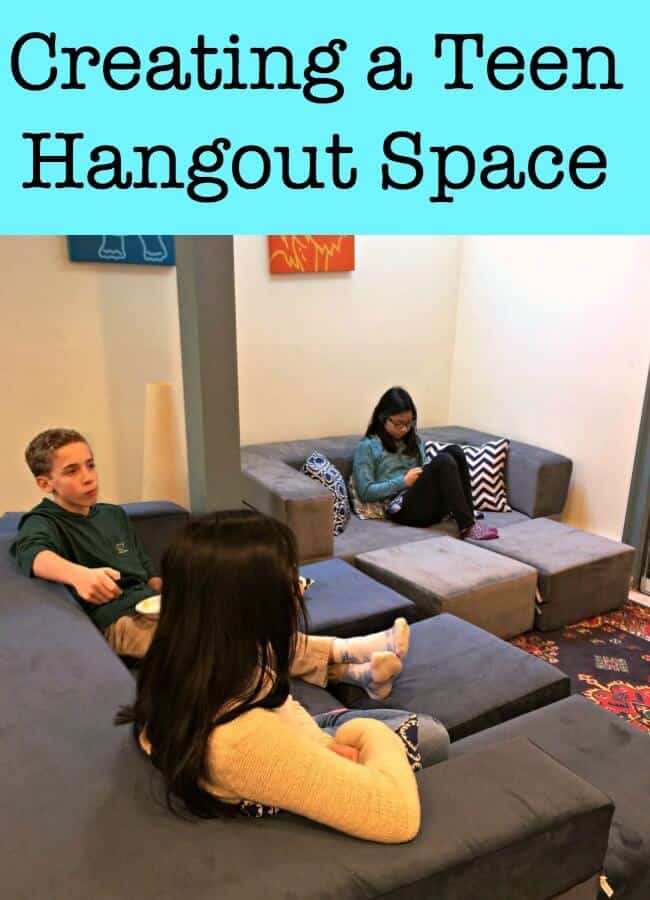 It became pretty apparent that we didn't have a good solution when my teens wanted me to drive them over to their friends homes every weekend but didn't want to invite anyone to our home. If I made suggestions about how they could invite friends over and watch sports and eat snacks in our family room while the rest of the family watched a movie in an adjacent room- it was clear that they felt this wasn't "separate enough". Teens want to be able to chat with their friends without worrying that Mom or Dad or a younger siblings will hear and repeat the conversation. (This is probably especially important given our family's size!)
And from my perspective- I want to make sure that I know the friends that my teens and tweens hang out with! Dropping them off at someone's front door isn't giving me the chance to get to know anyone. So once my husband and I "got this"- we decide to re-work the basement layout once again- to create a teen hangout space.
Teen Hangout Furniture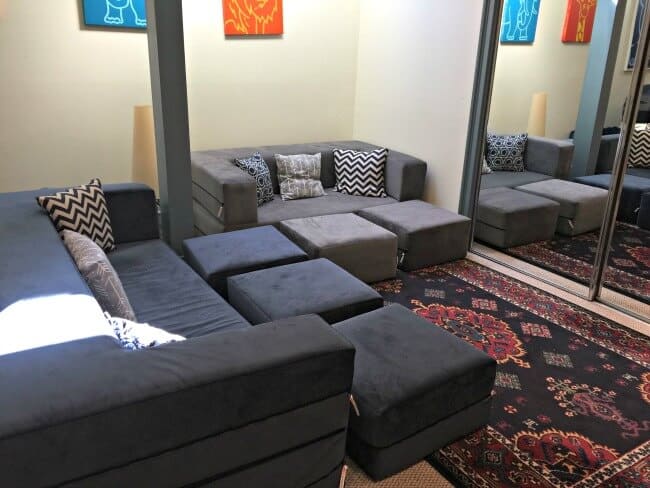 The first thing we did was to re-examine everything in this room and figure out what needed to move out to open up some space. The treadmill, which can be folded up, was moved into our mudroom area, the desk was sold on Craigslist, and other smaller pieces were relocated throughout the house. The next step was to search for some cool teen hangout furniture that was cozy, comfy, would stand the "abuse" of large children sprawled out all over it, and could also convert to beds if friends wanted to sleep over.
After doing some online research- we settled on a Jaxx Convertible Sofa and Jaxx Convertible Loveseat. Made from a very dense polyurethane foam, they will hold their shape no matter how much kids pounce and lay all over them. The super soft plush slipcovers are all machine washable (a must-have!) and you can configure the sofa or loveseat and ottomans several different ways- to create multiple seating configurations, a game table, and of course, beds! They were the perfect solution for us!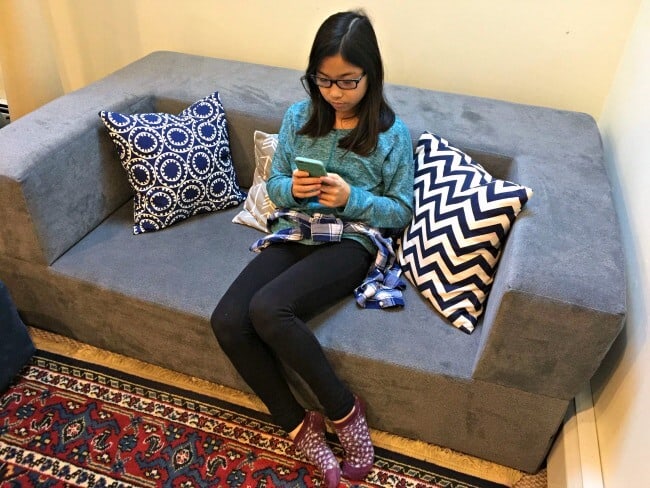 The one thing to know, is that they do sit low to the floor. But our kids love this furniture- and think it is the most comfortable place in our house! We purchased the pillow covers on Etsy to go over pillow inserts we already owned.
Teen Hangout Media Center
Next we needed a piece of furniture to hold the WiiU, xBox, and stereo equipment- and we wanted something with a low profile that fit the vibe of the couches.
This white media center with 4 drawers fit the bill- it wasn't too expensive, the teens helped Steve assemble it, and I think it looks great.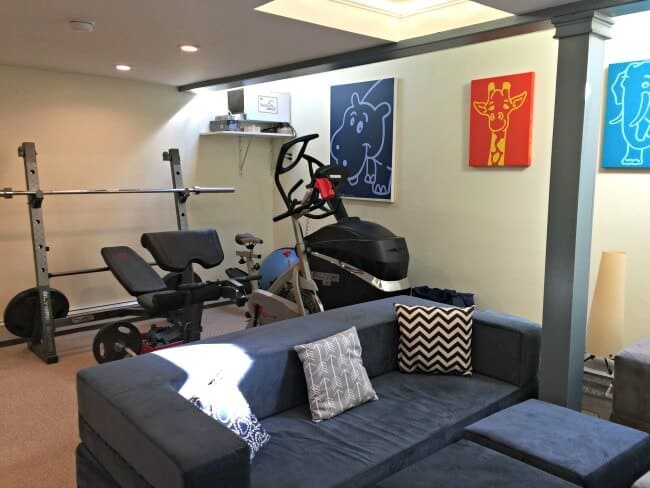 As you can see- we still have the workout equipment- elliptical, stationery bike, and weight bench tucked on one side of the room- so the basement still functions as a workout space as well (although we have to fit that in during a time that no one has friends over!).
For us- this teen hangout room is the first of several projects we are tackling around the house this year. Next up- a kitchen makeover that is part DIY and part contracted help. We started "phase 1" this week- removing the old tile floors (to reveal lovely yellow linoleum beneath) and installing pre-finished bamboo floors. Floor work is a messy and dusty endeavor! Not to mention pretty disruptive! Thank goodness this was just a 3-day project.
Next up? Getting estimates on cabinet and drawer re-facing! It should make a huge difference!
Do you have a teen hangout space in your home that works for your family?