There's no doubt that clutter stands in the way between us and our desire to get organized! And I know that for me, the kitchen is one area that manages to accumulate all kinds of clutter- paperwork on the countertops, stale snacks in the pantry, water bottles and kitchen gadgets packed in the cabinets. Every so often you need to go through what you own and declutter your kitchen– and I'm going to show you how to do it in just 7 days!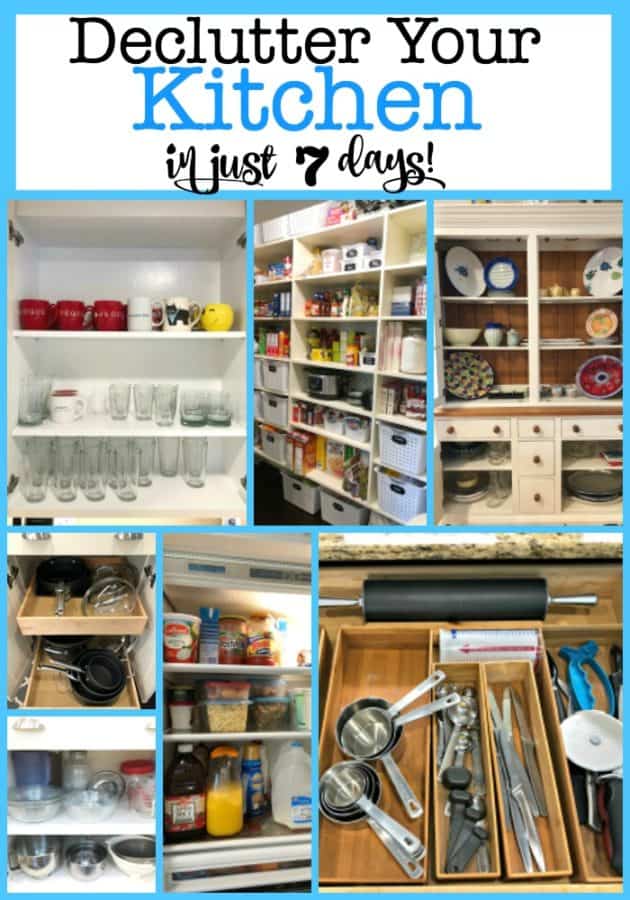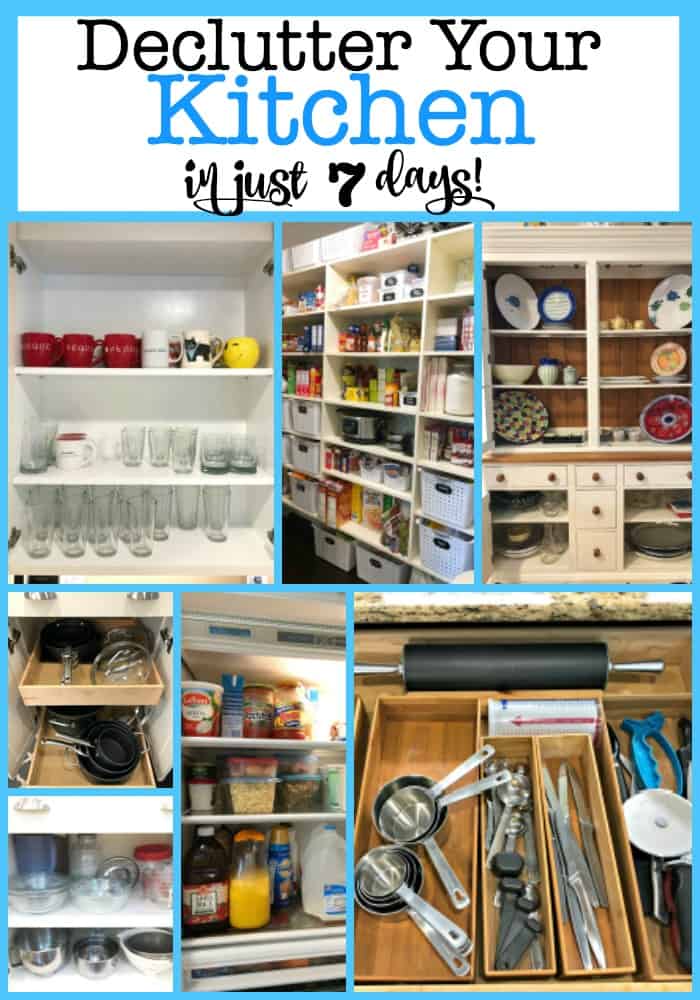 When an area of my home gets too cluttered, I feel that it just drags me down. I can't find what I am looking for, I don't use what I have, and we end up buying duplicates which are a waste of money! But who has tons of time open on their schedule to tackle a decluttering project?
But I bet we can all find just an hour a day for seven days to tackle a project like this! (Of course if you haven't decluttered in a while, you can allocate more than one day to each step if you need it).
How to Declutter Your Kitchen
I feel that it makes the most sense to clean out the kitchen by category. That way it is easy to shift things around from one cabinet to another as you go along, since you are decluttering and organizing "like items" all on the same day.
Each area should be emptied, sorted into "keepers" and "discards," then the cabinet or drawer should be vacuumed and the keeper items re-organized in the newly cleaned out space.
This is one of those projects that build momentum just because you'll be so excited about how each new clean drawer and cabinet looks!
Declutter Your Kitchen Day 1: Glassware
It is amazing how easy it is to accumulate plastic cups from amusement parks, promotional mugs and wine glasses from events that you attend (with a company's logo on them), silly and paper straws and even travel coffee mugs.
One day you come home with it, you stuff it into one of your cabinets- and boom- it starts taking up space. And really- it's not anything you love, or you'll use, it's just that you own it and feel that you need to store it. Emptying out the cabinets and getting rid of all of that stuff- just feels good!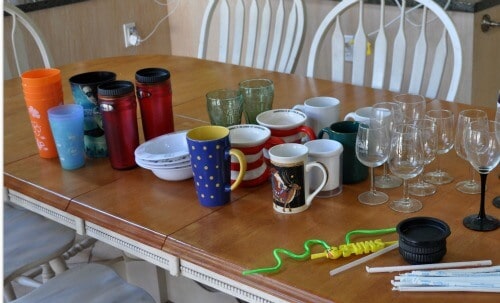 The glassware purge pile!
Day 2: Pantry, Spices, and Food Storage
This is one of those areas where it is so easy for things to get disorganized- especially when the kids help you to put the groceries away and don't pay much attention to putting "like things" together! For me, it helped to unload the shelves onto the kitchen table, sort items into categories and then return them to the shelves after I cleaned them.
I also find that storing items in plastic baskets This is an affiliate link: MomOf6 earns a commission if you purchase, at no additional cost to you. and labeling them with chalkboard stickers This is an affiliate link: MomOf6 earns a commission if you purchase, at no additional cost to you. helps my family to find what they need easily (hopefully stretching the length of time that this area will stay neat!
Day 3: Fancy Plates and Serving Pieces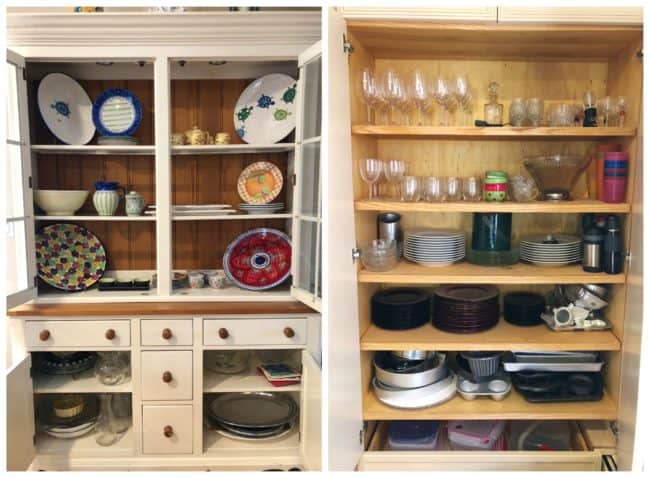 I have a hutch that I use for fancy plates and serving pieces, and a cabinet that is located in our family room where I store wine glasses, more plates, and bakeware that won't fit into my kitchen. These are items that are used less often, so I don't need quick access to them while I am cooking.
But they also become where unused items get placed when I no longer want them in the kitchen. Thermos bottles, plastic cups, and even appliances that we no longer are using. So it feels great to declutter these areas and get rid of the things we no longer use!
Day 4: Plates, Cookware, Pots & Pans
The cabinet where we store our plates and bowls also is the place where we keep daily medicines and vitamins, band-aids, and ice packs. So that's what took me the better part of the hour to declutter and throw away what had expired, and move up to the medicine cabinet the things we rarely us!
The rest of these spaces mainly needed just to be wiped down and re-organized.
Declutter Your Kitchen Day 5: The Fridge!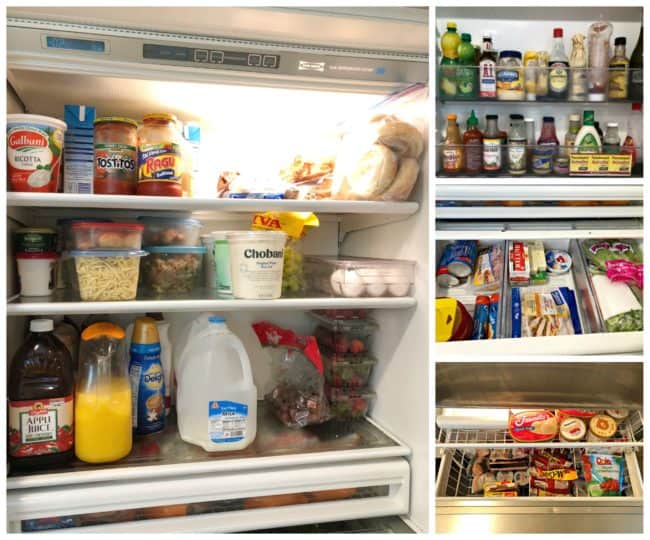 I saved this for Day 5 because it's a biggie. Especially if you haven't done it in a while. But today is the day to remove everything from the fridge, give it a good thorough cleaning and check all of the sell-by dates before you start putting things back inside (and try not to gag at the green fuzzy things that you find in the back!)
Don't forget to tackle the door shelves as well as the freezer!
Day 6: Small Appliances, Bowls, and Cabinets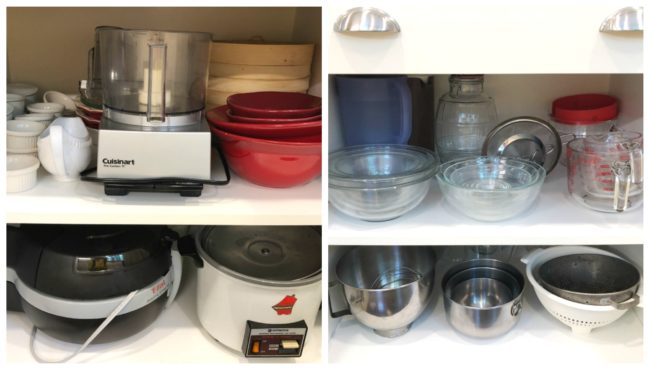 Yet another area that can get out of control- especially if you've received a few new appliances as gifts recently- we often don't remember to get rid of the ones we are no longer using before we find a home for the new one! But if you haven't used something at all in the last year- then it's probably time to let it go!
And here's where you want to make sure that you have everything organized on shelves by category- otherwise it is hard to know what you have, let alone actually find it. One of the things that I stumbled upon that I had forgotten about for years was a hand-crank pasta maker, and finding it inspired me to make homemade fettuccine noodles last weekend for my family! So glad I found that little machine again!
Day 7: Drawers and Utensils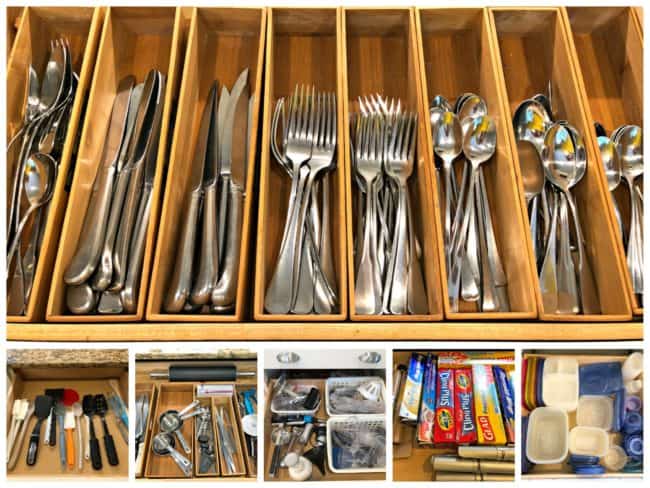 This is an area that was full of decluttering opportunities! Our kitchen is blessed with many many drawers, and they all needed some work!
Over the years you pick up a slew of gadgets that you really don't need or use. Or if you are like me, you buy a new vegetable peeler because you hate the old one, but you never throw the old one away- you keep it around "just in case"!
It felt great to purge these items, clean out the drawers, and get everything organized so that I can find it quickly and easily while cooking! And I love these bamboo drawer organizers This is an affiliate link: MomOf6 earns a commission if you purchase, at no additional cost to you.  that I use to keep everything neat!
And Don't Forget About Decluttering Your Kitchen Counters!
Looking for some more great ideas on how to organize your home?
Are you ready to get your life organized? Register for Busy Moms Boot Camp!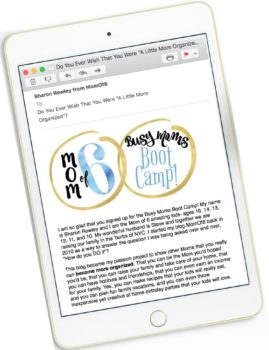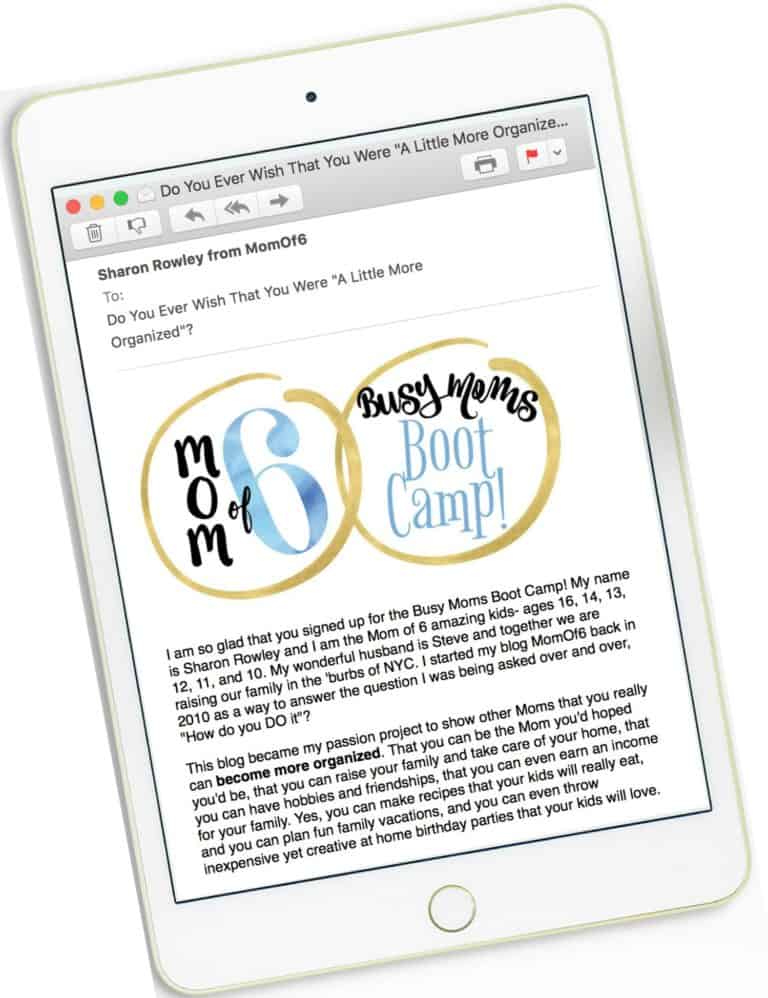 It's a free series of 10 weekly emails that can help you put some organization back in your life and help you to create room for all of those things that you'd like to be doing- whether that's making time to celebrate the little things with your family or carving out some space for yourself. Busy Moms Boot Camp can help you to move from chaos to organized! Simply sign up below to get started!