Well here it is… the official mid-way point of my Big Basement Challenge! After 12 years of using our basement as the "dumping ground" for all kinds of things that we weren't regularly using but weren't sure that we wanted to get rid of…. the clutter had piled to the tipping point. The tipping point of my sanity, that is! In case you have forgotten what the starting point looked like, here is a refresher!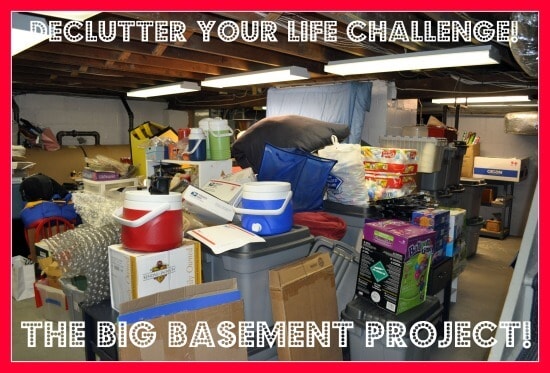 Making Progress…
And in the first 16 days, we have made some serious progress- sorting item by item- creating piles of things to donate to charity, piles of items to be trashed, and much smaller piles of items that we want to keep. Everything that we have decided to keep has been sorted by category- which will make it easier to organize all of it into its final home in the newly-cleaned-out basement once I am finished with the streamlining / decluttering process!

Staying Focused…
One of the challenges when tackling a project of this size is staying focused on the task at hand. It is so hard not to fall into a nostalgic walk down memory lane when you uncover a box of old framed photos… but if you do that for every- single- bin….. you'll never get through the 14 other bins that you are facing down in your decluttering quest! So if you find yourself feeling a little emotional about a bunch of your stuff- and it is stopping you from making any decisions as to what to do with it- then my advice is to put it aside for now, with the intention that you'll get back to it when you are feeling a little less nostalgic. I have had to that several times during this challenge. And I have found that if I hit those piles first the next time I find an hour to work on this project, I  can get through them much more easily.
Staying "In Scope"
This is a phrase I learned during my business-woman-career days. When you are working on a project, and you find that one great idea to fix one thing leads to another great idea to fix a second thing and then that leads to working on a third area…. the next thing you know, you have completely moved away from the original project. So you need to define the scope of what you are trying to achieve…. and then try to limit your work to only what pertains to the original project. So for example, I came across a huge box of old DVDs and VHS tapes as I was working in the basement- most of which needed to be trashed. But some of it was worth keeping, and I felt that the keepers needed to be moved upstairs to our family room media bookshelves. But when I came upstairs and opened up those cabinet doors… Whoa! I was greeted by another area that needed some serious decluttering. Screeeeeech! I had to remind myself "Stop right there missy! If you start tackling that cabinet, you are never going to finish up what you wanted to get done in the basement. Stay in scope girl!"
But know when to throw caution to the wind- and to just Go For It!….
…and decide to add something into the project. Once I realized that we will really have space to store craft supplies in our newly-cleaned-out basement, I decided that it made sense to tackle two more areas in our home that somehow also have been housing craft supplies (how is it that I managed to create three separate areas for craft stuff?):
So sometime in the next week, I plan to sort and streamline those two craft areas, and then move all of our craft supplies into the basement to be housed together in one central place!
And speaking of What's Still to Be Done…
Just because something is in a bin, doesn't mean that I'm "off the hook". Clutter lives in bins too (unfortunately), and you'd be surprised that what I once thought was something worth saving in a carefully packed and stacked bin, is really just more clutter that we no longer need! And my very last step before "setting the room" will be to clean out the ever-growing pile of shopping bags, shoes boxes, gift boxes, and gift wrap that I have accumulated over the years. The reason I am saving this section for last is because I keep finding more of it as I streamline the other areas of the basement, and I figure that it will be easiest to just deal with it all at once!
And since one big project inspires you to tackle a few smaller ones….
Here is my latest 10-minute "mini-project"…
Our over-stuffed knife drawer in our kitchen (that also holds all of our wine and bottle openers)!. This drawer was making me crazy this week… so I took just 5 minutes to empty it,. sort through the contents of what to keep, what to relocate, and what to donate/trash. I then took 5 more minutes to run downstairs to find a few containers that I could put into service to help me organize the drawer (an old plastic pencil case with the top removed and a Melissa and Doug wooden tray that came with a craft kit), and then put the "keeper items" back inside of the drawer. And see the pile left on the kitchen counter? Well sometimes you just need to consult with your hubby before you decide to get rid of stuff. (He wisely cautioned me that those long skewer-looking things are actually knife sharpeners, and that we should keep one around!)
So there you have it… we are halfway through this project- and I can't wait to see how it turns out! If you missed my first two posts on the Big Basement Challenge- I would love for you to check them out here:
The Declutter Your Life Challenge: The Big Basement Project
The Declutter Your Life Challenge: Working Towards An Organized Basement
Now it's your turn…. What's one area in your own home that you would like to tackle in the next 13 days? It certainly doesn't need to be as huge as this project. Do you have a closet or even a drawer in your kitchen that needs help? How about a 10-minute mini-project? Leave a comment with what you are committing to declutter in the month of February- or head over to Org Junkie and link up your project too! We can DO this!