Are you still not menu planning because you think it's just too hard to get started? Well if you've got 10 minutes, you absolutely can get started weekly menu planning today! I've broken it down into a few quick and easy steps for you, and I promise it won't take long for you to get organized!
Step 1: Brainstorm a list of everything your family likes to eat for dinner
Gather the kids, sit around the kitchen table, and have them start spouting off all of the things that they like to eat for dinner (feel free to bribe them with cups of hot cocoa to gain their participation!). Type the list of menu items as they speak on your laptop or tablet. Don't worry about typos and organizing things into categories, just get it all down. (Time: 5 minutes)
Step 2: Format and Print Your List
Take the brainstormed list, spell check it, and perhaps cut and paste items to get meals organized by chicken/beef/pasta/fast-and-easy, etc. You'll want to be able to get it to fit onto one printed page, so you can change your font size if needed, and you can also break up your list into multiple columns.
How? If you use Microsoft Word or Google Docs all you need to do is go to the top, select Format then Columns and in the dialog box, decide on the size of your columns (I usually reduce the spacing of the columns so they are closer together). It'll immediately break up that list for you. Then print your one-page menu list. (Time: 3 minutes)
Step 3: Cover The Page- Start Weekly Menu Planning!
Place your printed menu list into a sheet protector This is an affiliate link: MomOf6 earns a commission if you purchase, at no additional cost to you. and using a dry erase marker This is an affiliate link: MomOf6 earns a commission if you purchase, at no additional cost to you. , circle the items that you plan to make for dinner that week. Put a little label next to each circled item to indicate the day of the week you plan to serve that item.
The beauty of this system is that next week you just wipe off your marks and circle new items for that week's menu! (Time: 1 minute)
Step 4: Display It
Use a Command Clip This is an affiliate link: MomOf6 earns a commission if you purchase, at no additional cost to you.
 to hang your weekly menu plan on the wall somewhere in the kitchen. You want the kids to be able to see it so when they ask you, "Mom, What's for dinner?" you can remind them to look at your menu board! (Time: 1 minute)
If you are going for maximum "pretty"- place your printed menu into an 8 x 10 picture frame This is an affiliate link: MomOf6 earns a commission if you purchase, at no additional cost to you. . It looks lovely on the kitchen counter you can still use the same method of making notes with a dry erase marker of what you plan to serve each night of the week.
See? 10 minutes is all it takes for you to get started weekly menu planning! And as long as you save your original brainstormed list, it's super easy for you to add new items when you try out new recipes that your family enjoys, or remove things that you're sick and tired of making!
The most important thing is to spend two minutes once a week (ideally before you head to the grocery store) to plan what you're going to make for dinner that week. It definitely makes the "witching hour" between 5 and 6 PM SOOOO much easier!
Looking for the best family calendars, planners, to-do lists, and goal setting tools?
Best Family Calendars – whether you prefer electronic, paper, or wall calendar- these are the best ones of the year!
Best Planners for Moms – a family calendar can help you organize your schedule and your time- but a planner can help to make sure that you are giving your life purpose!
15 Perfect Paper to Do Lists for Busy Moms- pretty paper lists to guide you as you get it all done!
Here are some great ideas on how to organize your home!
Are you ready to get your life organized? Register for Busy Moms Boot Camp!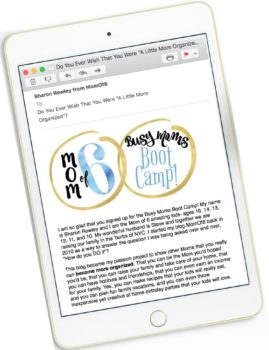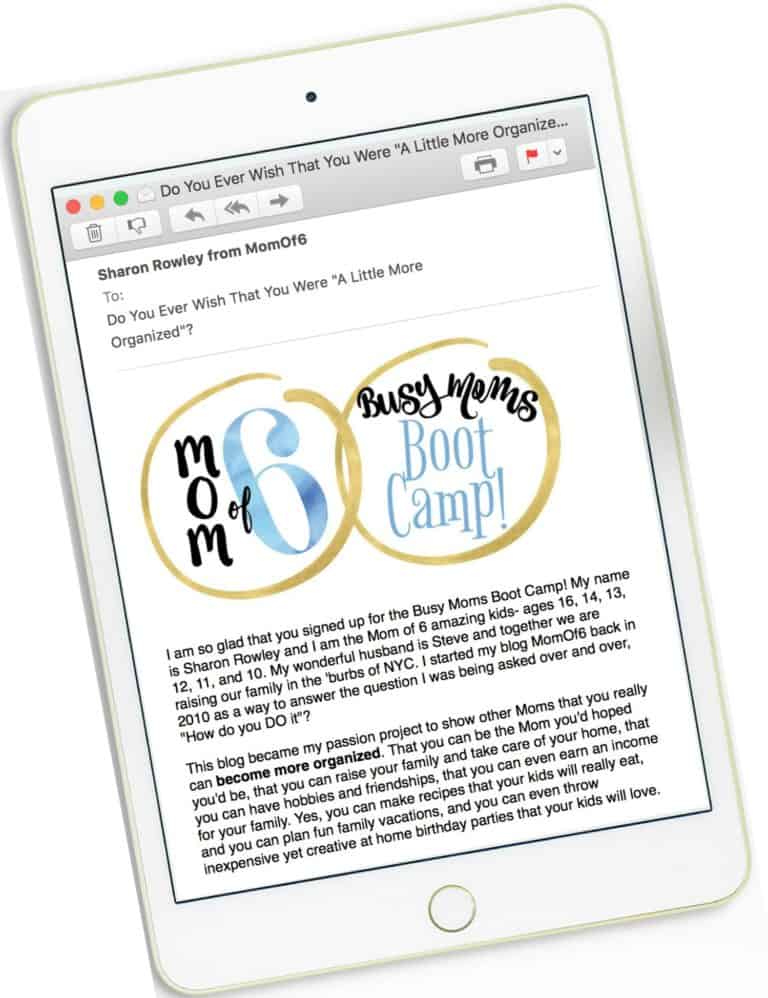 It's a free series of 10 weekly emails that can help you put some organization back in your life and help you to create room for all of those things that you'd like to be doing- whether that's making time to celebrate the little things with your family or carving out some space for yourself. Busy Moms Boot Camp can help you to move from chaos to organized! Simply sign up below to get started!
Are you ready to start weekly menu planning?