Take a look at your email inbox right now. How many unread messages are in it? How many total messages? Does looking at your email inbox make you feel as if you are on top of what you need to do, or does it make you feel overwhelmed and like you need to get organized? How would it feel to reach "inbox zero"? And keep it that way?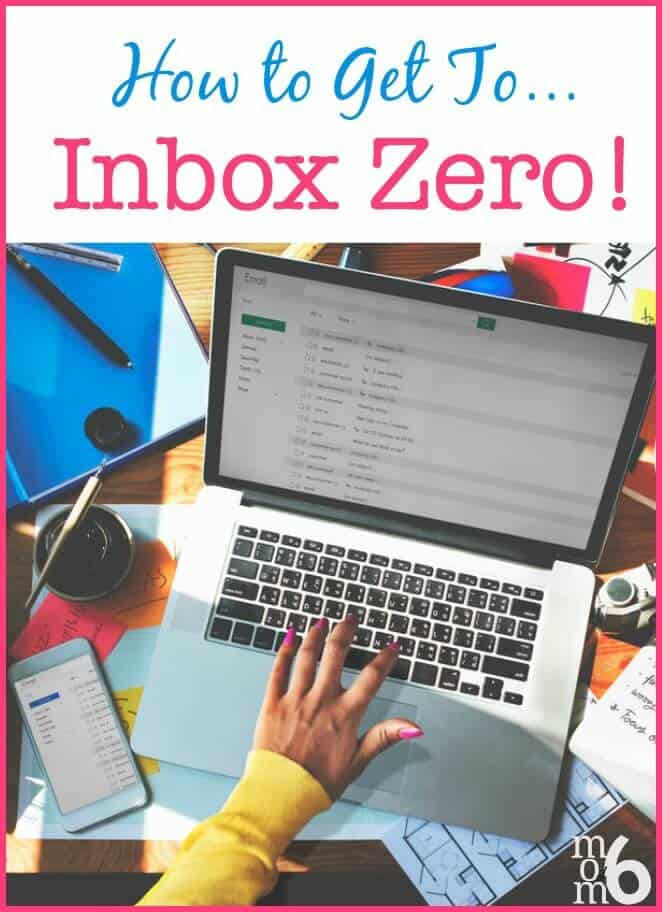 Email is certainly an amazing communication tool that keeps us connected to our family, friends, coworkers, teachers, coaches, etc. But because it is always on and running in the background of our computers, our phones, our tablets- email can also be a vehicle that completely derails us in our quest to lead a more organized life! In fact- it often makes us feel the exact opposite of organized!
So how are you going to get on top of it? Do you think that you find your way to inbox zero without losing your mind? I KNOW you can! Here are some tips!
Start Taking Control Of Your Time on Email!
As tempting as it is to look and see what just popped into your inbox, try to limit yourself to checking email only at specific times of the day. A good schedule would be to read email first thing in the morning, before or after lunch, and again before the end of the day. Or of course anytime you are waiting in a line and have a few minutes to kill with your phone! That's the perfect time to do some "mass deletes" of emails you know you don't need!
Make sure to turn off the notification features on email– on all of your devices! If you hear that little "ding" every time an email comes in, you're going to be tempted to see what it's all about!
Establish a Process that Leads to Inbox Zero
When you have reached one of the times of day that you've allowed yourself to read email- do more than just scan your inbox! Read each email and decide exactly what you're gonna do with it.
Either delete it because you don't need it, deal with it because it is something that you can quickly answer, or file it to handle it along with similar emails at a later time.
I suggest having mailboxes that are inboxes by category– you can have an inbox for kids activities, an inbox for work-related email, an inbox for funny emails or articles to read later on when you have the time (and that's the place to store all those jokes that your Dad sends to you!).
Get these emails out of your main inbox and into category-based inboxes. Then deal with one of these category inboxes during each one of your daily email-reading sessions.
Unsubscribe, Unsubscribe, Unsubscribe
Just because one time you gave out your email address to receive a free coupon or get some online deal, doesn't mean you are obligated to continue to receive emails from those companies. Feel free to liberally unsubscribe to email lists that no longer appeal to you.
You can even have an inbox called your "Unsubscribe inbox" and when you receive emails that are annoying to you- throw them in there. Once a week and go through that inbox and unsubscribe from all of those email lists.
Want a super simple, super fast way to do this? Use Unroll.me, a free service that quickly scans your email address and finds every subscription you are registered for- then you can simply click to unsubscribe to all of those newsletters and offers you don't need to see! (Note: Does not work with every email service)
More Than 1000 Messages Right Now? Consider Email Bankruptcy!
If you have less than 1000 messages in your inbox right now, then try to set aside an hour every day, and use the process I outlined above (delete it, deal with it, or file it), to clean out your inbox. Create folders to file emails into that you can deal with later, and once you achieve inbox zero, then continue to use that hour to clean out those folders as well.
But if you are buried under a mountain of email, and know that you will never, ever, never be able to get through it- then consider the radical move of "email bankruptcy". Send out an email to everyone in your contacts stating that you are waving the white flag and are giving up on your email inbox. As of this moment, you are deleting all of your emails so that you can start with a clean slate. Let them know that if someone is waiting for a response from you on an email previously sent, please re-send, and you will work to give them a reply.
Then either delete or archive all of the emails in your inbox (I highly suggest archiving them if you have enough storage) and begin again!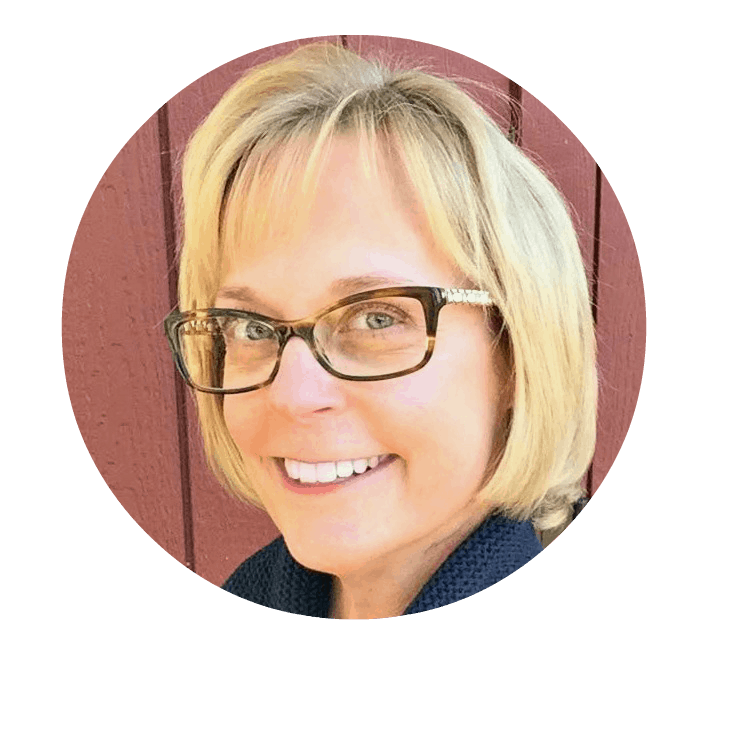 Are you planning on decluttering and organizing your home?
These are my favorite storage bins This is an affiliate link: MomOf6 earns a commission if you purchase, at no additional cost to you. for organizing all of the areas in your home! You can see all of my recommendations for buys Moms over on my Amazon Influencer page This is an affiliate link: MomOf6 earns a commission if you purchase, at no additional cost to you. !
Maintaining Inbox Zero!
At the end of every day, you want your main inbox to be completely empty! Every email has been dealt with and either deleted, answered or filed. And you need to have regular times set aside to deal with those category-based inboxes- some may need attention daily while others only weekly. Have a schedule and keep to it- and email will no longer manage you!
Looking for some great ideas on how to get more organized?
Are you ready to get your life organized? Register for Busy Moms Boot Camp!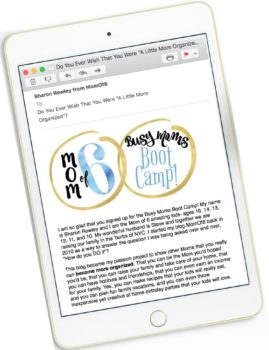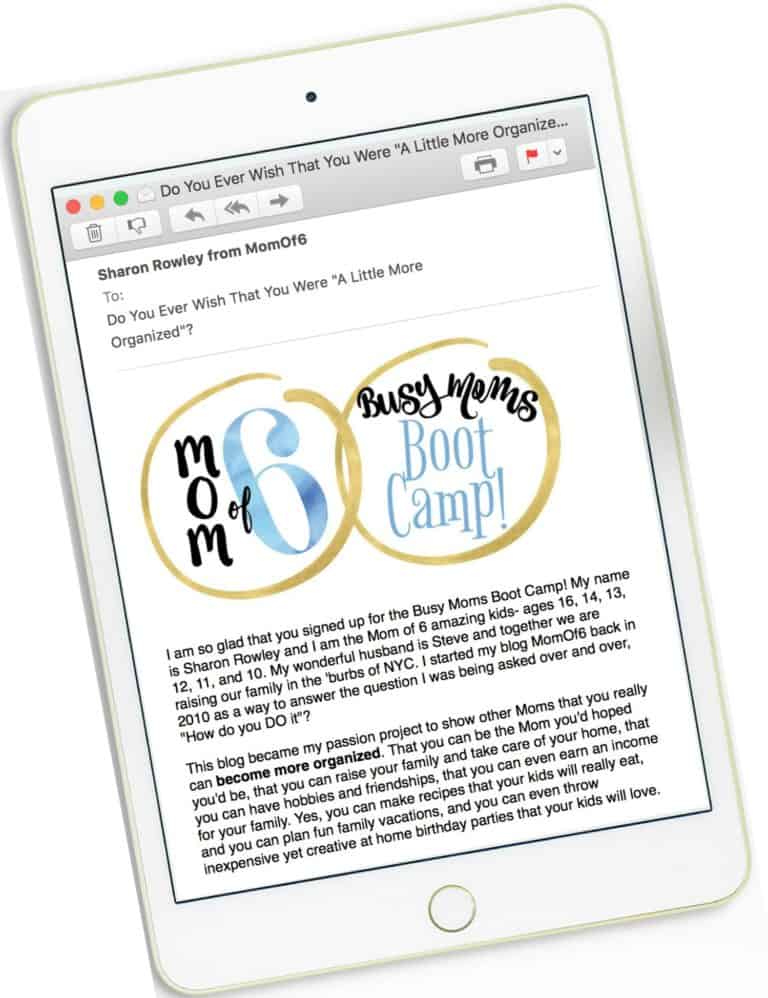 It's a free series of 10 weekly emails that can help you put some organization back in your life and help you to create room for all of those things that you'd like to be doing- whether that's making time to celebrate the little things with your family or carving out some space for yourself. Busy Moms Boot Camp can help you to move from chaos to organized! Simply sign up below to get started!
I would love to hear from you- do any of you manage your email inbox in this way, and does it get you to inbox zero? Please leave me a comment and share your thoughts!