Are you working on decluttering your home? If you'd like to get organized and make some progress quickly, I suggest that you start in the area of your home that feels the most cluttered first. Recently our master bathroom was making me nutty with clutter- so I took some photos of my quick decluttering project so that I could show you that you can declutter your bathroom in just two hours!
Once you start decluttering your home, it starts to take on momentum. You open up cabinets and drawers, and you shudder that you've accumulated SO MUCH STUFF! I mean, how in the world did this happen? And pretty soon you've gone from not even noticing it, to not being able to stand it. You know it is time for a change.

Seriously, how much crap can we stuff into these medicine cabinets? And under the sinks? And how many duplicated items did we own because neither my husband or I ever thought to look into each other's cabinets to find allergy medicine or rubbing alcohol?
And how about these drawers? It was amazing that we were ever able to find what we needed!
And beyond what we stuffed into these areas, we also had several shoe boxes filled with medicine, nail polish and polish removers that we had corralled and moved onto the top shelves of a closet so our curious younger children would not be able to access them. '(What could be worse than finding a 5-year-old kiddo all hopped up on cough drops painting her fingernails and use the nebulizer as a personal hand dryer. Am I right?)
Oh- and how did we decide that the best place to store all of the dog's ear cleaning supplies would be on our windowsill? What- for quick emergency access?
As I said, it was time for some decluttering. So here are the steps that I took to conquer this mess in just 2 hours!
Step 1 to Declutter Your Bathroom: Decide on "categories of products" to store in the bathroom
I looked at what we owned and decided that these would be my categories:
adult medicine
kids medicine
my toiletries
Steve's toiletries
feminine products
hair styling supplies
toothbrushes, nail files, Q-tips
travel-sized products
Step 2: Remove, sort by categories or toss
Start on the left side of the top shelf, removing items and placing them into groups on the floor based on the above categories. Toss out items that are used up, you absolutely never use, are expired, or that you just don't want to keep.
There probably aren't too many items that you'll find in a bathroom decluttering project that are right for donation. But you should separate paper and cardboard items as well as empty plastic and glass containers for recycling wherever possible.
Continue emptying the shelves, cabinets, and drawers, sorting items by categories as you go.
Step 3: Vacuum and then wipe down those shelves and drawers with cleaner
'Cuz man, I'll bet they are dirty (or at least mine sure were!)
Step 4: Figure out how you want to store each of your categories in your newly cleaned cabinets and drawers
But be sure to follow these two principals:
Every category should be stored in just one spot. Don't put hand cream in both a drawer and under the sink, because you will likely not remember to look in the second storage location when you run out in the main location, and you can end up buying items that you don't need not realizing that you already own them!
Plan to store everything in a cabinet or a drawer. Try to leave almost nothing on your bathroom counter. Hand soap and lotion are really the only things that should be out and available. Everything else should have a neat and accessible home, behind a cabinet door or in a drawer.
Ahhh… now, this is more like it!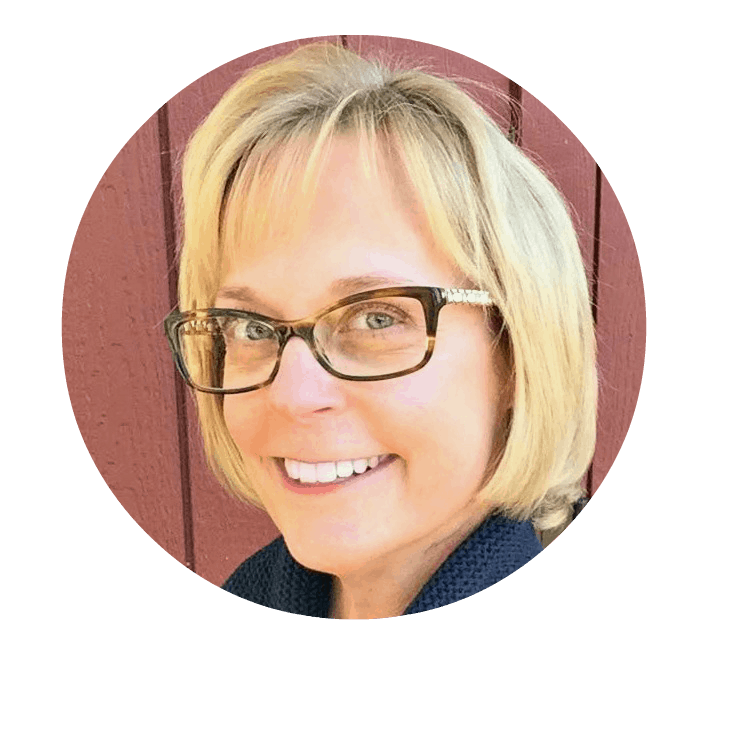 Are you planning on decluttering and organizing?
These are my favorite storage bins This is an affiliate link: MomOf6 earns a commission if you purchase, at no additional cost to you. for organizing all of the areas in your home! You can see all of my recommendations over on my Amazon Influencer page This is an affiliate link: MomOf6 earns a commission if you purchase, at no additional cost to you. !
What you don't see are the two large trash bags full of garbage and a large recycling container filled too!
I can see what I have, find what I need, and know exactly what needs to be replaced.
Want my free printable decluttering checklist?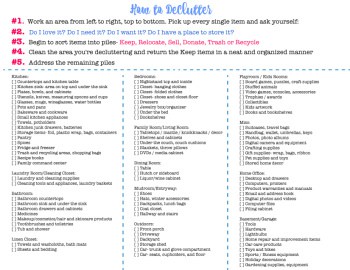 Would you like to download a copy of my free printable decluttering checklist? Simply sign up below to join the MomOf6 community and you'll be directed to an access page with instructions!
[convertkit form=4885453]
Living in a decluttered home truly allows you to live an organized life. It allows you to find things that you need when you want them, it allows you to think and create more clearly, and it frees the mind!
So what do you think? Could you tackle your bathroom in just 2 hours? One hour to remove and sort and one hour to clean and organize? 
Looking for some more great ideas on how to organize your home?
Are you ready to get your life organized? Register for Busy Moms Boot Camp!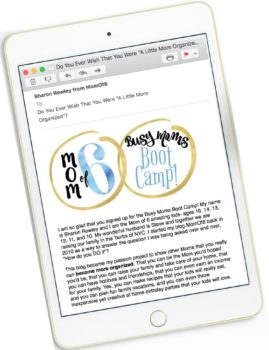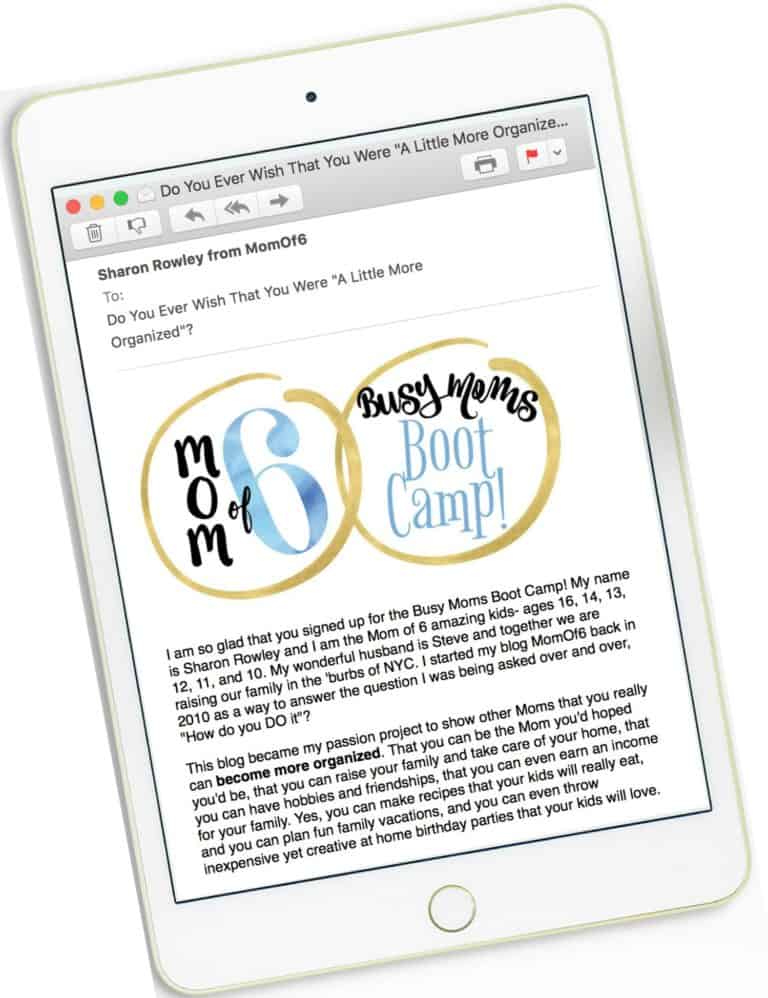 It's a free series of 10 weekly emails that can help you put some organization back in your life and help you to create room for all of those things that you'd like to be doing- whether that's making time to celebrate the little things with your family or carving out some space for yourself. Busy Moms Boot Camp can help you to move from chaos to organized! Simply sign up below to get started!