Do you ever wonder where all the hours in your day go? You know that you have worked and worked all day long never even stopping to sit down, but when the end of the day arrives do you look back and wonder where all of the time went and why you feel that you have nothing to show for it? Well it's time to get organized and spend some time focusing on how to get things done!
There are definitely things we can all do to improve our personal productivity– whether we are trying to run a home-based business or just run a household full of kids! And it starts with being mindful about how we spend out time and planning our day out intentionally. Here are my 6 best tips to show you How to Get Things Done!
1. Give yourself credit and cut yourself some slack!
We clean up the breakfast dishes, start a load of laundry, give the dog a bath, put away the 5000 lego pieces left on the kids bedroom floor, fold the laundry, check email- all before 11am. Yet, that doesn't feel like we really got anything done, does it? That was just "cleaning up", right?
And then we glance over to that long list of things that we need to do, and we sigh and wonder "How did it get to be 11am already, and I've done nothing on this list?" Well, it's certainly not like we were sitting around on the couch watching TV and eating bon-bons!
So your first step is to acknowledge that you do a heck of a lot more than you ever give yourself credit for- because you tackle dozens of things each day that never even make onto a to-do list!
Secondly, you need to cut yourself some slack… ESPECIALLY if your kids are young and not in school yet! Trying to care for your family when your children are young is definitely a full-time job in itself- regardless of whether or not you also work outside or inside of the home for financial compensation.
And there is just not a lot of "extra time" to tackle projects and things you feel "you should be doing". Give yourself the same kindness you would give a friend who was feeling overwhelmed and frustrated, and strip your to-do list down to its bare bones!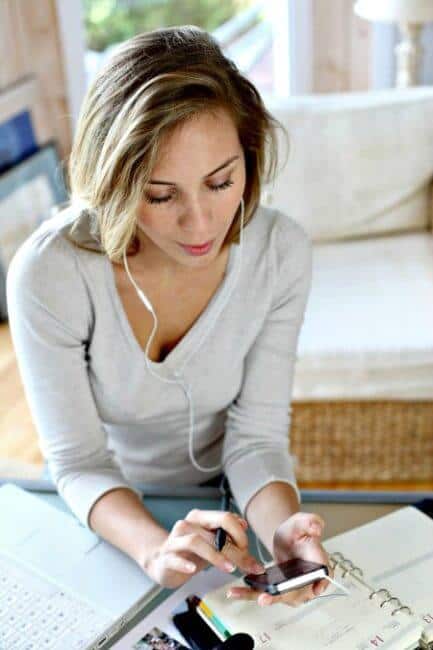 2. Get off of social media (or at least schedule a time slot for it!)
We allow ourselves to lose track of time when working on the computer- reading blogs, checking Facebook, seeing what's going on in Twitter-land. One post/ status update/ tweet leads to another and another. Or sometimes it is watching a Netflix series- you are so sucked in that you try to squeeze in "just one more show". And then suddenly we look up and realize an hour or two has gone by and feel guilty about it and panicked about what we didn't accomplish during that time.
The problem here is NOT that we spent time on social media or watching Netflix- the problem is that we didn't approach it intentionally. We didn't create some time in our schedule to do these things, and then stick within the time we set aside for that online / TV time- and that is what creates the guilt and frustration for "not getting things done".
3. Get clear on the time you have available
Even though I am up and moving before 6am every day, that time is taken up by getting myself and all 6 kids ready, fed breakfast on our our way for the day. And my afternoons are dedicated to family time. So when it comes to time I can dedicate to "getting things done", most of it needs to happen between 9am and 3pm. I imagine that your day isn't exactly wide open either!
So the first thing to do is to figure out all of the open times during the day that you have available to "do stuff".
You can print a blank copy of this time blocking worksheet for your own use- scroll down to the bottom of this post!
4. Plug into that schedule all of the things that you need to accomplish each week:
Be sure to include all of the things that take up your time, but don't necessarily make your "to do list". Here are some ideas on what to include:
Housework
Creating Content/Writing Newsletters/Social Media/Planning Time (if you are a blogger) or Other Work-Related Activities
Exercise (yes, this should have been first on the list!)
Run errands/grocery shopping
Read and respond to email
Time for hobbies
Time to work on projects (or larger items on your to-do list)
Assign time to these things during the blocks of the day that you have open. Here is what mine looked like after I assigned my tasks:
There aren't very many open slots during the day, are there? That's why I find it so challenging to "get things done"!
5. Realize that there is no "perfect week" when all of these time frames will truly be available to you!
You'll have a doctor's appointment for you, the kids, or the dog. You'll want to get your hair cut. A child will stay home sick from school or there will be a teacher's conference day. It is safe to day that no week will actually look like the above example! But then here's the reality… in order to take care of these other things- stuff needs to come off of your list! Maybe the laundry just has to pile up until the next laundry day. Maybe you don't get time for your hobby or to work on the to-do list.
Think of the schedule as the best possible scenario- and then prepare to be flexible!
6. As best you can, try spending a week living within the time boundaries that you assigned to this schedule
And then make adjustments to where you felt you didn't give yourself enough time, and decide what needs to come off of your list.
Want to print your own weekly time blocking worksheet to help with your quest on how to get things done?
Simply sign up here to join the MomOf6 Busy Moms Community! Once you confirm your subscription they will download right to your desktop or device. Please note that this printable is for your personal use only and are not to be distributed or sold. This printable will download as an Excel spreadsheet which can be uploaded to Google Docs if you don't use Excel.
Would you like to get organized?
Here are some more posts to inspire you:
Do you feel that scheduling your time mindfully and with intention would help you to accomplish more of the things that you want to do?