We all know that we should be kind to the planet and take care to recycle where we can, but it can be hard to do the "right thing" when you aren't sure what to recycle, what to toss, and where to store it all until trash/recycling pick-up day! The key to getting organized with recycling is to make sure that you have a place for everything you intend to recycle and that you have instructions posted so that everyone in your household knows exactly what can be recycled and how to prepare the item for recycling. Here are some ideas for how to organize your recycling:
Where to Place Your Recycling Bins:
At our house, we dedicated some of our lower cabinet space in our kitchen to some of our recycling bins. The bonus is that the bins are easy to access and for me to monitor that the kids are putting items into the right bins, something that would be harder to do if we put the bins in our basement.
The con is that it takes up cabinet space!
One cabinet holds a bin of plastics, glass, & metals (which can be recycled together in one container where we live), and a separate bin for newspapers.
Help Your Family to Recycle Properly:
I created this sign to help my family remember how to recycle plastics, glass, and metals: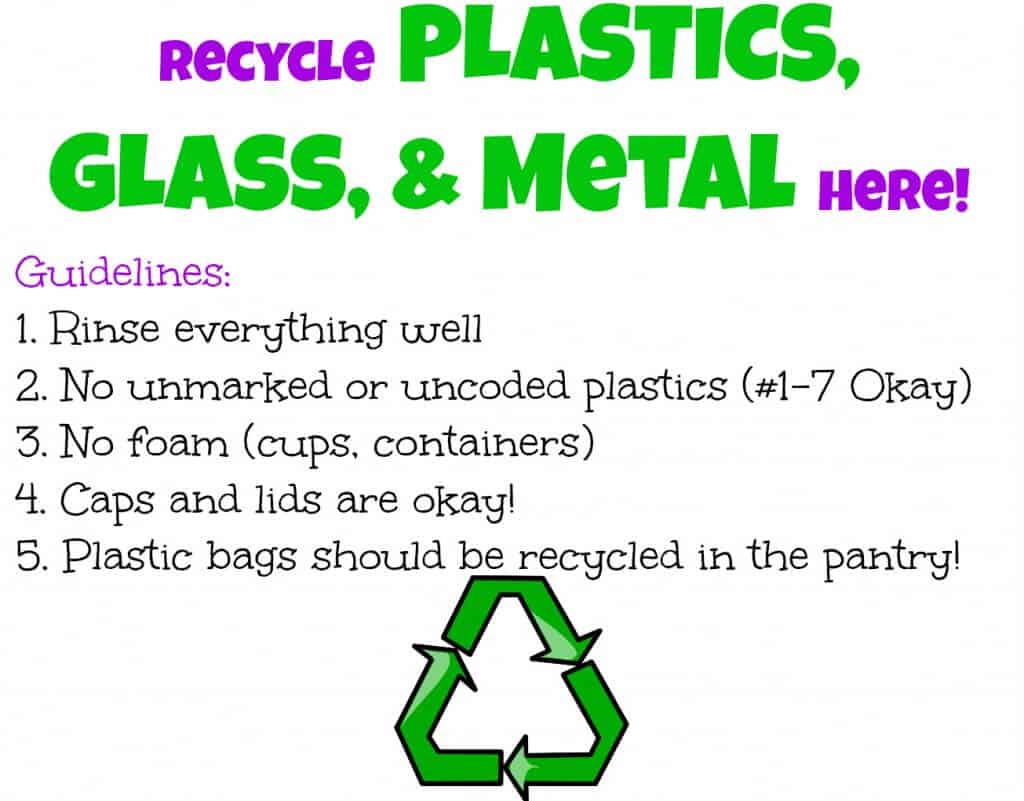 For plastics- I noted which "resin numbers" (the little number stamped onto the bottom of the container) can be recycled in our town.
When it comes to metal- we can recycle our aluminum foil (we just need to clean off the food particles before putting it in the bin).
Most kinds of glass can be recycled- but not ceramics, pyrex, mirror or window glass, crystal, or light bulbs (and be sure to recycle your CFL bulbs at the hardware store!).
We collect our newspaper separately from our household paper because our recycling center requires them to be separate.
Make Sure Everyone Knows What Needs to be Sorted: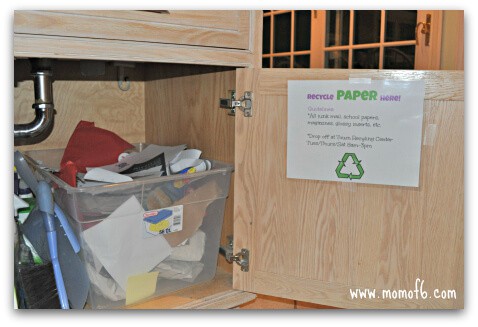 Another cabinet holds a bin for paper- which includes all kinds of office paper, junk mail, newspapers, and even magazines. (And yes, glossy paper can be recycled too!)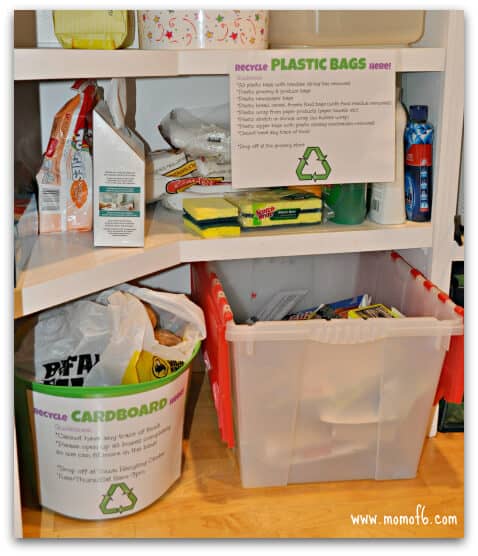 And in our pantry we have another bin for cardboard. Not just the corrugated cardboard that packages are shipped in, but all of that "paperboard" such as cereal boxes that are printed on one side and grey on the other. This can be recycled too! But make sure that they are free of food waste- one greasy pizza box tossed in with the cardboard recycling and ruin the entire load!
Our local grocery store still allows us to recycle plastic bags, so I downloaded their guidelines as to what can be recycled. (I had thought that it was only that store's plastic bags- but you can recycle lots of different kinds of plastic):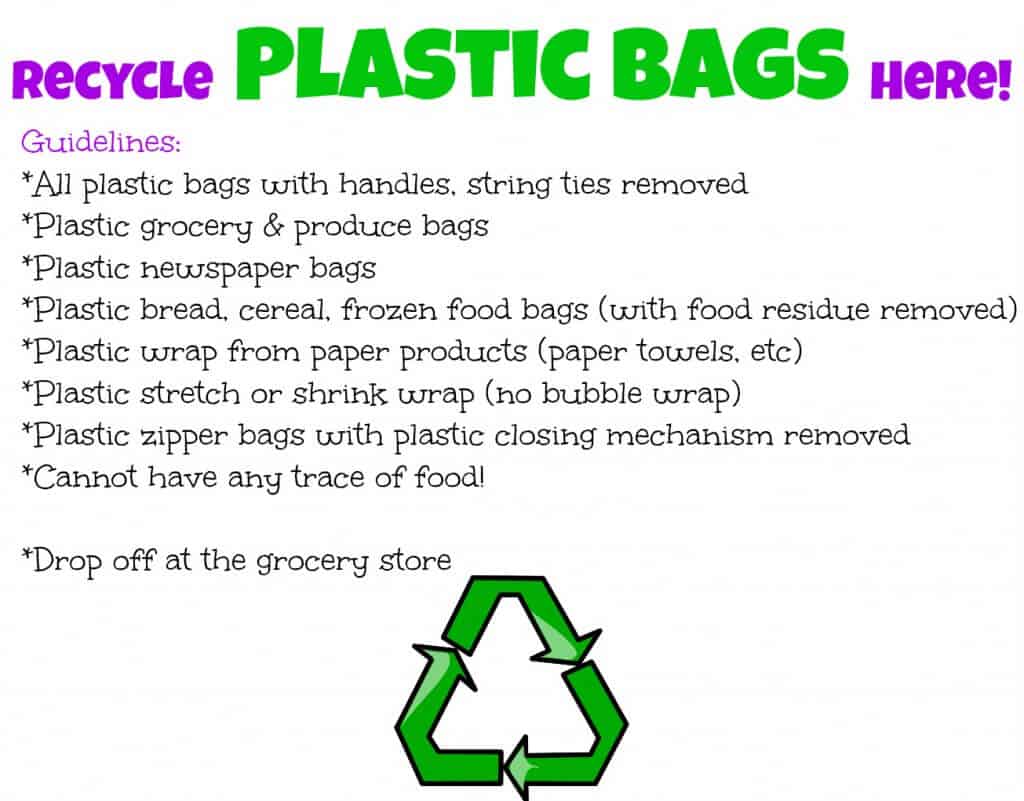 One More Tip on Recycling
And one more thing- know what is really being recycled when your trash is picked up!
When we first moved into our home I happened to watch the garbage man make his stop at our house, and I was shocked when I saw him take all of those carefully bundled piles of cardboard that I had thought that I was recycling- and just throw into the back of the truck where the garbage goes! I immediately called up the trash company and found out that they will dispose of cardboard- but not recycle it!
So I asked her to point me in the direction of local recyclers- and I found out that my town has an entire recycling center dedicated to recycling all kinds of items- including electronic waste.
So sometimes you have to dig and research a little to make sure that you really are recycling items in a way that is best for the planet!
Here are some more great ideas on how to organize your home!