Garages tend to hold a lot more than our cars- in fact for many people- garages hold so much stuff that we can't even fit our cars inside anymore! So what's a family to do when a garage is no longer functional because it has become so cluttered and they just want to get organized? You tackle it with a clean out- and sort through what you own! Here's how to organize your garage!
Garages, just like basements and attics often end up becoming the dumping ground area for a home.
Buy a new vacuum cleaner? Chances are the old one ends up in the garage.
Too much stuff jammed in a closet? Why not pack up a box or two of stuff and just "store it in the garage"?
And where else are you going to keep those items like camping gear, ride-on toys, and hockey equipment?
Add to that stuff that actually belongs in a garage- like cars, yard equipment, and your husband's tools- and before you know it- the place has become a disaster zone! And you can't even find what you need!
Our Garage Was in Need of a Makeover!
When we moved into our new-to-us-home, our garage was stacked literally to the ceiling with bins and boxes- housing everything that should be in the garage plus everything else that we didn't know what to do with!
We had such a fierce winter that year- that we couldn't begin to unearth it until the weather thawed and we could move everything outside to begin sorting through it.
And even then, it took us several months of making dents in the unpacking of the boxes- deciding what to keep and what to trash or donate, and before we were in a position to finally come up with our plan to make over the garage.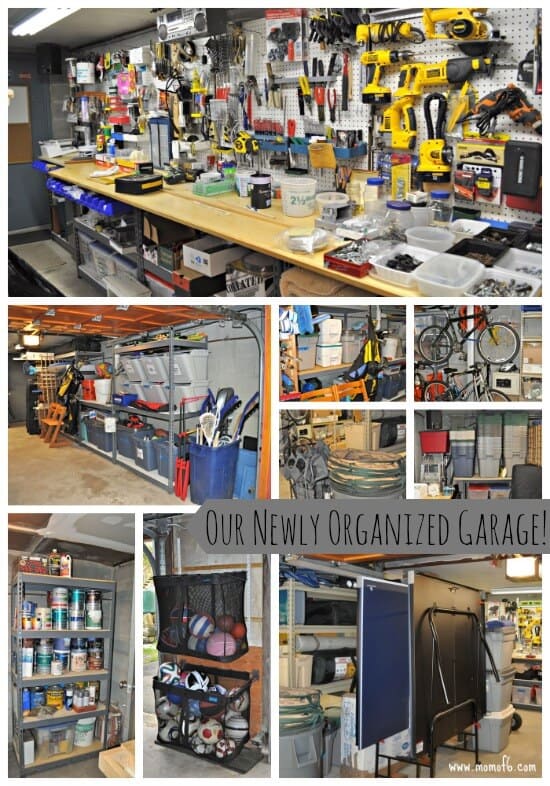 But now our garage makeover is complete! And I would like to say that we've become quite the experts on garage organizing! Let me share with you what we've learned!
Wondering How to Organize Your Garage? It All Starts With a Plan!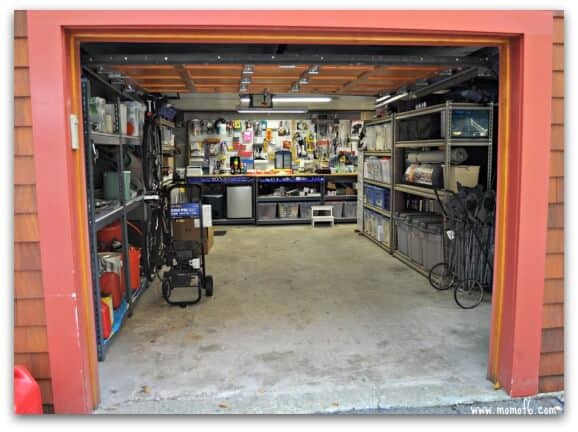 Space is limited- and once you face the fact that you aren't going to be able to store absolutely everything you've ever saved "just in case you might need it again"- it's time to develop a plan for your space.
In our case, I actually sketched out the garage and came up with "zones" of what I intended to store in each section.
We also knew that we wanted to be able to fit one of our cars in the garage during the winter months, so we needed to make sure that we left enough space for it!
I absolutely wanted to have a "recycling zone" where I could store all of the paper, cardboard, shipping cartons, and newspapers until we were ready to take them over to our town's recycling center. This was a must-have-area that I didn't have room for at our old house!
One of the great things about deciding your zones in advance- it that it automatically sets limits as to how much you can store. If you know that you will only have room for 2 shelves of paint, you know you have to pare down to what will fit into that space!
Then Start Sorting
Normally I don't recommend that you totally empty a space before you begin to work on it- because that's the surest way I know to invite an interruption that will derail you for days!
But in this case, we needed to clear everything out of the garage so that we could assemble and install all of our shelving units (more on that in a minute). So we dragged everything outside and onto the driveway (after making sure that the weekend forecast was sunny and clear!) and sorted every box and bin.
We arranged in advance to have a charity pick up donated items twice during our sorting process, and we also had plenty of trash bags on hand for the things that needed to be thrown away.
And earlier that spring, we had ordered a dumpster and went through the garage as well as the yard (the previous homeowner had left behind plenty of goodies for us to dispose of!) and got rid as much of the trash as possible.
How to Organize Your Garage with Storage Zones
We already owned tons of these metal shelving units This is an affiliate link: MomOf6 earns a commission if you purchase, at no additional cost to you.
that we purchased over the years and used at our old house in both the garage and the basement.
Plus, the previous homeowner also left several sections of the same type of shelving behind- so our first course of action was to figure out exactly how we wanted to place all of it in the garage to get the most use out of it.
We lined both walls of the garage with it, and also placed right down the middle of the garage floor to create a separator between one side (kids toys and camping gear) and the other (household items and recycling center).
Once the storage units were built and put into place, we started organizing everything we wanted to keep on them based on our "zones"!
 And Just Know that You'll Have to Adjust the Plan!
As items were grouped together and put away on the storage units we realized we need to make adjustments to our original zone plan as some categories took up more room and some needed less space.
Making adjustments to the plan is something that continues over time- as new hobbies and projects emerge and others fade into the background- our garage space will continue to be reworked and adjusted. That's fine. No home organization project ever stays "finished"- that's just the nature of running a home!
Want a Tour of Our Organized Garage?
Are you ready to tackle your garage? How organized or unorganized is it right now?