One of the best ways to get organized in a shared kids bedroom is to have an organized kids closet! In our home, everyone shares a room, so it is important that we make the most of the storage space we have!
If you are trying to clean out the closet of a growing child, you may want to check out my tips on how to transition your child's closet across sizes and seasons. Today we are talking about to create a well-organized kids closet, and how you can share a closet between two kids!
A Well-Organized Closet Eliminates the Need for Dressers
As we added children to our family, we knew that bedroom space would be at a premium- even in rooms where we decided to use bunk beds. So we made a plan to do what we could to maximize our closet space to hold all of the kids clothing so that we would not need dressers, which would take up more valuable floor space in the bedrooms. So we started looking into those cool closet "systems".
But after having a lady from one of those fancy closet companies come out to our house and give us an estimate of more than $1500 for EACH the closets, we hit the internet and found a DIY site called Easy Closets that allows you enter the dimensions of your closet, design the type of closet space you'd like (how many shelves, whether or not you want drawers), and then they will cut the pieces to your specifications and ship the components right to your home.
The turn-around time was crazy- we designed it on Monday and had the pieces by Wednesday! Now installing the system is not for the faint-hearted. Steve is quite handy, but it it took him a good 1/2 day to install each system. It's not that it was so complicated- once you made sure that you hung the back bar correctly, the rest of it was just time-consuming. And you need to be accurate!
The best part? Each closet cost around $800 for the set up we designed. It wasn't cheap- but when you balance that against the cost of a set of dressers for each of the kids- it actually works out pretty well. And look at all of the floor space we've gained!
How to Organize the Contents of the Kids Closet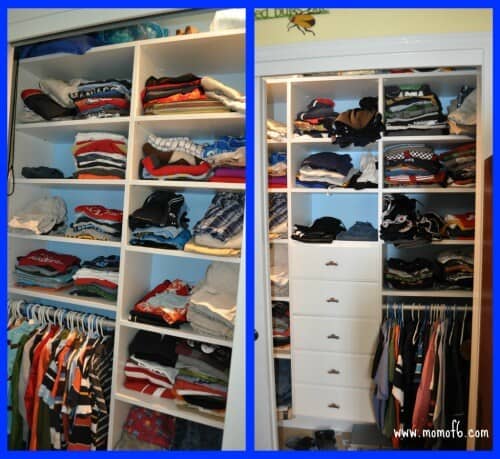 The closets in each of our boys' rooms is your "standard bedroom closet"- a long space, not very deep, with a hanging bar that ran across the top, and a set of double wooden doors that slide back and forth. But if you have boys- you'll know there is not a big need for hanging space.
What you want are shelves- and lots of them, and a few drawers to hold underwear and socks and maybe pjs. We designed their closets to have 4 sections, assigning two sections to each boy.
We use a small hanging bar (set as low as possible) in one section, with shelving above, and for just one side of the closet, we added a set of 5 drawers. Each boy has his own drawer to hold underwear and socks and one drawer each for pjs. The top drawer is your basic "junk drawer" which holds some of the boys "treasures".
The lowest shelves hold the current season's shirts (either short sleeve or long), and the current season's bottoms (jeans/sweatpants or shorts). The shelves above hold more of the same (the pictures above is from my youngest sons' closet, and they have lots of clothes, but they are mostly hand-me-downs that they have not yet grown into. My two oldest sons actually wear the same sizes- so when they outgrow their clothing, the 3rd son has twice as much to wear than each of his older brothers did! And of course, eventually that all passes down to son #4!).
The highest shelves hold out-of-season clothing. And one side of my youngest son's closet holds clothing that he will eventually grow into.
But Sometimes Girls Need a Bit More Room!
Our daughters' closet has a slightly different configuration. When we moved into the house, this was a teeny-tiny closet- not at all ideal for two girls who will someday be teenagers with all of the accessories that go along with teenage status! But their closet backed up into a hallway linen closet. So we decided to "break into" the linen closet space, and create a larger walk-in style closet for the girls to share (and found a new place to store the linens!)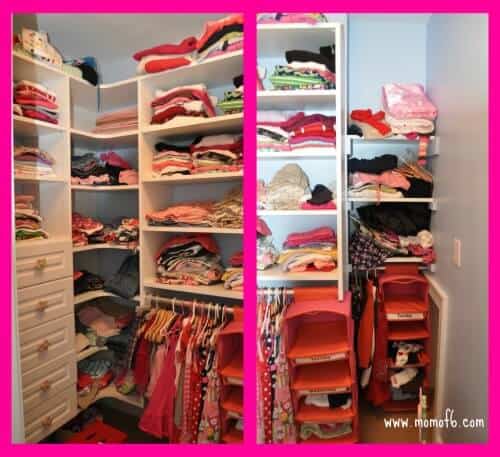 The organization of the space is still basically the same, with lower shelving and upper shelving, sharing a set of 5 drawers and limited hanging space. But this closet also has a funky nook (on the far right) with another set of shelves and hanging bar, and this is where we keep the hand-me-down clothing given to us by friends that the girls will eventually grow into.
To keep the drawers nice and neat, I use an old shoebox (without the lid) to store their socks (paired up) and the underwear sits in the drawer next to the box. This makes it easier for my little ladies to find what they need.
So have I convinced you of how easy it is to live a life without dressers in the kids' rooms?