Family routines for yourself and for your kids that outline the steps of what you need to do and the order in which you need to do them in order to get through a particular part of the day make our lives SO much easier and really help our families to get organized! Here's how to get your day started the right way- with tips on how to create a morning routine for kids and for yourself!
A Morning Routine for Kids Starts with a Timeline!
The most important thing about creating a morning routine for kids is to understand the timing of all of the things that need to get done in order to get the kids out the door to meet the bus on time.
So get a piece of paper and draw a timeline- ending with the time you need to leave your home, and work backward in 15-minute increments.
Start listing the activities that you need to accomplish, again working backward: get coats on, grab backpacks, brush teeth, comb hair, eat breakfast, prepare breakfast, get out of bed and get dressed.
These are all things that the kids need to do every morning, and when I write them on my timeline and assign a length of time to complete each activity, I can see that if I start the process by waking them up at 7:15 am, that we can make it out the door by 8:15 am without rushing.
Plan Time for Yourself Too!
I think it's important that I give myself time in the morning to do a few things that are important to me. I like to have the dishes unloaded from the dishwasher so that I'm ready to start preparing breakfast. I like to prepare a cup of tea that I can sip throughout the morning. I like to check in on my e-mail early in the morning to make sure that there isn't anything urgent that I need to prioritize.
I need to allow myself time to do all of these things, otherwise, I end up trying to multitask while also getting the kids ready. And trying to multitask in the morning when I am tired and the kids are sleepy too, just amps up the overall stress level in our home.
I find it so much better if I can accomplish a few things that I would like to do first.
Create a Checklist
When you are trying to get your kids to create a new habit, it helps to post a checklist in a place where they can see it and learn the new steps from it. For younger kids, it can be a picture checklist showing them all the things that they need to do and the order in which they need to do them in order to leave for school on time. For older kids, a simple list of activities like this one from Hey Donna would work perfectly!
How to Create A Morning Routine for Kids…. in Action!
Check out this quick 3-minute where I show you how to create a morning routine!

Once you create a morning routine for kids, try these routines that have also worked for our family:
Looking for the best family calendars, planners, to-do lists, and goal setting tools?
Best Family Calendars – whether you prefer electronic, paper, or wall calendar- these are the best ones of the year!
Best Planners for Moms – a family calendar can help you organize your schedule and your time- but a planner can help to make sure that you are giving your life purpose!
15 Perfect Paper to Do Lists for Busy Moms- pretty paper lists to guide you as you get it all done!
Here are some great ideas on how to organize your home!
Are you ready to get your life organized? Register for Busy Moms Boot Camp!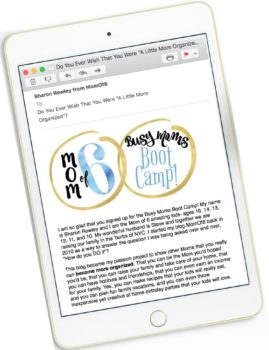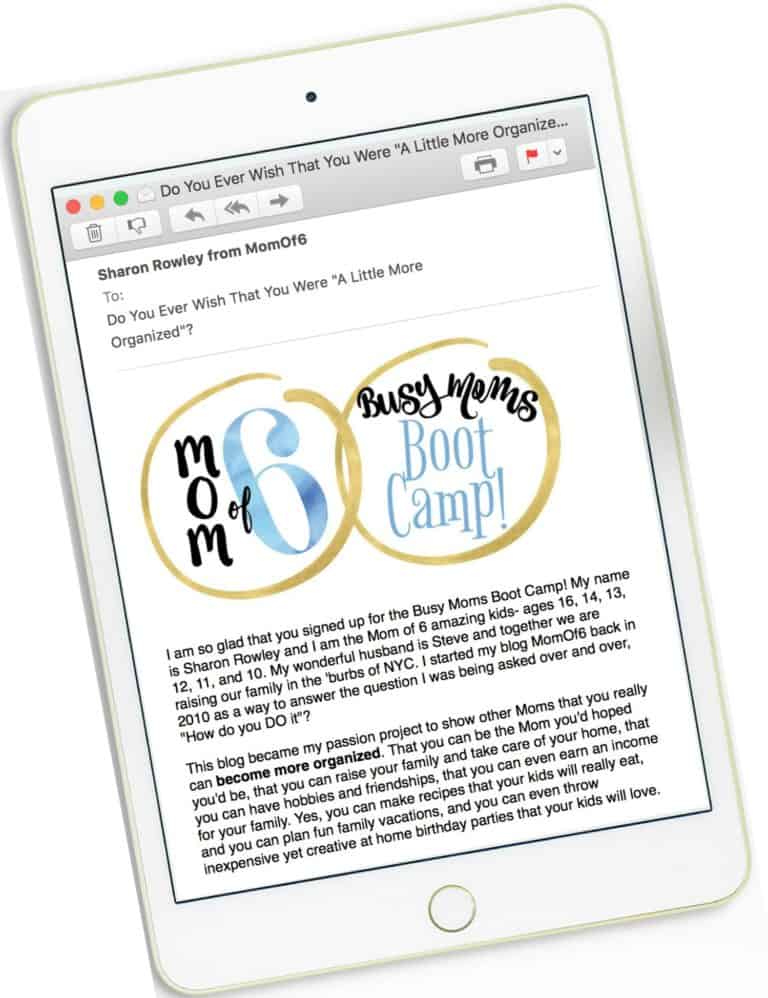 It's a free series of 10 weekly emails that can help you put some organization back in your life and help you to create room for all of those things that you'd like to be doing- whether that's making time to celebrate the little things with your family or carving out some space for yourself. Busy Moms Boot Camp can help you to move from chaos to organized! Simply sign up below to get started!

How is your morning routine working for you this school year? I would love to hear about it!