A pantry is an area of the home that needs to be cleaned out and organized every few months in order to keep your kitchen under control! It's so easy for new things to get stored in front of older items, pushing things to the back where they go unused. So in this post, I'll show you how to organize your pantry in less than two hours- and I'll also walk you through the pantry makeover we took on this past winter as part of our efforts to get organized in the kitchen!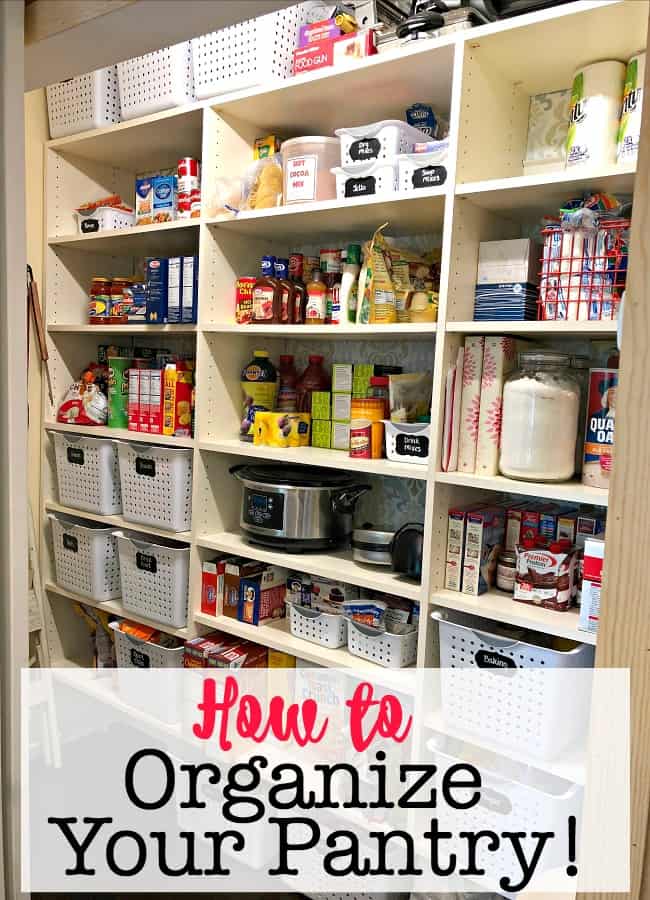 *Please note that some of the links in this post are affiliate links, which means I will make a small commission if you purchase through these links.
We've actually been working on a full kitchen makeover for almost a year now. It started with ripping out the thick clay tile flooring and replacing it with bamboo hardwood. We then re-faced all of the existing cabinetry and re-faced the front of the fridge. Next my husband started to work on replacing all of the baseboards and door trim, which led to replacing all of the doors to the kitchen and adjacent bathroom as well.
But we couldn't decide what to do about our pantry. It was cobbled together with built-in shelving of varying heights and depths, and it wasn't in the best shape. But we worried that ripping the whole thing out and replacing it would be costly and time-consuming.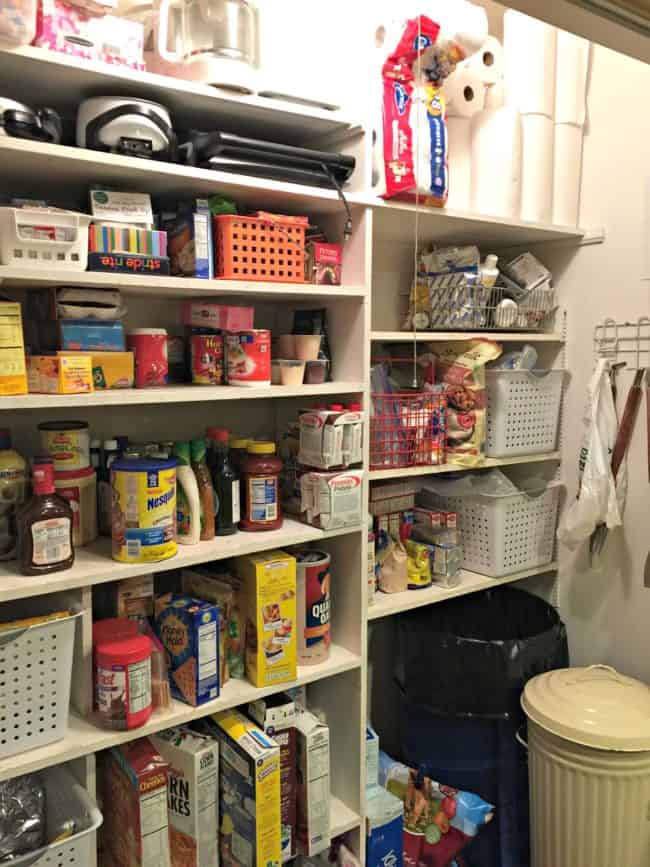 But when I started to factor in how long it was going to take me to paint all the shelving- and how long I would be without a pantry while I tackled that project- we decided to go for the one-week pantry makeover instead!
Our first step was to remove all of the existing shelving and trim pieces. And while we tried very hard not to damage the drywall that was in the closet- once we got everything out, it was obvious that the drywall was a mess and patching the holes and getting it into good shape was going to be a big job.
But then my husband came up with the idea of using plywood that we already owned to line the pantry- giving us a smooth surface to start with in our new pantry. He then took all of the measurements of the new space, and using EasyClosets.com, he designed the layout of our new pantry and ordered the pre-cut pieces to be shipped to our house (and they arrived within three days!).
Meanwhile, I purchased this peel and stick re-positionable wallpaper which I used to line the back wall of the pantry. It is very easy to work with, and I was able to create this beautiful background myself in just a few hours. I painted the side walls and ceiling of the pantry, and Steve installed the baseboard to give it a finished look.
Once the component pieces arrived from Easy Closets, it was a matter of mounting the hanging track on the back wall, attaching it to the studs, and then hanging the vertical panels and attaching the shelves. The entire unit came together in a matter of hours and looks so professional!
Now we had the "blank slate" we wanted to work with- so we could have a very neat and organized pantry!
You can easily do this too- without the total pantry renovation!
Here's how to organize your pantry:
1. Do Not Empty The Whole Thing!
Many organizing experts tell you the best way to clean out a closet/cabinet/pantry is to empty the entire thing, clean it and then start fresh. I say that emptying an entire pantry onto your kitchen table is the quickest way to generate a phone call from the school saying that you need to pick up a sick child- which then leads to an entire week of your family eating off of plates on the family room floor because you don't have time to get back to your project until this cold bug has passed along to everyone! Just don't do it!
Instead, focus on one shelf or even one section of the pantry at a time!
2. As You Remove Items Make a Decision About Them:
A. Is this item a keeper? Then put it into a sorted group of similar items on your table.
B. Is this something that no one is eating or has expired? We all buy new things to try that the kids then decide they don't like. There is no sense keeping that stuff around to just age endlessly in your pantry! Get rid of it!
If it is still in a sealed container and hasn't reached its expiration date, then donate it. If it's past its expiration date- then trash it. Sure you might be annoyed that you wasted your money- but don't also have it take up valuable space in your pantry!
C. Should this be stored somewhere else? I had some reasonably empty shelves in a cabinet in our family room that could hold some of the non-food items (such as the ice cream maker, snow cone machine, jello pop molds) that we rarely use and get them out of this pantry.
Does it seem a little odd to store these things with wine glasses in another cabinet? Maybe. But that cabinet has doors that stay closed and hide everything- so who cares?
3. Clean the Shelves and Return Items in an Organized Way
When it comes to stacking canned goods or boxes of pasta, the 14″ deep shelves work perfectly. But for items that tend to not keep their shape as they are consumed (bags of chips for example), and other snack items, I like to store them in these Sterilite bins.
It helps me to pack more into a smaller space, plus it makes it super easy for the kids to find the snack they want because they can just pull out the whole bin and see what's inside.
I labeled the bins using these chalkboard labels and markers– so everyone can see what should be inside (and hopefully reminds my kids to put things back where they belong!)
I use smaller bins to corral small boxes of mixes together. Again- it is so nice to be able to pull out a bin and see everything I own rather than digging through the back of shelves!
4. Create Dedicated Areas by Category of Item
Each section of the pantry should have a purpose. I've set up my pantry so that my shelves are dedicated to specific types of items- soups, pasta and sauce, crackers, beverages, condiments, etc.
This makes it so much easier to find something when you are looking for it!
So what do you think? Are you ready to tackle your pantry?
Here are some more great ideas on how to organize your home!
Are you ready to get your life organized? Register for Busy Moms Boot Camp!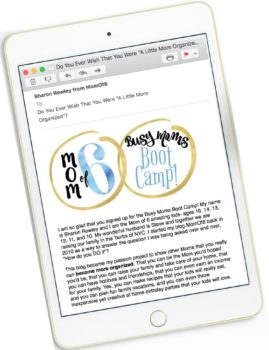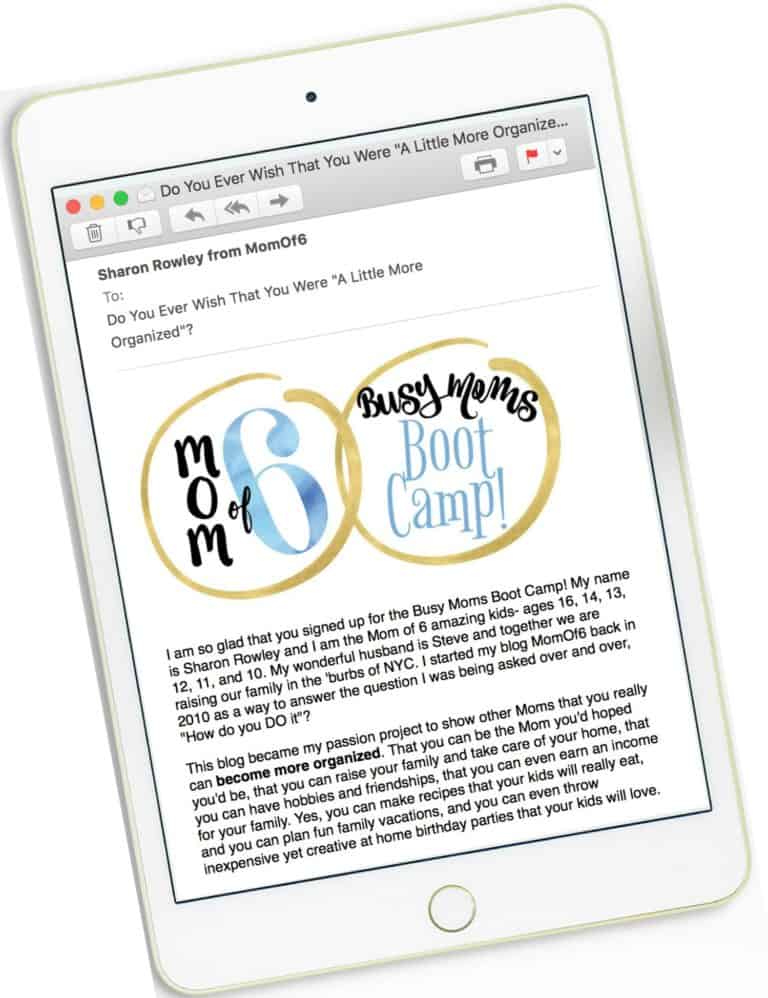 It's a free series of 10 weekly emails that can help you put some organization back in your life and help you to create room for all of those things that you'd like to be doing- whether that's making time to celebrate the little things with your family or carving out some space for yourself. Busy Moms Boot Camp can help you to move from chaos to organized! Simply sign up below to get started!
Join the MomOf6 community!
You'll receive our twice-weekly newsletter via email filled with ideas and resources for busy Moms! *You can view our Privacy Policy here. To access the printable without subscribing to our newsletter, click here to send an email requesting access.