When you have six kids and they all share one bathroom, it helps to have some systems in place so they can get organized! Here are some organizing ideas we use in our kids shared bathroom!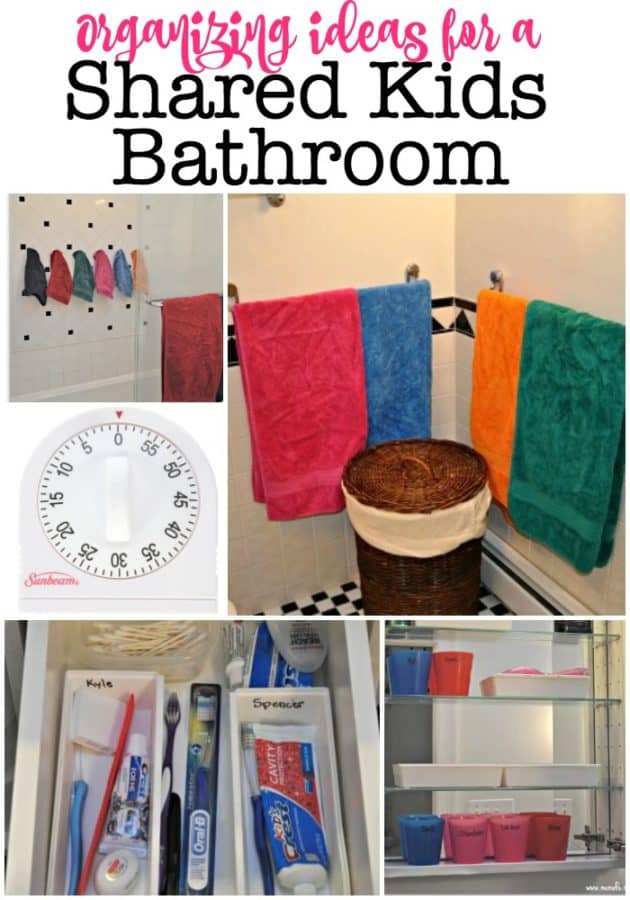 *Please note that some of the links in this post are affiliate links, which means I will make a small commission if you purchase through these links.
Shared Bathroom? Give Everyone Their Own Towel Color!
I think it helps if every child has their own color of towel and washcloth. It helps to cut down on all of the germ sharing.
Plus when I walk into the bathroom and see the green towel on the floor, I know exactly who the culprit is.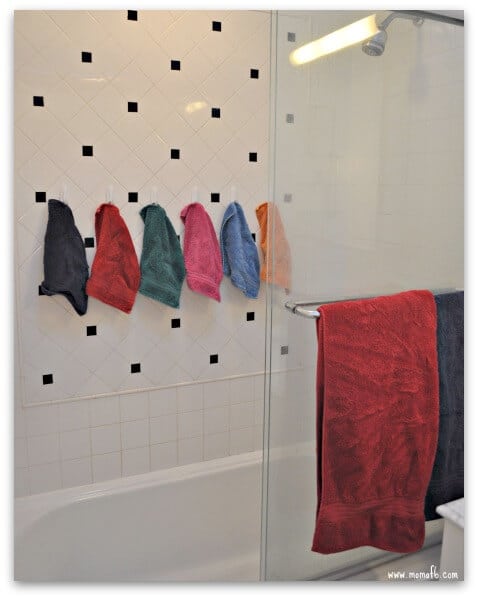 I added Command bathroom hooks
inside of the shower, attached to the wall, to give each child a place to hang his/her washcloth. Because seeing them in a solid wet heap on the shelves in the back of the shower was making me crazy.
Skip Personalized Products Where Possible
I try to avoid buying personalized shower products for each child. It is much easier to have one bottle of shampoo, one bottle of conditioner, and one bottle of body wash with perhaps a backup in place when the bottle runs low. This heads off the issue of "Lili used MY shampoo, and now it's all gone!".
There was a time when I used large pump-style dispensers for shampoo/conditioner/body wash to help limit the amount of product my kids would use in the shower (2 pumps only please!). But it got to be such a pain to keep those special dispensers filled. So instead I only buy products that are on sale- because (sadly) I know that too much of it goes right down the drain!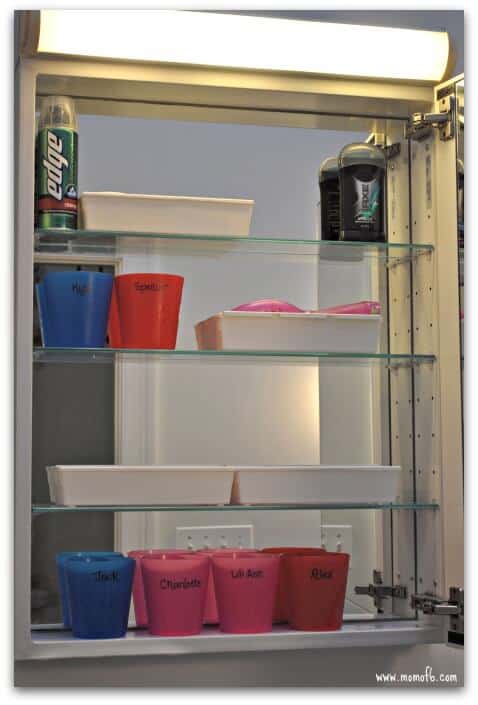 Use Bins and Label Them
In the medicine cabinet, I have a labeled plastic reusable cup for each child and small plastic bins that contain toothbrushes and toothpaste for the girls. And there's a place for high school boy "stuff" on the top shelf.
Each set of boys has a drawer to keep all of their essentials. I prefer that they each have their own tube of toothpaste (again, reduces germ sharing) and that these are all kept off of the counter (because seriously- have you ever heard the thing about toilets flushing near toothbrushes on the counter? Eww).
Under the sink, we store larger items such as mouthwash (great for keeping dental mouth guides fresh), and tons of toilet paper.
Three essentials for a kids shared bathroom that you can't live without:
A sturdy garbage can that can be easily cleaned. (Get two and make one a recycling bin!)
A plunger
A toilet paper holder that is uber simple- you just slide the roll on/off. Even 3-year-olds can master changing the empty tube!
Time Management
Of course the toughest thing about having six kids share a bathroom is regulating the time inside so that everyone has a chance to get ready in the morning!
Staggering wake-up times, and using a timer to limit the time each child gets to spend in the shower helps. So does having some of the kids take showers at night vs. before school!
Keep it Clean!
The other tough thing is keeping the shared bathroom clean! So aside from my weekly scrub down, I also keep a tub of Clorox wipes on the shelf right where I can quickly grab them and do a quick clean up while passing by the room.
What tips do you have on dealing with a kids shared bathroom?
Looking for some more great ideas on how to organize your home?
Are you ready to get your life organized? Register for Busy Moms Boot Camp!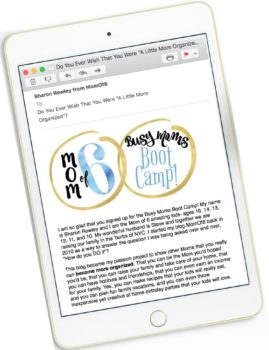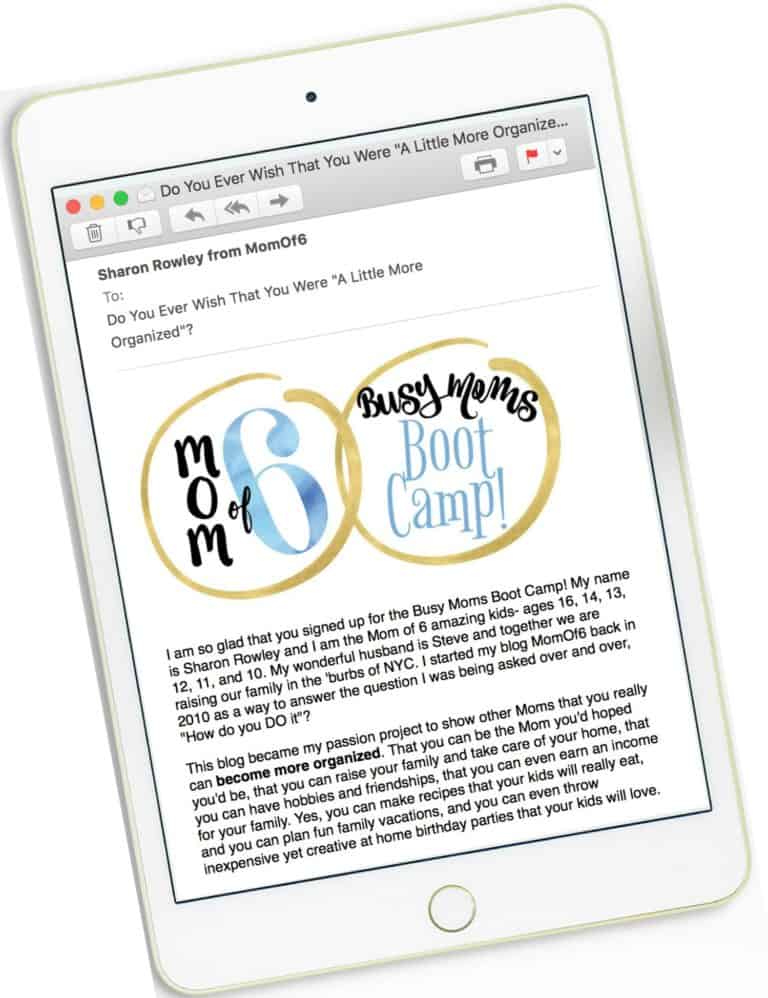 It's a free series of 10 weekly emails that can help you put some organization back in your life and help you to create room for all of those things that you'd like to be doing- whether that's making time to celebrate the little things with your family or carving out some space for yourself. Busy Moms Boot Camp can help you to move from chaos to organized! Simply sign up below to get started!
Join the MomOf6 community!
You'll receive our twice-weekly newsletter via email filled with ideas and resources for busy Moms! *You can view our Privacy Policy here. To access the printable without subscribing to our newsletter, click here to send an email requesting access.