I'm all about keeping things organized- but I also think that an organized space should look pretty too. And while I am no "DIY Diva"- I don't mind taking on a home improvement challenge if I think it I can pretty-up a space and make it more useful at the same time. Which is why I tackled our laundry room shelving this week- giving it a makeover that now sets the tone for the whole room! (And the good folks from Lowe's helped me out by sponsoring this post!)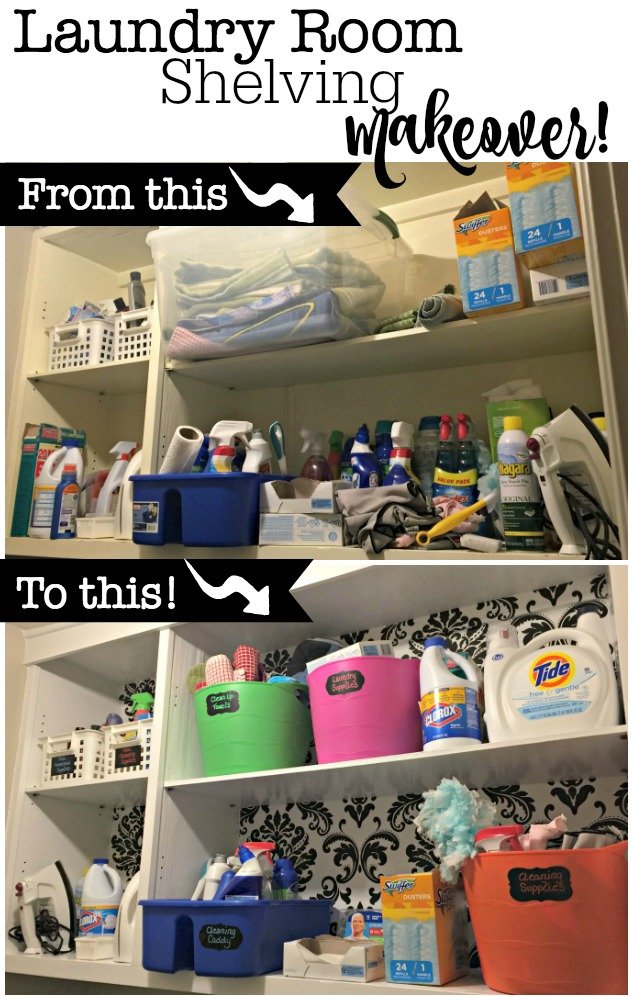 Our built in laundry cabinets had definitely seen better days. They were dull and worn and had suffered some water damage by a prior homeowner- and while they were still functional- they weren't at all inspiring. And when you think about it- I spend a fair amount of time in our laundry room! I would certainly rather gaze upon something that is lovely to look at rather than something that makes me cringe!
I knew that the first step of this little makeover would be to give the entire laundry room shelving unit a bright fresh coat of white paint- because white paint just makes everything feel new again! But I wasn't quite sure what I needed in terms of paint and painting supplies or exactly where to begin- so I started by checking out the Lowe's Painting Page online to get some ideas and make a shopping list. This made it super easy for me to run into the store and grab the paint, caulk, and tape before the kids got home from school. I also purchased a piece of wood trim and quarter-round so we could properly trim the top of the cabinet too.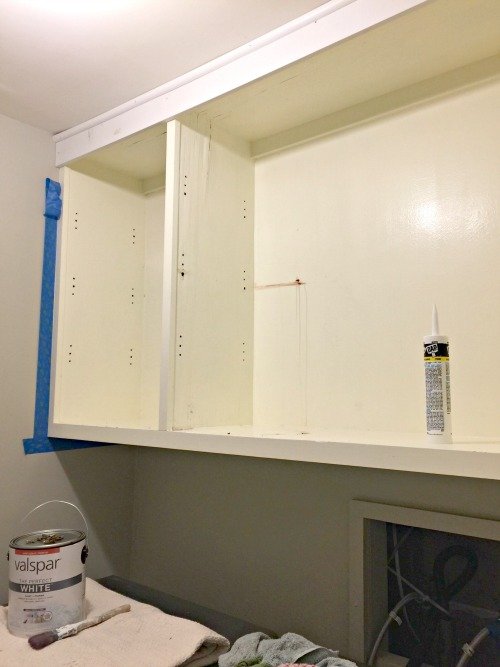 My husband helped me to cut the trim pieces to size and nail them into place. Next we caulked the trim pieces and filled the nail holes. Now I was ready to dig in!
I taped off the edges of the unit and cleaned the entire thing really well before giving it two coats of Valspar's semi-gloss white interior paint. The cool thing is- Lowe's makes it pretty fool-proof with their "Love your paint, it's guaranteed" program! You just can't make the wrong choice (because if you don't love it you just take back the unused portion of the can for a replacement can or a full refund)!
To save time I didn't bother painting the back wall of the unit, because I knew I wanted to cover it with this gorgeous reposition-able wallpaper that I found online. I think it gives the whole cabinet a fun and unexpected "pop" of pattern!
I recycled some containers we already owned to corral like-items together on the shelves which keeps everything nice and tidy.
And I added chalkboard label stickers to each of the containers so it is easy to see what is inside.
Who knew cleaning supplies could look so fun and festive?
I have to say- I am so proud of how this small project turned out! It only took me a few hours to complete it (and most of that was just giving the paint time to dry between coats).
And now I feel inspired to tackle making over the rest of the laundry room too! I know that Lowe's will have everything I need to paint the walls and ceiling with paint starting at $17.98/can and I also plan to add some bead board trim to one of the walls.
What area of your home would you love to give a quick makeover to this spring?
This post was sponsored by Lowe's. The content and opinions expressed here are all my own.