One of the toughest areas to get organized is managing the constant deluge of paperwork that comes our way! The bills, junk mail, school fliers, forms that need to be completed- the stream is almost endless. Too often all of that paperwork ends up in piles all over the kitchen counter, the dining room table and any other available surface, because we don't make the time to sort through it, or just aren't sure what to keep around and what to recycle or toss in the trash. Here's how busy Moms organize paperwork!
Establish Containers to Organize Paperwork
Before we can start sorting through the piles of paper- we need to have a system of containers in place- to store what we need, where we will need to access it.
The Paperwork Inbox
There needs to be one temporary holding place for all of the incoming paperwork- a place to dump the mail when you walk into the house, a place for kids to put their school fliers and other paperwork that they want for you to look at- so it helps to put a basket on the counter to store it all. That way you know you have ONE place to go to- and do all of your sorting.
You can use a simple basket- or a great 3-tier document tray This is an affiliate link: MomOf6 earns a commission if you purchase, at no additional cost to you. so you can separate your incoming paperwork by child!
Organize Paperwork with Quick Access Files
Perhaps somewhere in your home you have a filing cabinet where you keep all of your "important papers"- your tax returns, pay stubs, insurance info, etc. This is NOT that place! What you need is a set of quick access folders to file the papers that you will need to use on a regular basis, and these folders should "live" where you are going to use them the most often.
In my case, they are right on the kitchen counter in my family command center. Here are the folders that are I keep close and handy:
"Bills to Pay" Folder– when I get a bill in the mail, I just stick it in this folder until the 10th or 25th of the month when I pay the bills
"Tickler" Folder– any flyer or reminder that I need to keep around, I stick in here. I go through this folder weekly.
Kids Team Info– team rosters, parents names, and cell#s
Kids Website Info– all of those papers that come home from school with kids access info to homework websites
Monthly To Do List– if I think of a project that I'd like to get to, I add it to my list here. Once a month I review the list to see what I am ready to tackle for the month ahead
Wall Command Center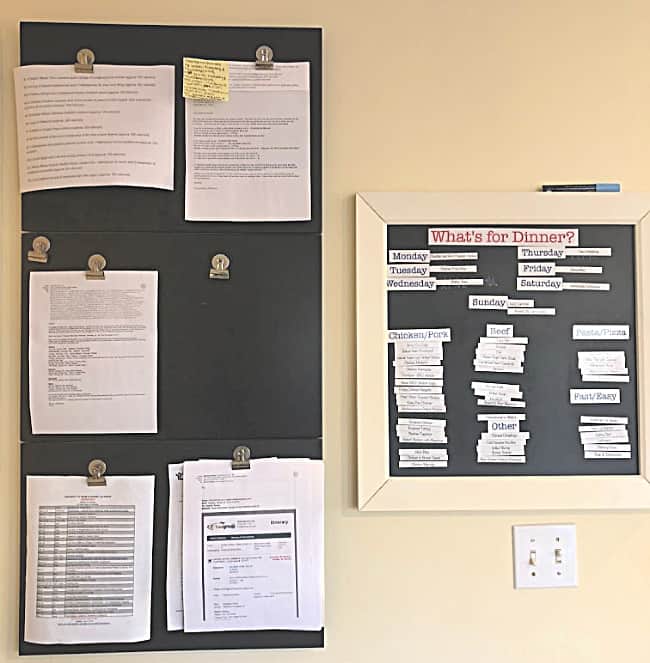 There are some papers that I like to have displayed right where I can see them- and that's why we've hung this magnetic chalkboard system on our kitchen wall. I have created "zones" on this board to contain paperwork for:
school lunch menu

the school calendar
invitations- clipped together and sorted by date, so the first item out is the one taking place the soonest
sports schedules- I will include here field directions and notes from the coach
I review items from my wall command center every single day- taking down and recycling what is no longer needed and adding new items as necessary.
If you don't have a command center in your home- you can check out this post to see my top picks for best family command centers– and the items I believe are must-haves!
Use a Sorting System to Organize Paperwork
Once a day I will sort through my inbox basket, touch every piece of paper, and make a decision about what to do with it. I can either:
Do it– if its something I can respond to quickly, I will do it right away.
List It– if it is going to take me more time to complete, I will add the item to my to-do list. I will then file the paperwork in the correct quick access folder (usually the "tickler file").
File It– a reminder for a school party goes into the "tickler file". If it's a party invite for the kids- I will RSVP and put the invite on my command center board in date order. A bill goes right into the "bills to pay" folder.
Recycle /Trash It– most of what I receive can be quickly read and then recycled!
Aaahhhh….. I LOVE clearing through that inbox!
What if You Already Have Paperwork Piled Up Throughout the House?
Gather all of that paperwork into one place- so you can see everything that you need to deal with. Then set a timer and spend 20 minutes a day on working through the piles you have, making these decisions, and clearing out the piles. You can DO this!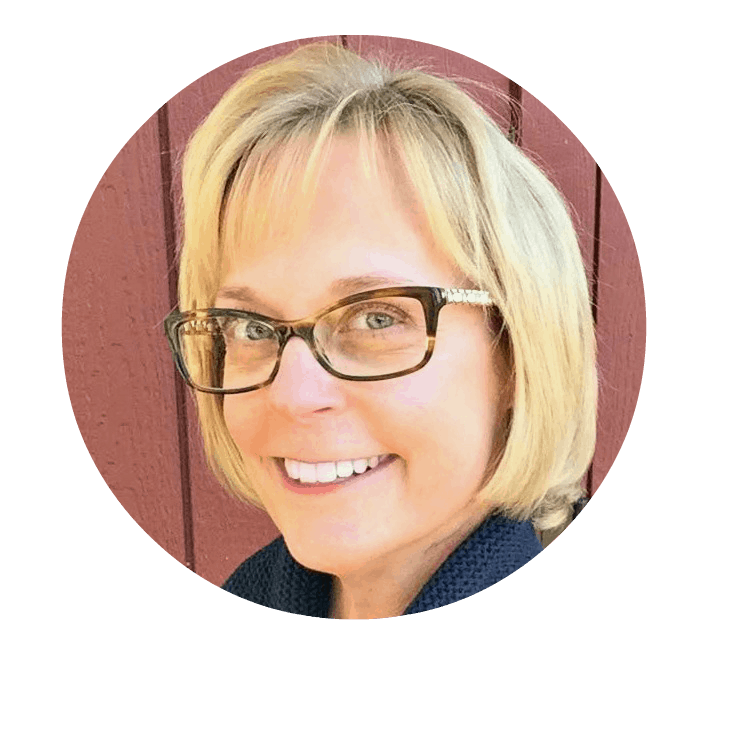 Are you planning on decluttering and organizing your home?
These are my favorite storage bins This is an affiliate link: MomOf6 earns a commission if you purchase, at no additional cost to you. for organizing all of the areas in your home! You can see all of my recommendations for buys Moms over on my Amazon Influencer page This is an affiliate link: MomOf6 earns a commission if you purchase, at no additional cost to you. !
See How to Organize Paperwork
Since sometimes it is easier to show you…. here's my youtube video on How to Organize Paperwork:
Are you trying to become more organized? These posts can help!
Are you ready to get your life organized? Register for Busy Moms Boot Camp!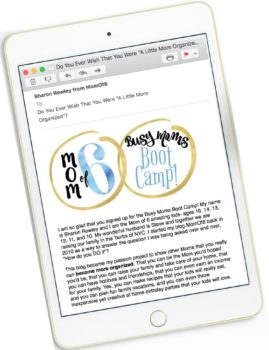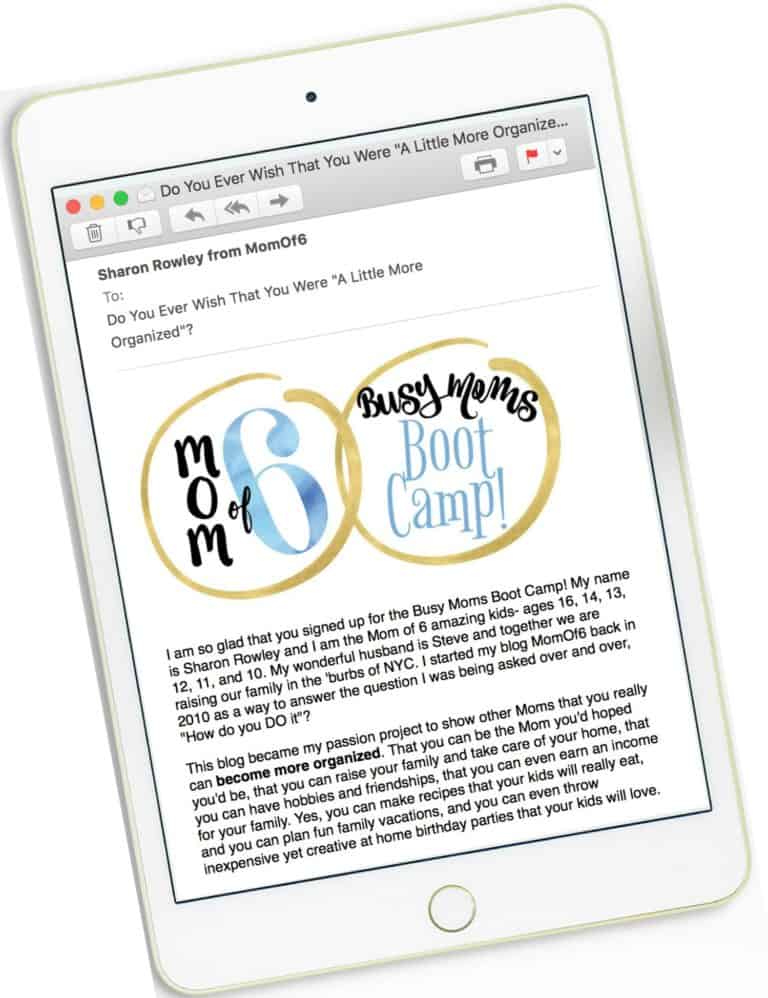 It's a free series of 10 weekly emails that can help you put some organization back in your life and help you to create room for all of those things that you'd like to be doing- whether that's making time to celebrate the little things with your family or carving out some space for yourself. Busy Moms Boot Camp can help you to move from chaos to organized! Simply sign up below to get started!
How are you doing fighting the paperwork battle at home? Please leave a comment and share!