This is such a simple tip, but it truly is one of the best ways to get organized. Creating the habit of putting things away right away is incredibly powerful. We undermine our own best efforts all of the time when we don't take the extra seconds (and I do mean… seconds) to put things away in the right place- the first time.
We all already KNOW to do this, right? But we can also attest to how HARD it is to actually follow this advice. Because we are TIRED when we get home from work, from running errands, from shuttling kids- and we don't want to bother with the extra effort to put things where they belong. It seems like too much trouble.
And even if you manage to put your own things away- it's not like your kids and husband are putting their things away…. so is it a lost cause?
I don't think so.
I think clutter and disorganization are about perceptions as well as realities
You can have your kitchen cleaned up from dinner, the laundry washed, folded, and put away- but if there is a pile of shoes next to the front door, and a stack of mail and bills on the hall table as well as your husband's socks on the floor- suddenly you start feeling disorganized.
And truly- you did the harder stuff- the dinner clean up and the laundry- so it isn't fair that less than 5 minutes worth of work has that much power over your psyche. But we both know that if you take that 5 minutes to sort and put away the mail to throw the shoes into the proper shoe bin in the closet and to just pick up those nasty socks and put them in the hamper- that your whole outlook feels lighter and more together.
Crazy- yes. But it is true.
So try just putting things away
And doing it right away. Dedicate today to creating the habit of just putting things away where they belong the first time. And see if it makes a noticeable difference in your life.
See Putting Away Habits in Action:
Looking for the best family calendars, planners, to-do lists, and goal setting tools?
Here are some great ideas on how to organize your home!
Are you ready to get your life organized? Register for Busy Moms Boot Camp!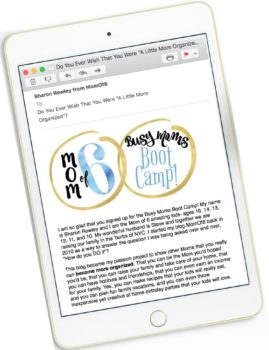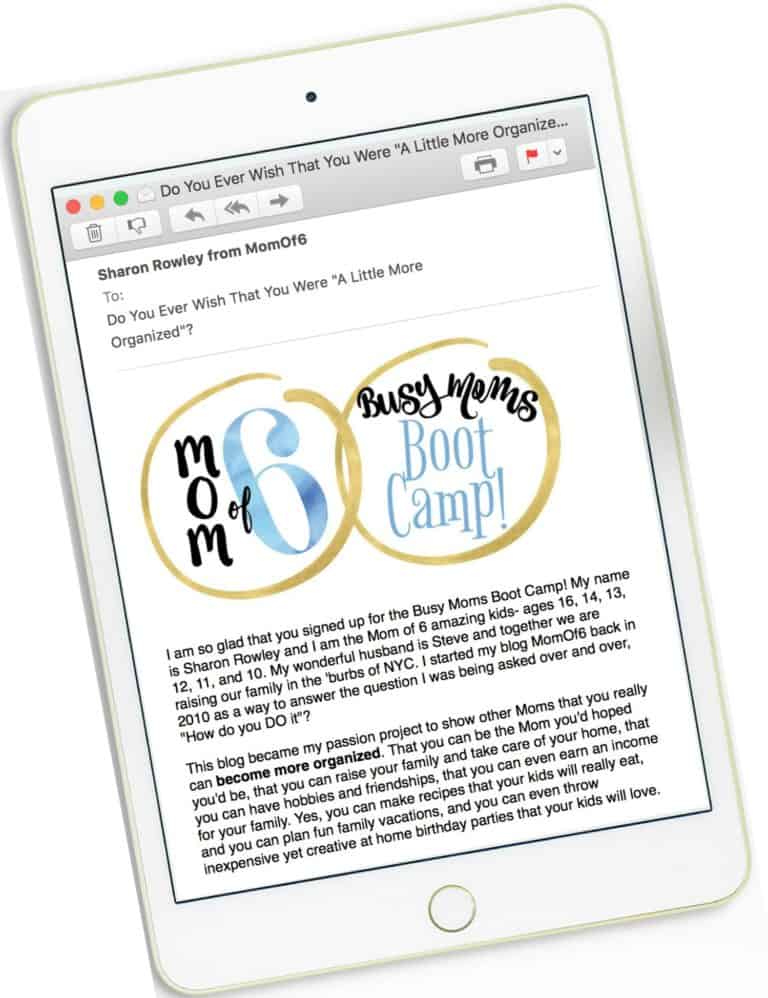 It's a free series of 10 weekly emails that can help you put some organization back in your life and help you to create room for all of those things that you'd like to be doing- whether that's making time to celebrate the little things with your family or carving out some space for yourself. Busy Moms Boot Camp can help you to move from chaos to organized! Simply sign up below to get started!
Join the MomOf6 community!
You'll receive our twice-weekly newsletter via email filled with ideas and resources for busy Moms! *You can view our Privacy Policy here. To access the printable without subscribing to our newsletter, click here to send an email requesting access.