I happened to check the calendar yesterday… and do you know what I saw? That the month of May starts NEXT TUESDAY! We're talking about the month of MAY here people- the month that is the stepping stone into summer! Now how in the world that has happened is beyond me… for goodness sakes, didn't the kids just start school?
But when the calendar says "May", that means it is time to start getting organized for the summer…. for all of the fun our family will have riding bikes and scooters in the driveway, blowing bubbles and drawing with sidewalk chalk, getting out our waterside and going to the beach. BBQs and camping, baseball games and kayaking, gardening, and washing cars. It's all just a few short weeks away.
And as you can see in this picture… my garage is just not ready for this adventure. Because quite frankly, it's a mess.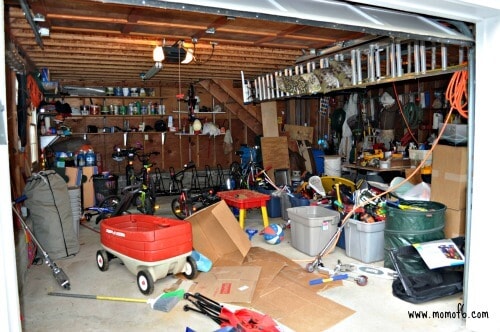 It's Time for a Great Garage Clean-Out Challenge!
But I am a girl with hope. Because in February, Laura from OrgJunkie inspired me to tackle my basement dumping ground during her 29-Day Get Organized Challenge. And in just one short month I went from this: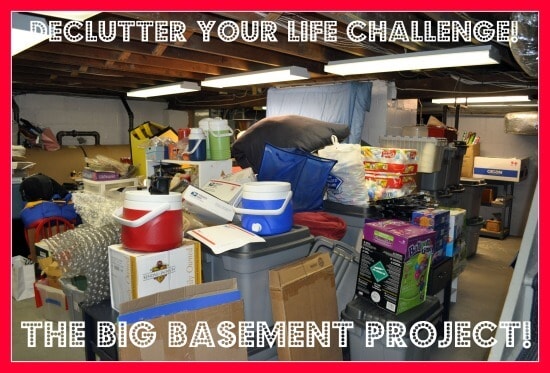 to this!
So I know that I can turn this garage disaster into a mean, clean, de-cluttered machine!
But I might need a little help, and perhaps a little inspiration…
And that's where both my friend Laura from OrgJunkie, and YOU come in. Because I am just guessing here that I am not the only one who needs a little garage clean-out help… am I right? I imagine that the winter months (as mild as they were) left your garage a dirty, cluttered, disorganized mess just like mine (well, it was either the winter months or our kids)…. and you too could use a little CHALLENGE in your life to tackle your garage, just like me… am I right?
And Laura is offering to be our guide to do just that using her P.R.O.C.E.S.S. steps, which she will teach us and help us apply to our garage clean-out during the month of May! She is an expert my friends, and will give us just the motivation we need to tackle this project and have our garages in summertime-shape in time for Memorial Day weekend!
Are you with me? I hope so, 'cuz this is how we're gonna do it….
Each Friday during the next 4 weeks, we will all head over to OrgJunkie's site to get our lesson plan for the week. The we'll all head back over to Momf6 to see how I applied Laura's advice to my own garage project. And we're giving you the chance to join in and link up your own "Great Garage Clean-Out" too- so that you can help inspire all of us to tackle this space and get ready for the summer ahead!
So are you in? If so, head out to your own garage this weekend and snap a few "before shots" and create your own blog post so that we can all see where you are coming from, and share your pain. Next Friday we'll all link-up our "before pics", have a good chuckle at where we are (you are already laughing at mine above), and then we'll lay out first assignment to get our garages under control. On the next 3 Fridays (5/11, 5/18, and 5/25) we'll each have a chance to show off our progress with each week's link-up and pick up future assignments as to what we need to do to de-clutter, clean-out, clean-up, purge, and organize!
Want another giggle at my expense?
My husband was kind enough to create upstairs storage in our garage a few years back when he nailed down plywood flooring to the rafters and built a wooden staircase for us to use to access that space. And here's what the upstairs area looks like now:
I know that I am better than this!
I prefer to think of this as my "opportunity"!
Another chance to de clutter, to organize, and to get my garage in order so as to support my goals to have a fun and relaxing summer with my family. One in which I can easily find what I need for each of our activities, when I need it.
So let's DO THIS thing together! Here's a button for you to put onto your blog and announce to the world that you are ready to take the "Great Garage Clean-Out Challenge"!
Leave a comment here today to let us all know you are plan on joining our adventure, and please stop on over at OrgJunkie and check out her advice to get your project started!