The KonMari method of decluttering your home calls for gathering an entire category of items from throughout your home and dumping them in one place so you can clearly see how much you own, and then requires you to sort through the entire pile searching for those items that "spark joy" in order to decide what to keep and what to part with. For busy Moms raising families- that's a pretty tall order. In this post, I suggest a more accessible method- because I believe that you can declutter your home in just 20 minutes per day.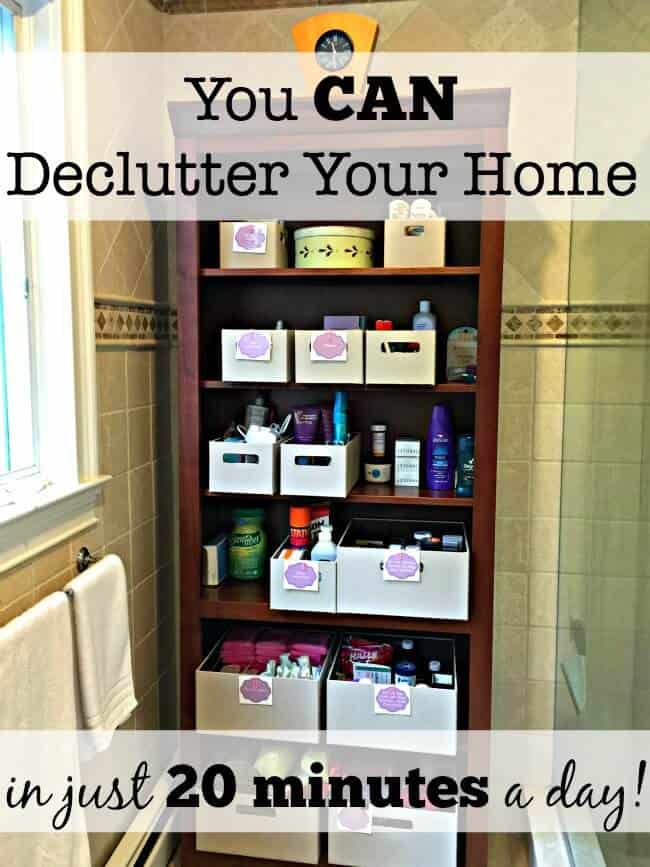 There's been a lot of buzz lately about the KonMari method of decluttering. If you aren't familiar with Marie Kondo's book " The Life-Changing Magic of Tidying This is an affiliate link: MomOf6 earns a commission if you purchase, at no additional cost to you.
", or her Netflix series, the author focuses on living a more minimalist lifestyle by tackling a total home makeover all at once.
She firmly believes that if you tidy (declutter) your entire home in the correct order, just once- you'll never have clutter again. I read her book, and while I appreciate some of her techniques and ideas- I find many of them to be unrealistic for a busy Mom raising her family!
Personally- I think that breaking tasks down into smaller more manageable pieces allows us to actually make progress, celebrate a small success, and that leads to further progress.
I think it is far more realistic to find and dedicate just 20 minutes a day to a project and over the course of a few days, and actually complete one decluttering project.
Let me show you my example on how to declutter your home in just 20 minutes per day!
A recent organizing challenge of mine was our bathroom storage, which had gotten out of control. At the time, I had gone through one tough summer, that caused me to acquire lots of medicines to deal with side effects I was experiencing from chemo and radiation. I would try a medication, usually decide it wasn't working for me- and then would just stuff it into one of these storage boxes because I didn't want to just throw it away.
On top of that, these boxes were already fairly full of cosmetics and lotions and those cute little hotel-sized toiletries. I wasn't using any of these things, but they seemed "too good" to just throw away.
But as a dedicated declutterer- I know that if you aren't using it- there is no reason to keep it!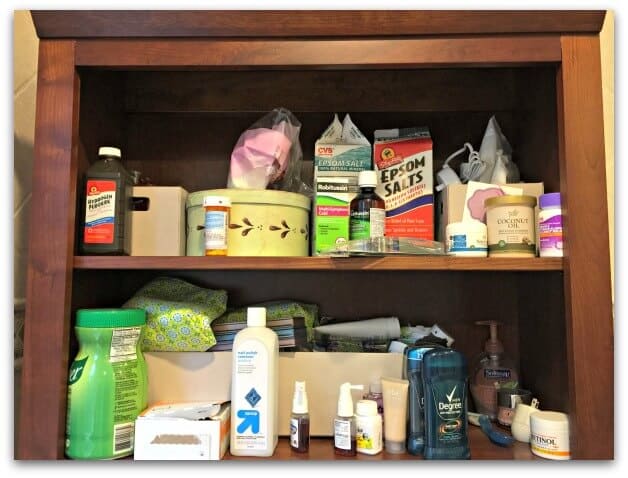 How to Declutter Your Home in Just 20 Minutes Per Day:
Step 1: Set a Reasonable Goal
In just 20 minutes, I knew I wouldn't be able to clean out the entire shelving unit. So I set my sights on tackling just two shelves in one 20-minute timeframe.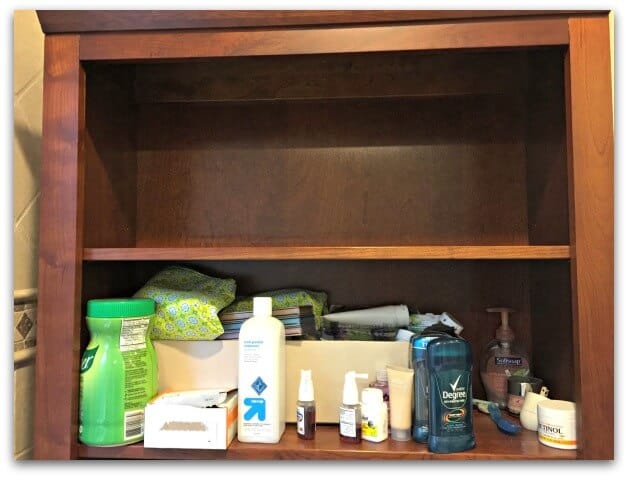 Step 2: Empty a Small Area Completely
Since we are tackling just a portion of the unit, it wouldn't make sense to take everything off of all of the shelves- that would leave me with too large of a mess on the floor. So I emptied one shelf. I wiped that empty shelf with a clean cloth, and then I set to work sorting through what had once resided there.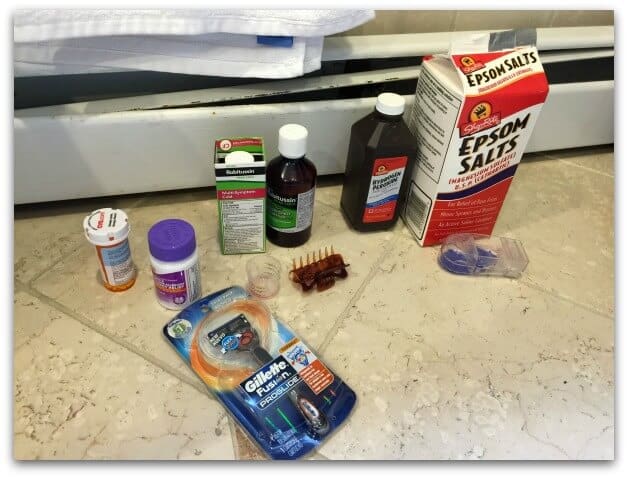 Step 3: Sort Your Stuff- Decide What to Keep, Relocate, Sell, Donate, Trash or Recycle
Once everything was off of the shelf, I picked up each item individually and decided what to do with it. If it was a "keeper' because it was something I truly needed, used, or loved it, then I set it aside (but I didn't start organizing it yet).
For items that I didn't need, want or love- it was time to get rid of them- either by recycling them or tossing them into the trash (because selling and donating toiletry items isn't really an option!).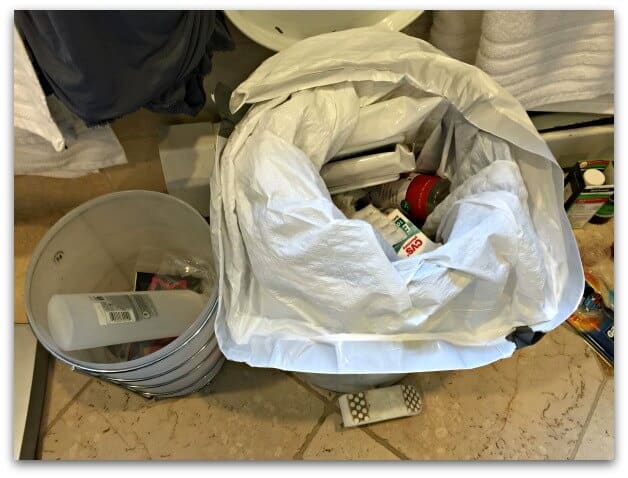 Once everything was sorted, it was time to re-organize.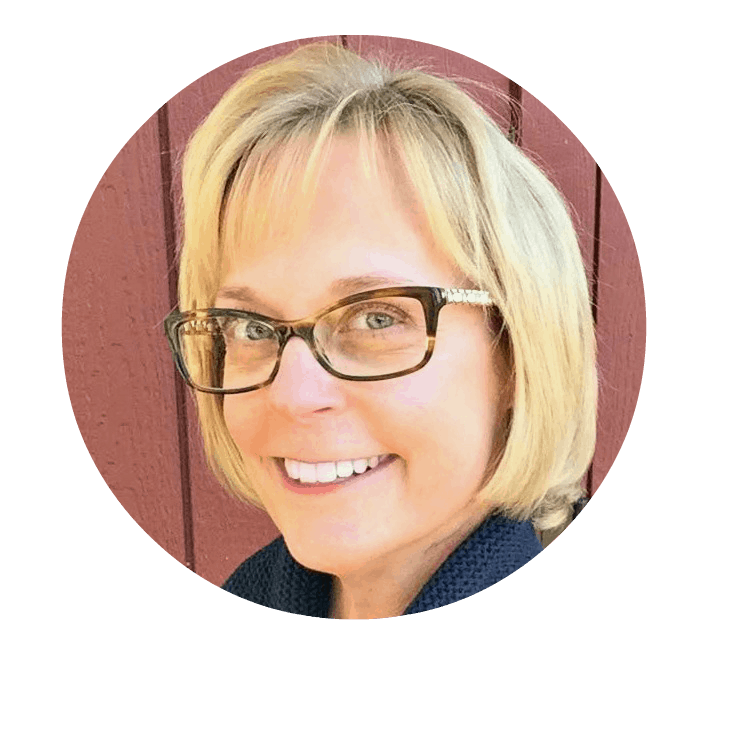 Are you planning on decluttering and organizing your home?
These are my favorite storage bins This is an affiliate link: MomOf6 earns a commission if you purchase, at no additional cost to you. for organizing all of the areas in your home! You can see all of my recommendations for buys Moms over on my Amazon Influencer page This is an affiliate link: MomOf6 earns a commission if you purchase, at no additional cost to you. !
Step 4: Put Things Away in Their Proper Place and Move On
I had created labels for most of my containers back when I first set up this storage unit in our bathroom, so it was pretty easy for me to put things away into their proper place.
But there were still a fair amount of items that needed to be relocated to their correct homes, so those things just hung out on the floor (sometimes for a day or two) until I got to the shelf where they belonged.
In just 10 minutes, I had the top shelf looking so nice and neat- and I love knowing that I will be able to find what I need so easily again! I took 10 more minutes to do the 2nd shelf…
And over the course of the next two days, I tackled two shelves at a time until the entire storage unit was decluttered and organized.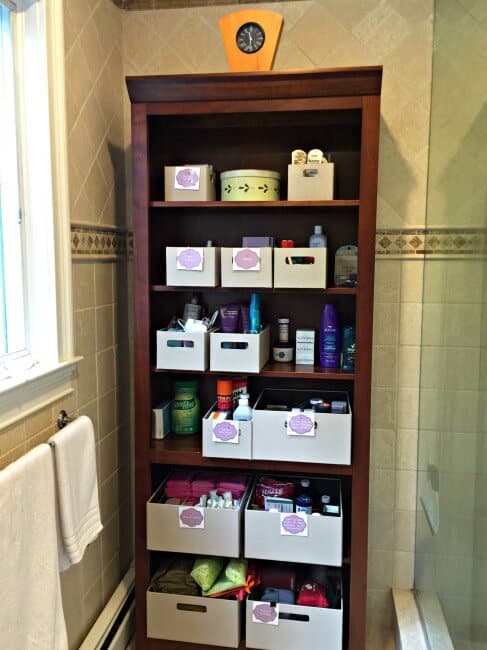 So much better!
Want my free printable decluttering checklist?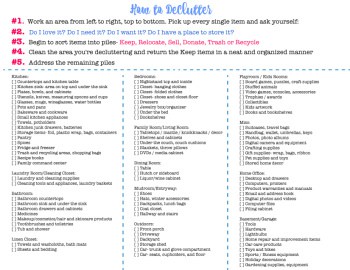 Would you like to download a copy of my free printable decluttering checklist? Simply sign up below to join the MomOf6 community and you'll be directed to an access page with instructions!
Living in a decluttered home truly allows you to live an organized life. It allows you to find things that you need when you want them, it allows you to think and create more clearly, and it frees the mind!
So what do you think? Can you find just 20 minutes a day to tackle one area of your home? A closet, a bookshelf, a chest of drawers, or a kitchen cabinet and get it decluttered and organized?