Spring has sprung- and with it comes spring sports! This year I have kids playing soccer, kids running on track teams, and kids riding horses. So there will be lots of getting my crew dressed in uniforms for practices and games, setting them up with drinks and snacks, carpooling to practices, and best of all- cheering them on from the sidelines while they play! Now aside from making sure that cleats, shoes, and boots still fit and that we have enough socks without holes in them- the smartest thing I do each sports season is to spend a few minutes stashing gear and "back up gear" in my car- so that I can always be prepared for any event!
5 Things To Keep in Your Car When Your Kids Play Sports!
1. Something to sit on and a couple of golf umbrellas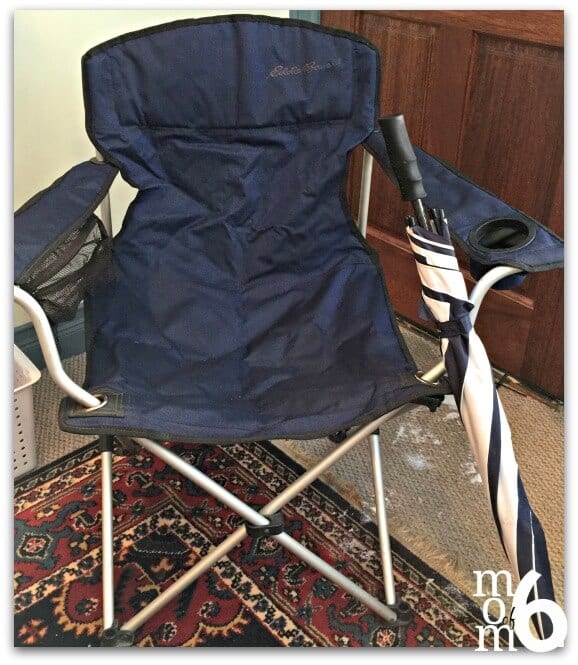 You never know when you show up at a field if there will be stands to sit in or if you'll just be standing around on the sidelines- so my advice it to keep a couple of collapsible camp chairs
in your car so you can be comfortable while cheering for your favorite team. I also keep one of these stadium blanket
that have a waterproof back for the kids to pile on when watching a sibling play.
Also- have those jumbo-sized golf umbrellas
in the car. First of all- their very presence will ward off a rain storm (because we all know that it never rains when you actually HAVE your umbrella!), and secondly- you'll be glad you have them on rainy as well as extra sunny days!
2. A spare sweatshirt or jacket
Find a sweatshirt that fits the largest sized person in your family (like Dad), and keep it in the car. This will save you on days when you realized that the field is MUCH windier than you realized and your 6 year old decided to wear just shorts and a tee shirt on a 55 degree day!
3. Extra hydration and snacks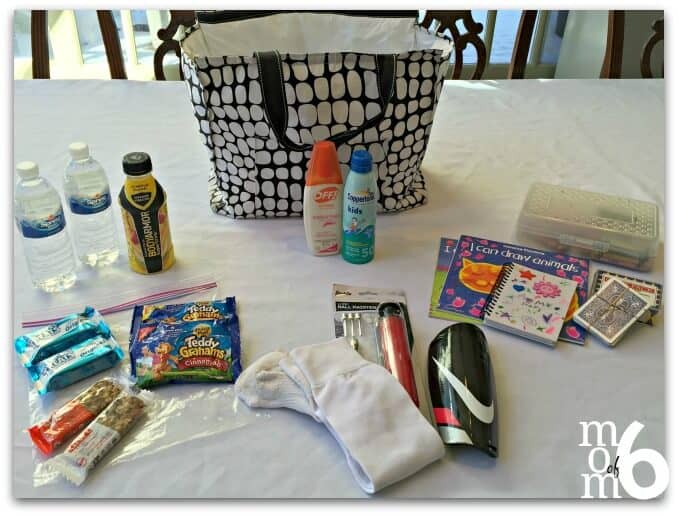 No matter how hard I try to remember to send every child to his or her practice with a water bottle, once in a while I do forget. And rather than head all the way back home and then back to practice again… it is so much easier to just walk around to the trunk of my car and pull a bottle out from the "emergency stash" that I keep in the back! I also keep a small box of snacks like granola bars, rice krispie treats, and even a small assortment of candy and gum. These items are not necessarily for the athlete, but for the younger siblings that are dragged along to so many practices and games! Sometimes they need a little snack or treat to avoid a meltdown!
The kids and I recently had the opportunity to try a new sports drink called BodyArmor
. Made from coconut water and natural flavors and sweeteners, it is packed with Vitamins A, C, and E (as well as a whole lot of the B vitamins!), it is free of caffeine, gluten, nuts, and preservatives, and tastes pretty good too! Fruit Punch is our favorite flavor!
4. Spare equipment
Depending on the sport, if you can keep some spare equipment in the car in the event that your child (or a team mate) forgets theirs on the day of the "big game"- you can really save the day. I always keep an extra set of shin guards and soccer socks for my soccer players. And I think I have lent them out to others more times than we have used them ourselves!
5. Sunscreen and bug spray
After a long winter spent under layers and layers of clothing- it is hard to get back into routine of remembering to apply sunscreen before games! I keep a bottle of sunscreen and a bottle of bug spray in the pocket of my driver's side door so that I always have it on hand!
Bonus Tip: Sibling diversions
It can be hard to be the little one who is buckled into his or her car seat and toted around endlessly (or so it seems to them!) to practices and games. So it is important to be prepared with some activities and things for them to do too. Of course, if your athletic field is located near a playground- super BONUS! Your younger ones can climb and swing to their hearts content, soaking up the fresh air, and having the chance to burn off some of that childhood energy! But in the event (and this happens fairly often) that you need to be at a field that offers nothing in the way of diversion for the young ones, you need to be prepared!
I like to take along a bag of craft kits (ones they receive as birthday presents from friends are great for this!) and art boxes and paper. A few books, a board game, or even a deck of cards can all make for some bonding time with parents and other siblings while the athlete is on the field.
*Note: the fine folks at BodyArmor sent us some samples to try at home! But as always, all opinions expressed here are my own!
*Links to products above may be affiliate links
What do you like to have on hand in the car if you have kids who play sports?