This is a sponsored post that contains affiliate links.
All day long- we are faced with making decisions. Do we choose to eat a healthy breakfast that will fuel us through our morning, or do we eat something that satisfies our sweet tooth but does nothing for our body (I'm looking at you- leftover birthday cake!)? Do find time during the day to get in a workout or go for a soul-boosting walk? Or do we just get "one more thing done" at our desks? Do we go to sleep at a reasonable hour? Or do we watch one more episode of "House of Cards" (anyone else addicted?)? It can be difficult to make healthy choices in the moment! Especially when there are other options that seem to deliver short-term satisfaction! John Hancock Life Insurance with Vitality is aiming to help all of us make better decisions, and for that- we can be rewarded for making healthy choices!
On April 6th I had the opportunity to attend the John Hancock Vitality Marketplace event at Grand Central Terminal in NYC where we were given the chance to make these "in the moment" types of decisions.
The first station I visited was the "Taste It" station- where I could choose between a banana yogurt smoothie or a donut.
I chose the banana yogurt smoothie, and immediately asked how they made it because it was so creamy and delicious (just banana that has been peeled and frozen, greek yogurt, and a little water). But in "real life"…. how often would I just grab that donut vs. making that easy to prepare smoothie? It really made me think- because honestly- that smoothie was absolutely equally as tasty as any donut!
The next station was "Cook It" where I watched a demonstration of a cook preparing chef Tom Colicchio's Green Spring Farro Salad- made with farro, peas, asparagus, leeks, and radishes- it was delicious. And I have to admit right here- I have never tried even farro before! It is a grain with a chewy nutty flavor that I absolutely loved. (I actually bought it at the grocery store this past weekend and plan to prepare it for my family this week!)
You can learn more about Chef Tom Colicchio's partnership with John Hancock here, and how you can get rewarded for the everyday healthy food choices you make:

There were several other food stations where I had to make choices as well. But beyond food choices- we have fitness decisions to make too….
When faced with the decision of relaxing in a massage chair for a few minutes or using a stair stepper…. well, of course I tried the stair stepper for this event…. but in "real life"? Do you know how much I crave those few minutes to sit and just relax? Choices are hard, people.
Want to Learn More?
I was fortunate to be able to sit down with John Hancock President and General Manager Michael Doughty to ask him about John Hancock life insurance with Vitality- a life insurance program that rewards policyholders for the healthy decisions they make every day, like exercising, seeing your doctor, and even purchasing healthy foods at the grocery store. He explained that when someone signs up as a new policyholder- John Hancock sends them a Fitbit® to record their daily steps and activity, and the person can earn points which leads to rewards and discounts on their policy. Is it making a difference? Well, their policyholders logged an average of 9,205 steps a day vs the average US adult who took an average of 5,900 daily steps! That's pretty impressive!
Their Vitality solution also includes the HealthyFood™ program, which will not only save you up to $600 a year on the nutritious foods you buy, but you can also significantly save on your life insurance premium and earn valuable rewards and everyday savings for those healthy food purchases! You can visit JHRewardsLife.com for more information.
I hope I've given you something to think about today- healthy choices really can reward us!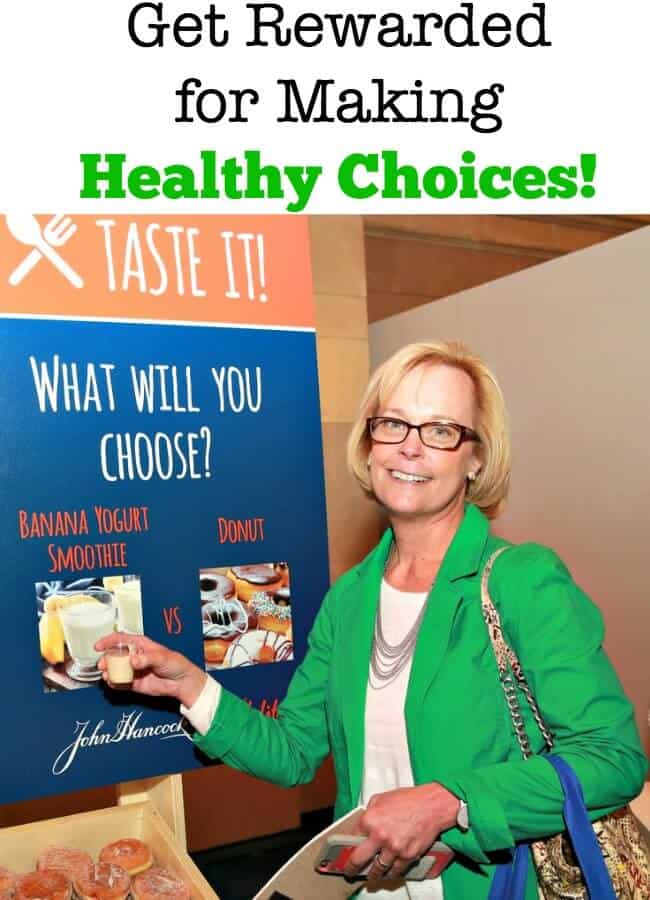 I received compensation in exchange for writing this review. Although this post is sponsored, all opinions are my own.