It is almost hard to imagine what life was like before there was online shopping! Remember "back in the day" when we actually had to get dressed to do our holiday shopping?
*Courtesy of AudreyLovesParis
But now with the world at our fingertips, we can be so much smarter about making sure that we are getting the best possible price and deal on anything we buy. We just need to follow a few simple steps! (Be sure to read all the way to the bottom of the post for a free printable that you can tape to your computer, so you never forget these tips!)
Let's say you are shopping for an item, have figured out exactly what you want, and are ready to click the "buy" button. Here are 5 things to do before you complete an online purchase!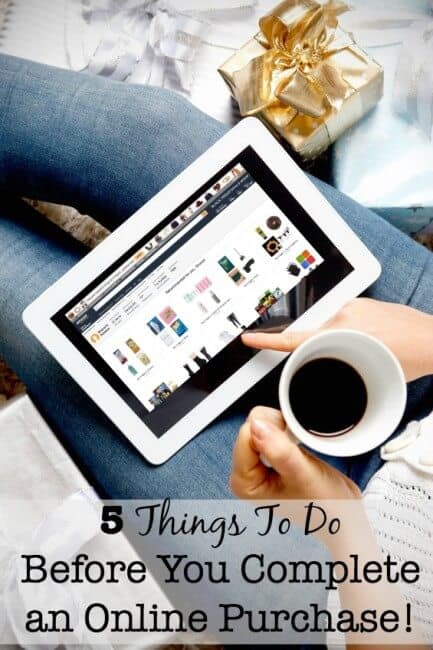 #1. Install the InvisibleHand Add-on for your browser
This is a fantastic app that runs quietly "behind the scenes" but pays attention to when you start shopping. While you are looking on your favorite website for an item or even searching for it in your browser- InvisibleHand starts running a real-time price search online and lets you know through a pop-up menu bar if it is able to find the item you are viewing at a better price! InvisibleHand can even search and display "hidden prices"- the ones you can't normally see until you add the item to your shopping cart.
Here's an example of how it works. I used Google to search for my favorite watch "Withings Activite Tracker" and this "sponsored" box displayed based on my search results. I wanted to look at the watch with the leather band, which I know normally retails for $450, so I clicked on the B&H ad to look at the watch.
Behind the scenes InvisibleHand was churning away, trying to find me an even better price- and it actually found two stores that are offering the watch at $314.99, and one of them even offers free shipping! From here I clicked right to the retailer to begin ordering.
InvisibleHand also offer a coupon drop-down menu so you can see all coupons that the retailer is offering at this time (that may or may not apply to the product you are viewing).
But don't order just yet…..
#2. Check to see if your store participates with a rebate site
Before completing any online purchase, you also need to double check whether or not that retailer is partnered with any of the rebate sites. What's a rebate site? These are sites that direct internet traffic to a retailer, and as an incentive the retailer pays these sites a commission. The rebate site then shares part of that money with you in the form of a rebate check that is mailed to your home. There are two sites that I like to use: Ebates.com and Extrabux.com. The good thing about using a rebates site is that you don't have to start your shopping process on their site. I can shop the internet, find my best price on an item, and then put it into that retailer's online shopping cart. Then I open another browser window, and search the various rebates sites and to see whether or not that retailer offers a rebate, and who is offering the best % rebate. I then can click on the retailer's name within the rebate site which will launch a new browser window for that retailer- and my shopping cart will be in the newly opened window, with my item still in it.
Ebates sends rebate checks every 3 months, and only when the rebate amount reaches $5.01. Extrabux sends you a rebate check when you log in to your account and request it, but only when your rebate amount reaches $10.
Let's go back to my watch example above…. InvisibleHand showed me that the watch I am looking at is available for $314.99 at both Amazon and Best Buy- and points out that Best Buy offers free shipping. (InvisibleHand doesn't realize I am an Amazon Prime customer who also would get this with free shipping). When I look Ebates and Extrabux- I see that they both will give me 5.5% cash back from Amazon on watches, but for Best Buy, Ebates gives 1% cash back, and Extrabux gives .5% cash back. So clearly it makes sense for me to order this watch through Amazon. So I click through to the Amazon link within Ebates to order it. (Note: the cash back incentive on these sites changes daily- so you have to check for availability right before you place your order!)
But don't order just yet…..
#3. Before checking out, look for online coupons!
When completing an online purchase, you'll see that many retailers have a place to enter a promo or a discount code. That should be your reminder to go out and check for an online coupon before completing the purchase. My favorite site to check for online coupons is Retailmenot, or you can also just do a Google search for the store name followed by "coupon" or "promo code".
A quick search on Retailmenot showed me that Amazon has a coupon code for 20% off select watches! Unfortunately- it did not apply to this particular watch. But it always makes sense to check!
But don't order just yet…..
#4. Know the return policy before you buy!
This is SO important- especially at the holidays! If you are giving an item as a holiday gift, you want to make sure that you can return it in January if it doesn't fit, or the recipient doesn't love it. So make sure that the return window allows for that. If purchasing an electronics item- check to see if there is a re-stocking fee on returns. The returns policy can be a deciding factor when comparing the same item at the same price from two or more retailers!
But don't order just yet…..
#5. Pay with a credit card that offers rewards
Steve and I have an American Express Blue account that offers cash back rewards. We use this card for all of our online purchases and once a year we cash in all of our accumulated rewards for a statement credit. We strategically do this at the end of October, so that we get the credit against our Nov/Dec bill- just when we are doing all of our holiday shopping!
Our card also gives us the ability to redeem offers from specific retailers. And guess what? Right now Amex has an offer to get a $15 statement credit if we spend $60 on Amazon.com! That's another "deal" that I can get on my watch purchase!
But here's the key! You have to pay off your credit card balance every single month! Otherwise all of these extra savings completely go to waste as you pay interest on the balance!
So here's what you need to do right now to start saving money on online purchases!
Head over to InvisibleHand and download the browser extension for your favorite browser (I use Google Chrome).
Sign up for Ebates.com and Extrabux.com (Note: these are my affiliate links).
Bookmark RetailMeNot for quick access.
Make sure your credit card gives you rewards that you can use! If not- get a credit card that does!
Download this and keep it near your computer!
Click the above image to open, or click here to download and print!
I printed mine and taped it to my laptop- so I won't forget to do each of these things before shopping this holiday season!
What's your favorite tip for getting a great deal while shopping online?